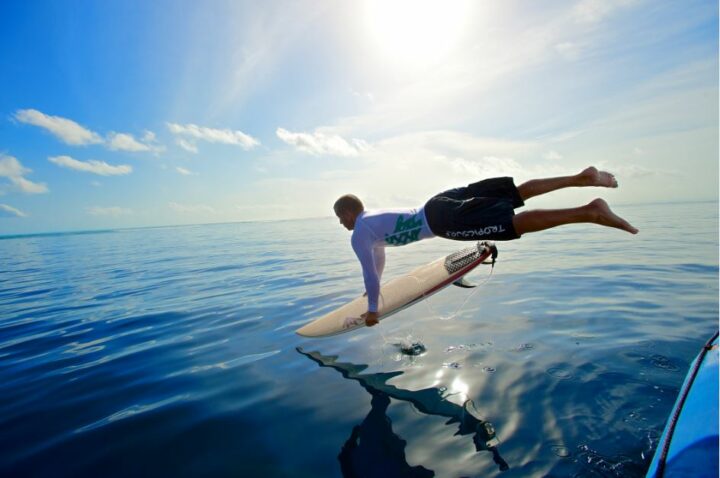 Six Senses Laamu partners with leading surf pioneer Tropicsurf
Six Senses Laamu has announced a partnership with world-renowned Australian-based surf company Tropicsurf. Tropicsurf – the pioneer of 'luxury surfing' – boasts a roster of 50 specialist coaches stationed in nine different countries.
Tropicsurf is positioned as the masters of high-end surfing. Over the course of 30 years, Tropicsurf has combed the planet to present surfers with an intimate selection of the world's leading surfing resorts.
Both Tropicsurf and Six Senses Laamu share a common vision: reconnecting people with themselves, others and the world around them and at the same time delivering out-of-the-ordinary guest experiences.
"A partnership with Tropicsurf feels like a natural progression for a resort already preferred by an enthusiastic faction of annual surfers," says Marteyne Van Well, General Manager of Six Senses Laamu.
In keeping with Six Senses widely recognised commitment to sustainability and obligation to the environment, Tropicsurf will extend its collaboration with Firewire surfboards – the only global surfboard production to carry the sustainable surf eco-board certification and is popularised by 11-time world champion surfer Kelly Slater
"Those in the know have been surfing with us for years. Not just the pros, but families and first timers who have come to enjoy our privacy, nature and connect with the ocean. You can't come to the Maldives and not try surfing. Partnering with Tropicsurf will enable us to extend our current programme and offer more bespoke experiences commensurate with each guest's ability and surfing appetite," Marteyne van Well added.
Being the only resort in the atoll, Six Senses Laamu offers the chance for its surfing guests to almost exclusively enjoy the surrounding surf breaks. A renowned surf break in the Maldives, the "Yin Yang"  is just a five-minute boat ride away and for those who want to discover the surfing experience a beginner's break is just off the shore.
"Tropicsurf has a long and proud association with the Maldives, having been guiding surfers through Laamu and to Yin Yang since 1988," says Mark Winson, General Manager of Tropicsurfs.
"Without a doubt, the area is a surfer's paradise. There are so many waves to choose from.  Add to that the seclusion of Six Senses Laamu as the only resort on the atoll, plus expert guiding, and you have a quintessential Maldives surfing experience in the making."
Tropicsurf will also be operating a purpose-built state-of-the-art surf centre at Six Senses Fiji, which is scheduled to open in late 2017.
At Six Senses Laamu, most of the villas and facilities are built over water. However, beach villas and on-land dining is an option. All villas offer a sense of privacy and seclusion, with an amazing view of the Ocean and Maldivian nature.