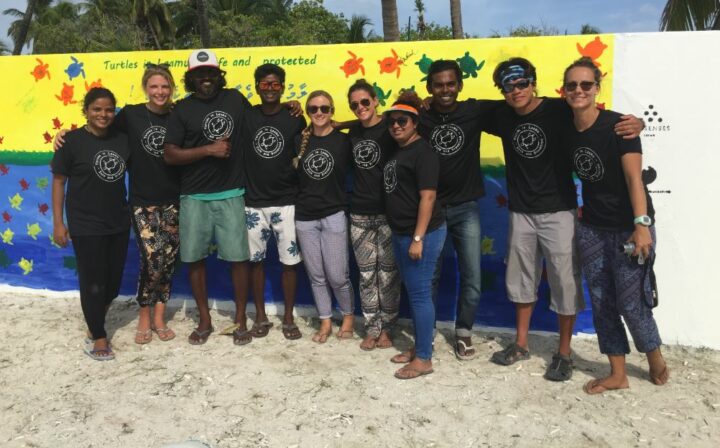 Six Senses Laamu organises second Laamu Turtle Festival
Building upon the success of Laamu's first ever inter-island Turtle Festival in 2016, the entire community recently came together for the second Laamu Turtle Festival. The event took place on the local island of Gan and was jointly organised by the Gan Island Council, Laamu Atoll Police Department and Six Senses Laamu.
This year's theme was once again Turtles in Laamu – Safe and Protected, aiming to raise awareness about the importance of sea turtles and providing a platform for community engagement about greater marine conservation, says Six Senses Laamu in a statement.
All seven species of sea turtles are on the endangered species list, mostly due to human pressures such as harmful fishing practices and plastic pollution. Laamu Atoll is lucky to have large populations of both Green and Hawksbill turtles, however, poaching of turtles and their nests still occurs and it was agreed that everyone in the community needs to stop this practice from happening.
According to Six Senses Laamu, the festival saw educational stalls and games aiming to raise awareness about these marine animals and why it is critical that people do not harm them, as well as cultural performances, contests and prizes, food, music, ensuring everyone had lots of fun! The guest of honour of the event was Abdul Gafoor 'Gabbe' Ali—the first Maldivian to sail around the entire country in a catamaran, in efforts to raise awareness for the conservation of the marine environment.
"If we want to protect turtles, the first thing we need to do is protect their habitat. When I sailed across the Maldives I saw a lot of trash in our beautiful ocean," says Gafoor. "In Kureli Kandu, the channel between Laamu and Meemu Atolls, I capsized my catamaran and had to be in the water for four hours. There were so many plastic bags, bottles and caps in the sea, I almost cried. It is our duty to reduce our waste to protect our marine habitats and save our marine life."
To ensure the festival's important messages are conveyed every day of the year, the Blue Marine Foundation team painted their fourth wall mural in Laamu and called on all attendees to pledge their protection of turtles by signing it and recording a video pledge.
Marteyne van Well, general manager of Six Senses Laamu added: "Last year in Maavah, the festival was such a great success that it wasn't a question of whether we could hold another one, but more of a question of when we could hold it. Our aim is to, year on year, increase our positive impact in Laamu and maintain efforts as a community to protect turtles. Last year, students from five schools in Laamu attended the event and today we have students from 12 of the 13 schools, so clearly we have achieved our goal."
Now, every time someone passes by the festival site, they'll see the wall full of reminders that Turtles in Laamu are Safe and Protected, says the organiser.