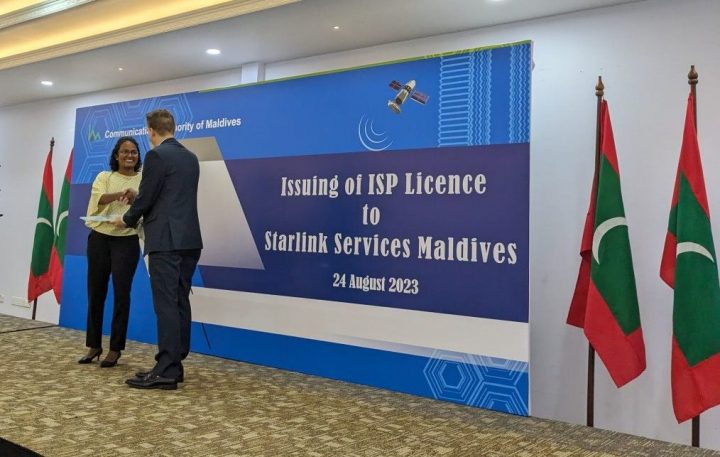 Starlink granted license to provide internet services in Maldives
The Communications Authority of Maldives (CAM) has granted Starlink, a satellite internet constellation owned by Elon Musk, a license to provide internet services in the Maldives.
The license was issued to Starlink Services Maldives, a subsidiary of SpaceX  to provide satellite internet services. The license allows Starlink to provide internet services to all regions of the Maldives, including remote islands and seafaring vessels.
"This is a significant milestone for Starlink and for the Maldives," said Ryan Goodnight, Senior Director Global Licensing and Activation at Starlink's parent company SpaceX. "We are committed to providing high-speed, reliable internet access to everyone in the Maldives, regardless of their location."
The Ministry of Technology said that the decision to grant the license to Starlink was made in order to further develop and expand the internet services provided in the Maldives.
"With Starlink's internet service, all regions of Maldives and seagoing vessels will be able to access high-speed internet services," said Minister of Technology Aminath Shauna. "This will help to improve the lives of people in the Maldives and boost the country's economy."
Starlink is the fourth ISP in the Maldives. The other three ISPs are Digicel, Ooredoo, and Focus.
Starlink is a satellite constellation being developed by SpaceX to provide high-speed internet to the globe. The constellation consists of a network of thousands of satellites that are placed in low Earth orbit. Starlink is expected to provide internet speeds of up to 1 gigabit per second.
The service is currently available in limited areas, but SpaceX plans to expand availability to all parts of the world in the coming years. Starlink is a subscription-based service, and the cost is expected to be around $100 per month.