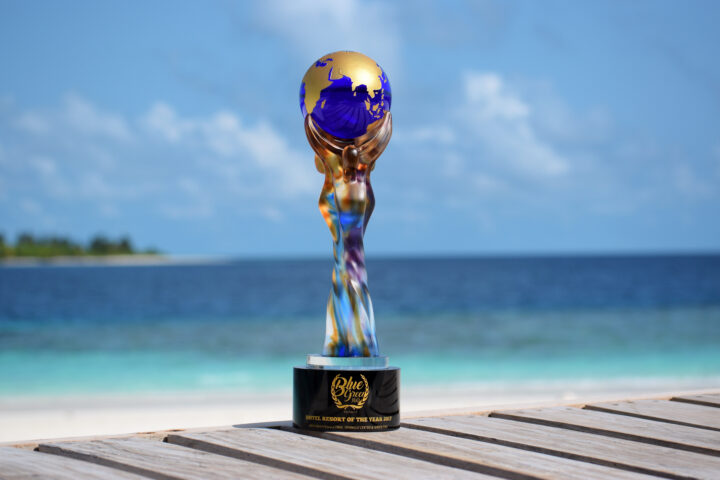 Six Senses Laamu wins the BlueGreen360 Award
Six Senses Laamu has been awarded the BlueGreen360 Award at the Asia Dive Expo (ADEX) 2017 held in Singapore. The resort, operated by Six Senses Hotels Resorts Spas, is the first to win the award granted for a hotel or resort for their commitment to sustainable operations.
The BlueGreen360 Awards celebrates businesses and individuals in the marine tourism industry dedicated to inspiring and championing sustainable solutions in their day-to-day operations and sharing their invaluable knowledge with the wider community.
"Six Senses Laamu is delighted to have been recognised and proud to find ourselves amongst a remarkable group of business and individuals who all exhibited their exemplary commitment to environmental programmes to protect marine biodiversity," said Marteyne van Well, general manager of Six Senses Laamu.
"We are inspired by the many individuals who consistently promote on-the-ground marine conservation efforts that benefit the environment and the local community," he added.Six Senses Laamu takes pride in its innovative ideas, initiatives and engages with the local communities in an attempt to protect the oceans for generations to come, the resort said. In addition to its sustainable operations, Six Senses Laamu has established partnerships over the past few years, which include Manta Trust and the Blue Marine Foundation, to reinforce its commitment to sustainability and marine conservation.
The awards, which also honour pioneers who attempt to strive above the rest by adopting and utilising brand-new technologies to ensure the sustainability of the oceans for the generations to come, is presented in four categories; Hotel/Resort of the Year, Liveaboard of the Year, Dive Operator of the Year, and Cruise of the Year.
This award follows the prestigious nomination of Six Senses Laamu as the only hotel in the world to become a finalist in the Responsible Business 2017 Ocean Awards. The Ocean Awards celebrates individuals, companies, legislators and projects that have made outstanding contributions to the health of the oceans.
ADEX is the longest running and the largest dive expo in Asia and is celebrating its 22nd year in 2017. The three-day event, held April 7 to 9, attracted up to 60,000 visitors and presented world-renowned marine life artists, conservationists, and photographers. This year ADEX was dedicated entirely to climate change and the impact it is having and will have, on the oceans. The BlueGreen360 Awards are organized by the Coral Triangle Center (CTC) and Underwater360 (UW360) and supported by Blue Ocean Business Summit and Green Fins.