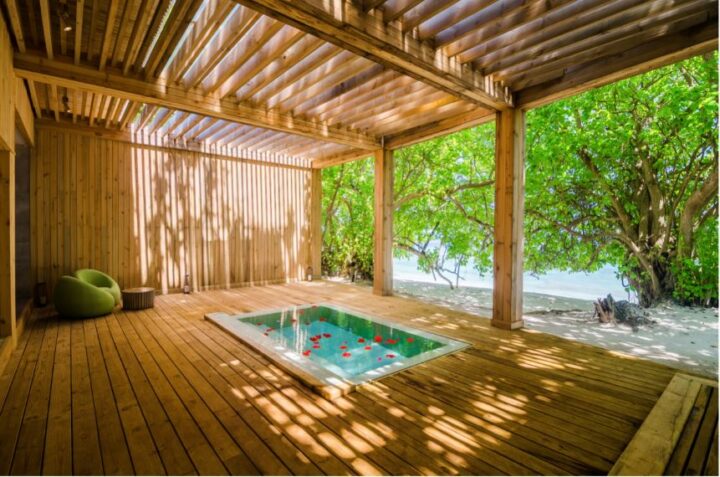 The Small Maldives Island Co. introduces CBD oil to Amilla Fushi and Finolhu
The Small Maldives Island Co. (TSMIC) has introduced CBD oil to the Javvu Spa at Amilla Fushi Resort and The Clove Club spa at Finolhu resort. With the introduction of CBD oil, both the resorts have now begun to incorporate CBD oil to their renowned therapeutic treatments.
CBD oil contains non-psychoactive cannabidiol (CBD) extracted from hemp, which when incorporated into a healing massage results in enhanced wellness benefits. Therapeutic treatments incorporated with CBD oil are intended for deeper relaxation and tension release. The therapeutic benefits of CBD oil include deeper relaxation, tension release, therefore, calming anxiety and stress. When applied topically, it reduces skin inflammation and keeps the skin hydrated by minimizing moisture loss. It also helps to reduce muscle tension and soreness.Javvu Spa at Amilla Fushi features ten different treatment spots, which comprises of a yoga pavilion, fitness centre, wet area, private training studio as well as a wellness cafe. Javvu Spa is designed to cater to a variety of blissful pampering alongside result driven treatments provided through world-class brands and ancient healing and energizing therapies.
The Clove Club is a retro-themed facility that serves massage and movement therapies that are medicinal, with an edge of fun and sixties glamour. With ten chandeliers lit treatment hubs celebrating an iconic diva of the 60s and 70s, including a fitness centre, yoga and movement pavilion and an outdoor 'Palm Beach Gym', The Clove Club is a totally chilled-out and peaceful haven to relax. Guests at Amilla Fushi and Finolhu can customize any of the signature spa treatments, by adding CBD oil, according to their preference. For more information visit www.tsmic.mv.