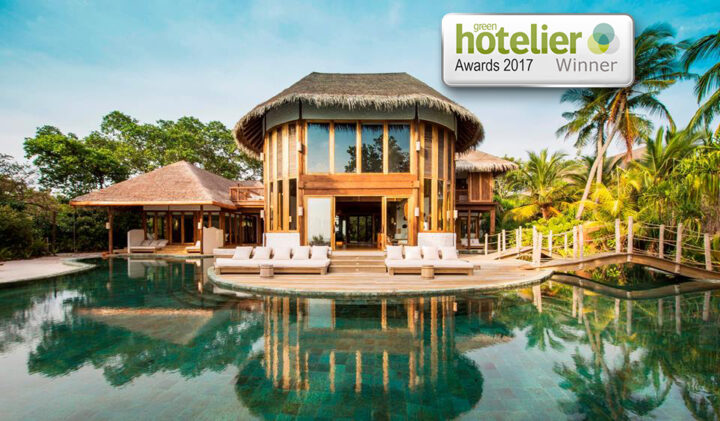 Soneva Fushi named amongst World's Greenest Hotels of 2017
Digital magazine Green Hotelier has named Soneva Fushi amongst the World's Greenest Hotels of 2017. Soneva Fushi, operated by The Soneva Group, was named the world's most eco-friendly and sustainable hotel in the Asia Pacific region in the Green Hotelier Awards.
The annual Awards invite applications from hotels of any size anywhere in the world; judging them on their efforts to reduce energy and water consumption, their waste output, their roles as responsible businesses to their employees and in the local community, as well as looking at how they communicate their sustainable and responsible ethos to guests.
"We were delighted to receive so many fantastic applications this year and reading them all has been wonderful. Every single hotel which entered is performing well above average and it's truly heartening to see so much effort and commitment to being a responsible business taking place all around the world, said Siobhan O'Neill, Editor of Green Hotelier and Awards judge.
"Many hotels are striving to do their best to take care of the environment, their staff and their community even when local conditions make it difficult to do that. It's incredible to see them leading the way on sustainability and they should all be justly proud of their impressive efforts. They are all truly making a difference and their positive impacts on local people will be felt for generations."
Based in the Maldives and Thailand, Soneva began life in 1995 with the introduction of Soneva Fushi. The carefully planned resorts are the epitome of exotic luxury, and the founders – Eva and Sonu Shivdasani – are passionate about their environmental commitments and subscribe to what they call their SLOW LIFE philosophy; Sustainable-Local-Organic-Wellness Learning-Inspiring-Fun-Experiences.
Soneva Fushi has been carbon neutral for all activities including guests' flights since 2012, investing in renewables as well as carbon-offset projects. They are also self-sufficient in water using both rainwater collection and desalination.
They operate a 'Waste to Wealth' programme converting 90% of their waste into an income, including turning Styrofoam and glass waste into lightweight bricks for construction. They also operate a Youth Career Initiative programme offering employability training to local young people, as well as teaching hundreds of children to swim, saving lives.
Runner-ups of the awards in the Asia Pacific region are Crystal Creek Meadows, Australia, and Jetwing Yala, Sri Lanka.
The winners of the 2017 Green Hotelier Awards are:
Europe:
Winner: Landgut Stober, Germany.
Highly Commended: Novotel London Blackfriars, UK; Ritz-Carlton Berlin, Germany.
Africa & Middle East:
Winner: Chole Mjini, Tanzania.
Highly Commended: Amboseli Serena Safari Lodge, Kenya; Radisson Blu Kigali, Rwanda.
Asia Pacific:
Winner: Soneva Fushi, Maldives
Highly Commended: Crystal Creek Meadows, Australia; Jetwing Yala, Sri Lanka.
The Americas:
Winner: El Albergue Ollantaytambo, Peru.
Highly Commended: Marble Distilling Company & The Distillery Inn, Colorado USA; Novotel Jaragua, Sao Paulo, Brazil.