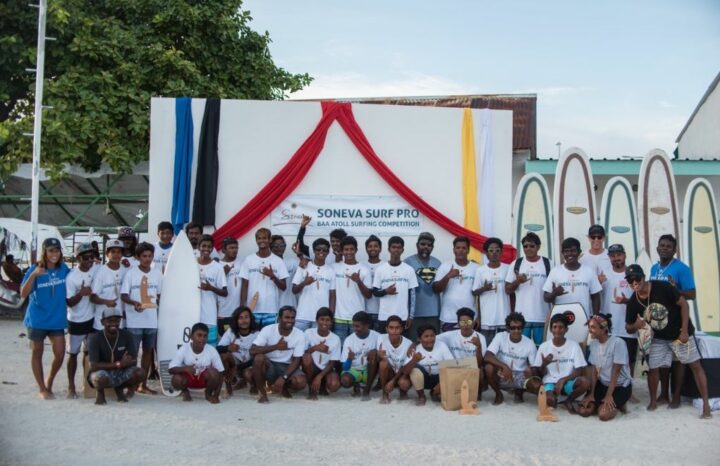 Soneva holds Baa Atoll's first local surfing competition
Soneva recently organised the Baa Atoll's first surfing competition for Maldivians. The Soneva Surf Pro 2018 was on held on September 1, near the island of Goidhoo and saw the participation of over 40 competitors. Surfers got to compete in the Over 18, Under 18, and Bodyboarding divisions. The competition's judging panel included Maldivian pro surfer Kuda Issey and Troy Huggett, the Manager of Cokes Surf Camp. The prizes for the competition, ranging from eco-friendly surfboards, leashes, fins, rash guards, wax and sunscreen were provided by Soneva Surf's eco partners.
The winners of the divisions were: Under 18 Champion – Ahmed Zain (17 yrs, Goidhoo); Over 18 Champion – Mohamed Samah (18 yrs, Eydhafushi); Bodyboard Champion – Ibrahim Zain (15 yrs, Eydhafushi); and The Most Promising Surfer – Haisham Latheef (14 yrs, Fehendhoo).
Soneva Surf hopes that by organising regular surfing competitions they will generate positive and healthy competition within the local surfing communities to help push them to make continuous improvements in surfing. The main goal of involving more locals in surfing, particularly girls and young women, is to familiarise Maldivians with the ocean, to empower and motivate them to aid in its conservation.
Soneva's new surfing programme aims to tap into the growing interest in the Maldives as a surfing destination. Soneva Surf is offered at both of Soneva's Maldives properties, Soneva Fushi in the Baa Atoll and Soneva Jani in the Noonu Atoll. Soneva in Aqua also offers a Surfing Charter within both Atolls.
Soneva is a pioneering family of hospitality properties and products, offering holistic encounters in luxurious and inspiring environments – from world class hotels to outstanding natural locations. Combining luxury with a conscientious approach to sustainability and the environment, and proactively changing the nature of hospitality, it delivers intuitive service and meaningful experiences to the guests.