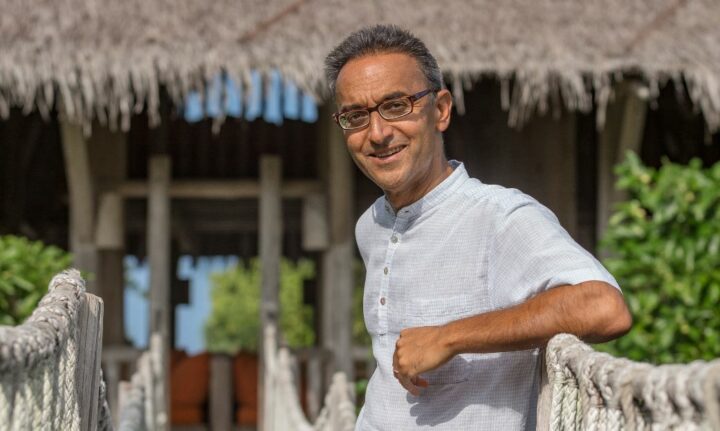 The Sonu Shivdasani Story
If I were a betting man, I would have never predicted that an Oxford Graduate in English Literature would make a mark in the Maldivian Hospitality industry as a pioneering figure, who would one day revolutionise the way tourism was defined in the Maldives. But that was exactly what British hotelier Sonu Shivdasani, along with his wife and business partner Eva Malmström Shivdasani, did in the Maldives.
Maybe it was an infatuation with the tales of Robinson W Crusoe in English class that led him on this path, I didn't ask, but the spirit of Crusoe's adventures was luxuriously imminent in the lush tropical milieu of Soneva Fushi in Baa Atoll, where I sat down with Sonu, to interview him for the cover of the Fourth Anniversary Issue of Hotelier Maldives.
The 80s: When love steered towards the two thousand isles
It was the year 1986 and a 21-year old Sonu had just met his future wife and the other half of the "Soneva" brand Eva Malmström, a high-end fashion model from Sweden who told him of the wonders of a little known gem, in the middle of the Indian Ocean. Sonu recounted her description of the Maldives, "She'd been here the first time, I think in 1980, for a photo shoot for a German company with other models, a team and a photographer."There were only about four or five resorts back then and she remembered coming from Colombo and arriving in Malé. The airport runway wasn't hard tarmac; there was just a sort of pressed coral. And then taking a dhoni for about four hours to get to the resort. But she thought the destination was amazing and said we had to come back one day. And so back in 1987, we came on holiday, and we loved it."
Since the initial visit to Maldives in 1987, the couple kept returning, falling in love with the islands. But back then, the resorts were simple and everything came out of tins.Sonu also recalled a significantly different style of accommodation and more importantly, recognised a need for tourism to be a sustainable practice, even at its inception.
"The standards weren't great. The white plastic tiled floors, plastic chairs, neon lights. We just felt we could create a better quality experience and at the same time, something a bit more sustainable."
Their initial plans were not to build a resort, but an appeal of the back to nature lifestyle that resonated an urge to make Maldives their home. "We thought, let's try and lease an island and build a home. That was the original idea – simply build a house."
But their plight to build a home was unfruitful as Maldivian laws restricted foreign land ownership. The government refused their request to build a home but they were greeted with the opportunity to become tourism developers.
Though it wasn't something Sonu had ever dreamed of doing, the fondness for Maldives steered them towards the foray. The process of leasing islands for tourism development and how resorts were operated were different back then.And for Sonu, building his first resort was a journey of facing a lot of rejections. "We put bids for those islands but we failed. Firstly, we weren't Maldivians; that was a priority, being Maldivian. Secondly, we didn't have a tour operator bed contract."The Maldives was really developed in the early days by German and Italian tour operators. And they would approach someone farming an island for coconuts, and would offer a long-term contract of ten years if they build 50 or 100 rooms. The operators would guarantee a certain occupancy and they gave three years in advance to guarantee it. By not having this bed contract, there was the question of whether we'd be able to fill the resort and pay the least rent to the government."
While leasing and guaranteeing a bed contract was a hurdle, Sonu and Eva also had a very clear idea of what their resorts needed to be. A contrastingly different concept to the general practice of tourism in the 80s.
"The government in those days used to have guidelines on how many rooms should be built on the island and each time we'd say that we would like to build half the number of rooms but we'll pay double the lease rent.
We put together some very nice plans and designs, but failed because of those reasons. People felt it was just too unrealistic at the time and that Maldives was very much a mass market tourism destination and not a luxury destination."
The 90s: Setting up camp
The tables turned in the early 90s when they were introduced to the island of Kunfunadhoo in Baa Atoll, where the seeds of the Soneva Brand were sown. "Mohamed 'Kudafari' Hameed introduced us to this island. There were a lot of uninhabited islands in Baa Atoll at the time, the diving was excellent, and Kunfunadhoo had all the elements we looked for in a resort island."So we leased it from Ahmed Jaleel, the leaseholder at the time. We thought it was fantastic that we got this island. But then we realized that the reason no one else wanted it was because of the transfer logistics." In the early 90s tourism had only spread to Malé Atoll and its neighbouring Ari Atoll.Soneva Fushi opened in 1995 and it was one of the first out-atoll tourism ventures. At the time, Hummingbird helicopter services started and Sonu jumped at the opportunity to ease the logistics of guest transfers to far destinations. "We brought in Hummingbird helicopters, creating transfers to islands beyond Malé and Ari Atoll. That allowed us to create a sustainable business in terms of air transfers and transferring guests here."
For many resorts, setting themselves apart from the competition and creating an edge is one of the biggest hurdles, but for Sonu, their clear vision of creating a luxury resort meant that the product they were about to introduce would be something the Maldives has not seen yet.
"We use this phrase of 'Intelligent Luxury'; trying to understand what an exclusive experience is, for the urban elite. Certainly for us and for our guests, living in London, Paris or New York, it's not about going to an air-conditioned restaurant created by a famous designer with a famous branded chef.
"You get that in London or Paris or New York. That's a nice experience, but it's not really a luxury. It's not a change from your day to day life. For us it's all about being able to walk barefoot for a week, or having that fresh salad that was plucked from the garden that morning."
The 2000s: Makings of a global hospitality empire
By the turn of the century, Soneva Fushi had already established itself as one of the most successful and luxurious hotel brands in the Indian Ocean with the news reaching the far corners of the world. And the Vietnamese government came to Sonu with an invitation to introduce luxury tourism in Vietnam where tourism was barely visible, and luxury tourism, virtually non-existent.
So the Evason Ana Mandara; the inverse of Soneva, was born and it saw Sonu's horizons expand as the Six Senses hotel chain was simultaneously making a name in the world of luxury travel."We had another brand called Six Senses, which wasn't exactly Soneva, but it was designed for people who wanted something that was luxurious, but not quite up to par with the standard of Soneva. That became Six Senses. It was your sort of upper five-star premium brand."What began in the Maldives had now evolved to become a multi-million dollar hotel empire with its roots extending to all the corners of the world. While Soneva was the epitome of luxury travel experience, it was Six Senses that was taking the world by storm, and in no time, the brand also made its mark in the Maldives with Six Senses Laamu, a more commercial version of Soneva.
Today: Focusing on the roots and keeping the edge
In 2012, Sonu and Eva made the startling announcement that the company was being sold off. Valued at a quarter of a billion dollars, the company had a portfolio that stretched over continents.
For Sonu, it wasn't a decision he regrets. "I think one of the challenges when you are growing and managing other people's hotels is that one has to make compromises. As CEO of the company, your job is more about going to investment conferences, meeting developers, having budget reviews with them once they are signed on board, and you don't really have time to be creative."So now, being both the owner and operator of our hotels, my time is spent more productively, developing new concepts, new ideas, new standards, working with the team to be creative and to develop and evolve."Today, the Soneva Brand operates two properties in the Maldives; Soneva Fushi in Baa Atoll, and Soneva Jani in Noonu Atoll, along with its luxury cruise Soneva in Aqua. While the newly opened Soneva Jani is a conceptually different product to Soneva Fushi, the latter has continuously evolved to cater to the ever changing market. With over two decades of operation, and a number of renowned luxury hotel chains entering the Maldivian field, Soneva is still regarded as one of the top brands, and a force to be reckoned with.
Holiday goer to pioneering hotelier
30 years since Sonu and Eva first visited the Maldives, and 22 years since the opening of the first Soneva Resort; Sonu Shivdasani can be credited as a pioneering figure in the Maldivian hospitality industry, having introduced a lot of firsts: The introduction of ultra-luxury tourism, the introduction of out-atoll tourism, introduction of helicopters to domestic air travel, introduction of real-estate tourism and most importantly, a concept that focuses on the idea of SLOWLIFE; Sustainable, Local, Organic, Wellness, Learning, Inspiring, Fun, Experiences.
It all boils down to one simple decision they had made in life and as Sonu puts it, "It was, coming on holiday, loving it, and saying; well… why don't we just lease an island and build a house?"