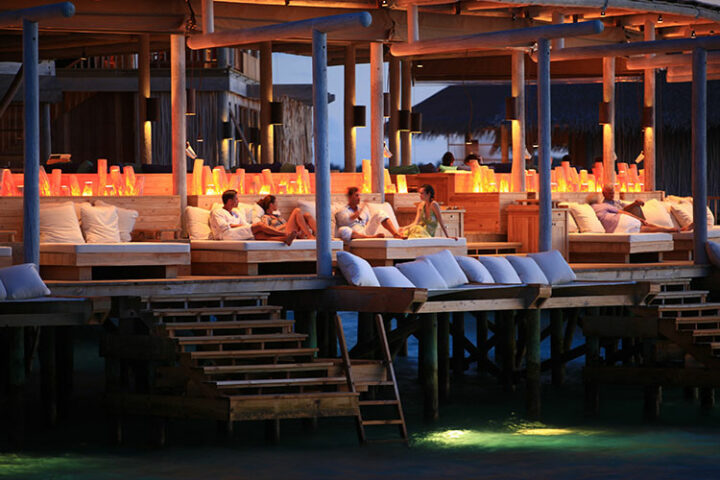 Soundtracks of sunset at Six Senses Laamu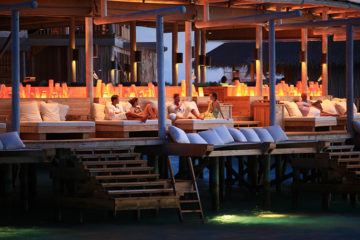 Six Senses Laamu resort has announced an exciting new lineup of Disk Jockeys for 2016. The resident DJs will perform at the Chill Bar every evening and create a unique ambiance with their own personal music style and influences for guests to enjoy their sundowners.
"Chill Bar, with its over-water hammocks and comfortable seating is the ideal location to relish this sublime Indian Ocean spectacle. Skilled mixologists create a range of refreshing cocktails inspired by the all-time classics along with modern and innovative creations," reads the resort's press statement.
Sven van Hees will be on the decks of Chill Bar from 7th March to 3rd June. His music is described as "a timeless soundtrack to an endless summer", while the tracks of his album GEMINI have been included in over 300 compilations, which include Café del Mar, Real Ibiza and Hed Kandi. In 2005, he started his own label, YOUR LIPS, which recently celebrated its 10th anniversary. Having performed on all five continents, Sven is looking forward to his Chill Bar residency where he will be playing the very best in chill out, lounge at sundown, emotive soul and all things bliss.
Matthieu B will take over the turntables next and will be performing from 5th June to 31st August. The DJ has performed in various renowned clubs, such as the Rouge Pigalle and Le Paris Paris, following a residency in the Royal Monceau Hotel. His travels have taken him to countries such as Morocco, Italy, Tunisia and Portugal, constantly driving inspiration for him and influencing his music. Matthieu B says that the Maldives is the perfect place for his musical style and having the opportunity to mix in front of the most beautiful sunsets in the world is a real honour.
Mathieu Modeste, known as Matmac, will close the Aqua Season DJ residencies for 2016. He will be creating the perfect soundtracks for the perfect Maldivian sunsets from 1st September to 27th November. Matmac adapts from the big Parisian clubs, such as the "287" and "Royal Pavilions" to the chill out mood of beaches such as Tunisia and Spain. He has worked alongside renowned DJs such as Rodriguez Jr. and Miguel Campbell, and says that it has always been his dream to perform in the Maldives. He looks forward to sharing his love for music, inspired by Maldivian sunsets.
Cayetano (Giorgos Bratanis) will be creating magical musical journeys at Chill Bar from 28th November to 23rd February 2017. Following the success of his first album "Stroggilo Kitrino" in Greece and Italy, he moved to Spain in 1999, composing music mostly for theatre and film and that's when he gained a reputation as a top keyboard and bass session musician and collaborated with a number of leading Spanish artists. He released "Focused" in 2006, which brought him international recognition. Cayetano says that his decade of global travels culminates with being a resident DJ in one of world's most beautiful places.
The resort said it is "excited to have all these talented artists in residence this year and is looking forward to their daily performances at Chill Bar, offering unique sound experiences to the resort's guests".
Six Senses Laamu is the only resort in the Laamu Atoll, deep in the Indian Ocean, surrounded by a beautiful coral house reef.
Six Senses Hotels Resorts Spas is a hotel and spa management company comprised of 10 resorts and 29 spas under the brand names Six Senses, Evason and Six Senses Spas.