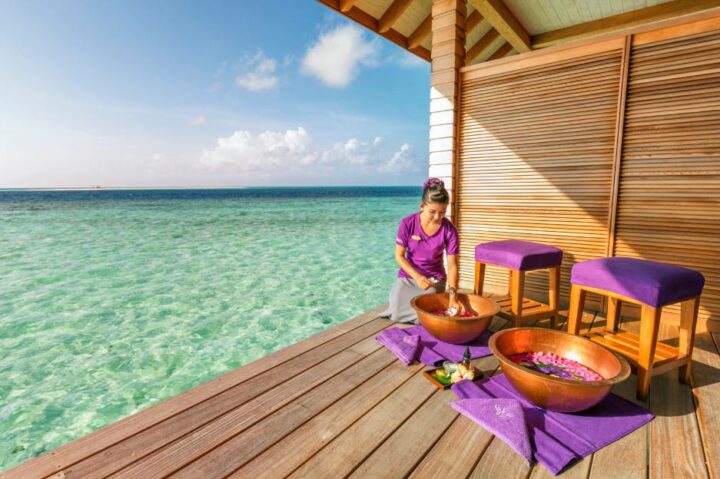 Spa Review: Transporting you into a 'Duniye' of your own making at the Duniye Spa in Hurawalhi Island Resort
Dhuniye' in Dhivehi refers to the world or universe we live in or is used as the colloquial description of a particular world, originating from the Arabic word 'Dunya' of the same meaning. The name itself is a tall order for any abode, especially for a spa.
The Duniye Spa at Hurawalhi Island Resort beckons to your tired and weary soul from the very first footsteps you take inside. A space of tranquillity and peace, its philosophy seems to be rooted in soothing all of your senses and healing you from within. Perhaps comparable to being transported to a Duniye of my own making, guided by the expertise of those that took care of it, and who would now hopefully take care of me.
Taking you across a soothing palette of colours into one of the five treatment rooms with picturesque views of a virgin stretch of sand, the over water spa is a beautiful retreat in itself. Glass floor panes ensure that the sensual blues continue to instil a deep sense of calm once you've begun your treatment. The décor while minimalistic is clean and evokes a sense of serenity with warm, comforting tones that complement the water elements, whilst remaining undistracted from the main affair – their clients.
It is always difficult to choose the right treatment for you, but my Indonesian Therapist Ms Nita recommended the Balinese Massage Treatment to restore balance and de-stress. The celestial sounds of the Tibetan singing bowls send one into a peaceful trance and are the perfect beginning to a deeply relaxing massage.As Nita used a harmony of different techniques from acupressure, skin rolling and soft strokes to work out all the tension I had stored in my body, I drifted off on a blissful nap dreaming of the baby sharks and other miniature tropical fauna.
Waking gently to the soft patter of a rain stick being waved over me I felt light, rejuvenated and uplifted. Not quite ready to give up the stunning views, I wandered upstairs after my treatment, to enjoy my herbal tea and gaze at the shimmering azure waves.
In addition to therapeutic massages, antioxidant rich natural skin care, beauty services and freshly prepared body exfoliation, the spa provides yoga, meditation, Reiki and sound healing sessions.
As I stretched out on their comfy sofas I wished I had time for sun salutations facing such a spectacular view, the vast ocean framed by the lush green treetops surrounding the place.
Duniye Spa at Hurawalhi Island Resort definitely epitomises what the chain stands for: A universal approach to wellness, with treatments inspired by the very best of ancient and modern expertise from around the globe.
Whether you seek to make some healthy lifestyle changes, find some simple daily practices to pamper body and soul or look to rejuvenate and revitalise yourself from the inside out, the Duniye team is always fine-tuning its methods to ensure that you leave utterly sated.
The best spa treatments always instil more than feelings of physical restfulness, though it is requisite – it should leave you feeling more connected with your surroundings and enveloping your spirit with a complete feeling of calmness, one that you feel from within. Harmony and balance are the fundamentals of any wellness experience and are well delivered at Duniye Spa, to say the least.Nita was attentive, but not pushy, asking the right questions and adjusting continuously to meet my needs. For a writer that spends a lot of time hunched over a laptop, the lower back pressure is heavenly, but my therapist not only kept in mind the problem areas I'd pointed out but also worked out resultant tension to ensure that the stress would be kept at bay, for a time at least.
From anticipating my preferences and recommending treatments I might enjoy, the expertise displayed by the staff was subtle, but elegantly delivered – I was in no need of convincing to believe that their spa philosophy was right on the mark.
Founded in 2002 by a group of international hoteliers, the Duniye Spa has since grown to become a leading spa management and consultancy company in The Maldives, recognised throughout the Indian Ocean region. The array of international awards and recognitions that have been bestowed upon the chain of spas bear testimony to the oasis of relaxation, beauty and well-being that they offer.
Currently, Duniye Spa is located at Komando Island Resort & Spa, Meeru Island Resort & Spa, Kuredu Island Resort & Spa, Mirihi Island Resort, Vakarufalhi Island Resort & Spa, Robinson Club Maldives, Vilamendhoo Island Resort & Spa, Veligandu Island Resort & Spa and most recently, at Hurawalhi Maldives.