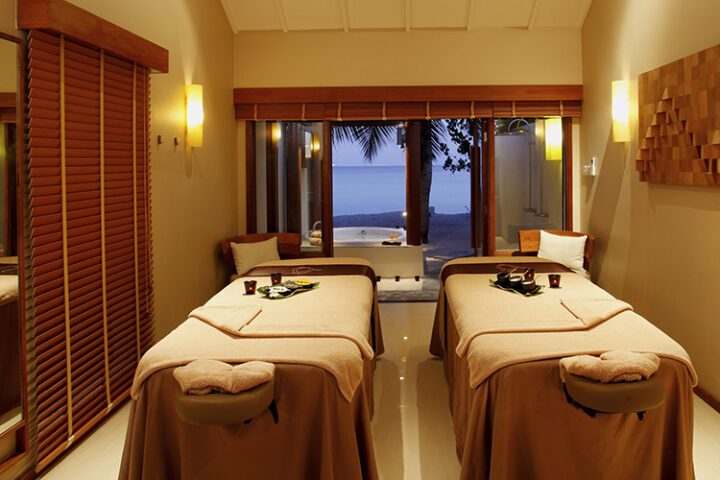 Spa Review: Experiencing the Healing Huts of Centara Ras Fushi's Spa Cenvaree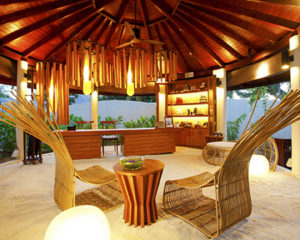 It is mid-afternoon and the sun is not as harsh today as it was a couple of days ago. The winds are cool and gentle as I lie back on a comfortable lounger at the Spa Cenvaree lounge, at Centara Ras Fushi Resort & Spa, surrounded by greenery. I am sipping a cold ginger tea, while I fill out a short form stating I am healthy, allergy-free, and free of any injuries – a formality at any spa.
The Cenvaree Spa brand is a Thai luxury spa brand and has over 33 branches all around the world. The brand offers nothing short of complete professional and well-trained masseurs, and Centara Cenvaree Ras Fushi is no exception. The Spa Cenvaree Acadamy trains therapists and masseurs with the highest level of professionalism and knowledge on massages, therapies and relaxation. The spa offers a range of therapies including Ayurveda therapies and balancing programs, THÉMAÉ Luxurious Facials, OPI Nail Care System, Multi-day Retreats, Anti-Cellulite Programs, and Traditional Thai Therapies.
After I finish up the formalities and my delicious tea, I am guided through the evenly cut shrubs and grass on a path of some rather large stepping stones to the changing room. A bathrobe and other necessities sit inside waiting to be used. A few minutes later – hair in a bun, feet tucked in comfortable, over-sized sandals and robe secured – I am ready for my massage.
My masseuse, Kan, guides me to my 'Healing Hut' – therapy rooms tucked away within the lush vegetation inside the spa. I hop from stone to stone somewhat clumsily.  Entering the healing room I am hit by a wave of peace and calm. The serenity of the entire place dawns on me, and I sit down in a comfortable chair by the glass sliding door – where the outdoor Jacuzzi sits invitingly, waiting on a wooden deck, over-looking the beach and the ocean.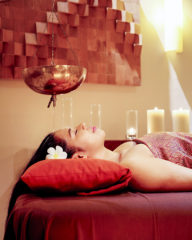 Today, I am about to experience a 'Maldivian Sea, Sand, and Signature Massage,' which is a combination of the best hot oil aroma massage techniques with acupressure, Ayurvedic abhyanga movements, deep tissue, shiatsu and lomi lomi. Soaking my feet in warm water, Kan gently massages my feet with sea sand, sea salt, fresh mint leaf and Neem tea: "to wash away the negative energy," she says in a soothing voice, smiling.  Before the massage begins, she sounds a small gong, a signal for me to switch off my mind and get ready for the massage.
The massage is by far one of the most relaxing experiences I've ever had my life. Kan asks me if the pressure she applies is alright and I assure her that it is perfect. She proceeds with utmost professionalism, and i am close to dozing off during the massage – where Kan rids my body of the unwanted stress using a sweet smelling virgin coconut oil. Customised pressure and the Swedish techniques she uses work magic on my tense muscles.
After massaging, Kan proceeds to scrub my body with a hot pouch filled with heated sea sand, crushed sesame, grated ginger, warming black pepper dipped in coconut oil – a very unique treatment used to relax the body, muscles and mind. I can quite literally feel my tense arms and legs relaxing and giving in to the massage. Lymphatic cooling stones over my eyebrows and face are gentle and pull me into a state of complete bliss and relaxation.
My 60 minute massage comes to an end all too quickly as I am gently woken up to the sound of the gong. I open my eyes to see Kan smiling down at me saying: "How did you like your massage? " It might sound cliché to say this, but I feel like I am floating on air at this point. And if you ask me, the massage/therapy rooms labelled 'Healing Huts' is done so quite aptly. I feel pretty 'healed' right now.
I head back out to the lounge area, and sit back on the sun lounger, this time, sipping warm ginger water. Having experienced this blissful massage and the friendly hospitality from the spa therapists and staff, I can understand why Spa Cenvaree has won the title of Best Luxury Resort Spa, at the World Luxury Spa Awards in the Indian Ocean Continent category for two consecutive years.  Its extensive treatment menu, warm Thai hospitality and healing massages combine to make Spa Cenvaree a place of sanctuary and rejuvenation.