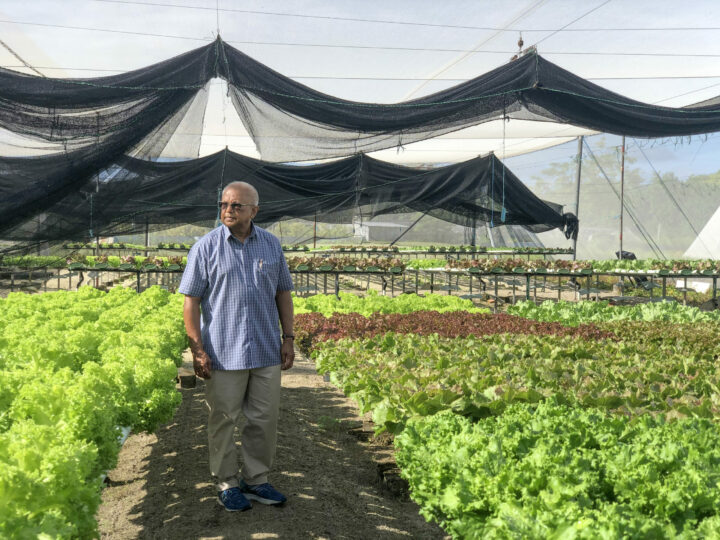 Salah Shihab, Four Decades of Steering Voyages
In a career spanning 40 years, Salah Shihab has led Voyages Maldives, a pioneering company and industry leader in the safari (boating) industry of the Maldives. He has also diversified the business into hotel supplies and agriculture in the latter part of the company's trajectory. One of the first Maldivian graduates in economics, from the University of Queensland, Australia, Shihab also serves as a vice president of the Maldives Association of Tourism Industry (MATI).
Voyages Maldives, established in 1980, marked its 40th anniversary earlier this year. A founding partner of the company and managing director, Salah Shihab has spent the past four decades leading in deciding the route for the business and steering its course towards where it stands today. As one of the very first companies to introduce and establish safari cruising in the Maldives and pioneering the liveboard industry we see today, Voyages has achieved so much more than just contributing to the tourism sector of the country.
Start-Up of Voyages
Back in late 1972, right at the dawn of tourism, Mr. Salah Shihab left to pursue his higher studies on a government scholarship in Australia. Just as the pioneers were getting involved with tourism back in the Maldives, Salah spent time at the campus in Australia with his Maldivian colleague Mr. Mohamed Shafeegu, who is now one of the founding members and board of directors of Voyages Maldives.
During 1973-1978, Salah had the opportunity to visit home once a year on a ticket grant provided by the Australian government on long holidays as he was a married student. During his home visits, he started to see new tourism activities emerging in the Maldives and was keen to understand more on how it all worked. Once he arrived back to Australia, he would share the information he discovered with his colleague, Mohamed Shafeegu.
"My parents worked for the government, which was the main employer then and still a significant employer to this day. So I knew in order to really have financial independence, we would have to do something beyond just working for the government. As scholarship students, Shafeequ and I both had government bonds of five years." explained Salah Shihab.
When Salah returned home from Australia in 1978 after finishing his course, the government had changed and President Gayoom was sworn in and to service his bond, Salah joined Aminiya School as an economics teacher.
"I chose to study economics because it gave me an edge with business. It was also a sought-after profession in the industry. Therefore I was able to satisfy the government as well as focus on what I wanted to do in the long run," commented Salah Shihab
Working as a school teacher meant that Salah would have his afternoons free, during this time he joined Safari Tours part-time to fill his free time and it then gave him a background and direction as to where they should start to focus. Even though they were not doing any Safaris and neither owned any Safaris at the time.
When Shafeequ returned to the Maldives from Australia in late 1979, without further delay, on the 13th of February 1980, the partners registered their company Voyages Maldives Pvt. Ltd.
"The day itself has no significance or relevance. My father used to say that when you are ready for something, that is the 'iruvaru', meaning that it is the opportune time". They have long waited to begin their voyage and once the registration was completed, they began their work from the front yard of their uncles home, adjacent to his father's home. The beginning of their joint venture started from then. The name Voyages was chosen because they were interested in doing Safaris, meaning Voyages within the Maldives.
The growth of Voyages
With the help of an important contact Salah made while working with Safari Tours, Voyages had the opportunity to work with an Australian Tour Company, Himalayan Expeditions, which was a well established camping and backpacking holiday group who were already doing tours around Nepal, South India and Sri Lanka.
"For our first trips, we chartered fishing boats with traditional Maldivian thatch cabins. The expedition group brought all their own gear, including most of their food for the trips. This included the basics such as canned food, gas cookers to portable toilets", commented Salah Shihab.
They began camping on uninhabited islands in the Maldives and got very lucky when they came across a mature Maldivian fishing boat captain, who was extremely experienced and humorous. He was sort of the senior man on the boat back in the day and acted as the captain and stabilizer of the group. He gave a lot of confidence to the travellers, making them feel they are in safe hands out on the open waters. They cruised mostly on sail even though the boats had engines, it was a very basic program to experience the beauty of the Maldives.
From these local expeditions the company slowly evolved, they continued to listen to the people who came on the safari trips and slowly incorporated some of their ideas to meet the demands of their guests. However, their biggest goal was to remain authentic and not to lose the Maldivian touch or copy the current trends of Safari boats already in the Maldives and other European countries. Today Voyages Maldives offers diving, surfing and cruising trips for a variety of guests.
With the Safari operations, the company realised that things are very limited and seasonal. Since the weather does not permit for voyages throughout the year in the Maldives. In addition, surfing in the Maldives was yet to be discovered and they needed to enter into a wider variety of tourist services on top of the boat trips they offered.
In the hope to broaden their contacts within the industry, the next step was to have their own airport representation. The company got their major break when Mr. Franco Rosso, an Italian Tour Operator was looking for a ground handling agent for their growing business, from 1983 onwards we began representing them. Their relationship extended from representation to sharing properties like Athuruga and Thudufushi. Voyages still continues to represent the company even though it has been sold and rebranded as Alpitour.
The next agency they began working closely with was Kuoni. With their strong presence at the airport and good relationships, soon they began attracting major tour operators dealing with the Maldives, from representation to handling their Charter Flights and handling services on the ground. Today Voyages looks after seven different airlines, not only charters, but scheduled airlines as well. They represented Thomas Cook, until their recent shut down in the UK in 2019.
"Unfortunately Thomas Cook was the largest operator we had, we had 800 guests in the Maldives during off season when they collapsed overnight. We all know in this industry there are shocks, we pray that we don't have a natural disaster like the 2004 tsunami incident or even a terror attack. But even when unforeseen things happen we have to find ways to get up and keep moving forward. We are not discouraged by what has happened, hopefully we will get something even stronger in the time ahead." explained Salah Shihab.
Seagull Group and Maafahi Island
Seagull Group Pvt. Ltd was established in 1983, a company formed to cater for the needs of Voyages. They started looking at boat building instead of hiring boats, due to the lack of suitable equipment and materials available in the Maldivian market.
"When we started looking at boat building instead of hiring boats, we found the types of equipment suitable was very hard to find. Like high grade stainless steel, fittings, marine grade toilets. By then one of the Voyages directors had already moved abroad, so the three of us who were in the Maldives decided to form this trading and non-tourist related activity company to further support Voyages and our business." explained Salah Shihab.
The government decided to lease islands for non-touristic purposes on long term lease and Seagull Group decided to cease the opportunity to bid for these islands. The ministry identified some slightly larger islands which were not necessarily ideal for tourism but with healthy vegetation.
During the bidding process, Shafeequ and Salah both won bids for separate islands but since the project would be funded by the same company, the government then asked the directors to choose either of the two and Seagull Group won Maafahi island in 1988.
"We opted for Maafahi for its location and it's natural beauty. Also, in the back of our mind we had the vision that it could become a unique resort one day, we still believe this. Especially since it is close by to Hanimaadhoo Airport, providing us with easy access for travellers to visit," explained Salah Shihab.
As with most of their business, one thing leading to the development of another, Seagull Group decided on agriculture to challenge something completely outside of tourism at the same time which would benefit the Voyages boats with its supply of food. The company combined some fisheries activities as well along with agriculture and farming at Maafahi. Today the island has a livestock of 250 Goats.
According to Salah Shihab, they found out that goats are healthy and safe for them and it compliments the farming project as their dung is healthier in comparison to chicken manure. They are looking to further double their stock all the while keeping the animals healthy and providing a space for them to graze.
The biggest challenge for Maafahi island is to develop their own fish products because the island still does not have a proper industrial harbor for bigger fishing vessels to dock. Eventually Seagull foods were opened to cater for the market in Male' to support the produce from Maafahi.
Just as most businesses in Maldives, Maafahi also faces the dilemma of a lack of skilled laborers and not enough Maldivians willing to work for the agriculture industry. To tackle the labor issue, the company is more focused on investing in technology which will assist them with their future growth and managing human capital.
Voyages has proudly managed to retain a large group of their staff for over 20 years and over 70% of their staff have also never worked for a second company during their career.
"I would like to compliment our staff for trusting us and continuing to contribute each day to the well-being of the company," said Salah Shihab.
"I think the future of Voyages, on the travel side is currently uncertain due to the changes in the market today and customer needs. It is important that Voyages adapts to these changes in this current fast paced internet era. But on the Safari side, heading towards our 40th year, we are very strong and if we keep fine tuning our services, it looks prosperous. As for Seagull group, the company has a lot of potential and room for future growth. Our next big project would be investing in a proper harbor where fishermen could sell their catch at the Northern part of the Maldives, at Maafahi." commented Salah Shihab.