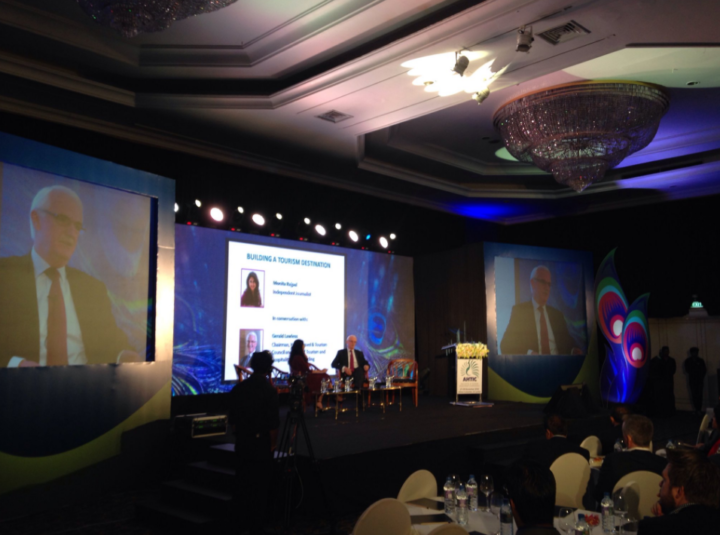 Sri Lanka Declares Next Three Years as Tourism and Investment Years
Sri Lankan President Maithripala Sirisena has announced that the years 2017, 2018 and 2019 have been declared as tourism and investment years of Sri Lanka with the objective of creating a prosperous country.
President Sirisena made an official statement at the first Asia Hotel and Tourism Investment Conference, that ran from the 27th to 29th of November at the Hilton Hotel, Colombo.
According to the Sri Lankan government, these years have been declared to ease the planning to win all challenges in the fields of hotel and tourism in Sri Lanka by 2020.
While Sri Lanka gears for more visitors and investments, a presentation given by ForwardKeys to delegates of the conference revealed flight booking data shows only modest growth in early 2017.
The presentation revealed that flight bookings made for travel to Sri Lanka during the coming five months are 1.3% ahead of where they were at the same time last year.
The intelligence comes from ForwardKeys' analysis of over 16 million flight booking transactions a day made by travel agents on the world's major travel distribution systems.
More in-depth analysis shows a choppy pattern. Bookings for December and January are respectively 3.5% and 4.1% ahead but February and March are 9.8% and 21.3% behind. April is 76.9% ahead but this number needs to be viewed with caution because April is 4 months off and booking numbers are consequently relatively low. The likely reason for the substantial variation is that the Easter holiday season falls later in 2017.
The cautious outlook is in sharp contrast to impressive visitor growth in 2016 when arrivals have grown by 11.8%, which is more than twice the growth of the Asia Pacific region, which grew by 4.9%.
Looking at Sri Lanka's major source markets, India was up 10.3%, the UK up 17.3%, Germany up 13.1%, Saudi Arabia up 8.3% and China up 29.2%.
The latter figure is particularly notable when one considers that Chinese visitors to competitor destinations such as Mauritius were down 0.6% and to the Maldives down 17.6%.
The first Asia Hotel & Tourism Investment Conference (AHTIC) saw an atmosphere of optimism moderated by caution. Over the conference, several of Asia's leading hotel investors from 19 countries discussed the investment potential of Sri Lanka and other destinations around the Indian Ocean from Mauritius and the Seychelles to Malaysia and Vietnam.
Gerald Lawless, Chairman of the World Travel & Tourism Council and former Executive Chairman of Jumeirah Hotels, highlighted some of the factors that make a destination successful, including the outbreak of peace in regions previously suffering from conflict, air connectivity, visa waivers and dedicated promotional initiatives aimed at major origin markets, infrastructure investment, an ethos which encourages genuine collaboration between business and government and a compelling vision of the future.  He cited Sheikh Mohammed, the Ruler of Dubai, as a truly visionary head of state who had transformed that destination into the vibrant tourism economy it is today.
Counterbalancing the enthusiasm, Roman Scott, Chairman of the Calamander Group, which invests in Asian frontier markets and owns hotels and coffee shops in Sri Lanka, warned that proposed tax increases, lifting VAT from 11% to 15% and corporation tax to 28% would risk killing the proverbial goose that lays the golden egg. Several other countries bordering the Indian Ocean also offered an attractive proposition for investment. His view, which was shared by several industry leaders, was that Sri Lanka's performance as a tourism economy would turn on the government's ability to brand and promote the destination effectively, to prioritise development of infrastructure that facilitates connectivity and to create a fiscal and regulatory regime that guarantees commercial as well as social and environmental sustainability.
Dr. Prabath Ukkwatte, Chairman of the Sri Lanka Tourism Club, which was the Founder sponsor of AHTIC, declared the conference a great success and announced publicly that he had confirmed the venue for the equivalent dates in 2017 and that he was looking forward to working with Jonathan Worsley's Bench Events' team to deliver a bigger conference next year.