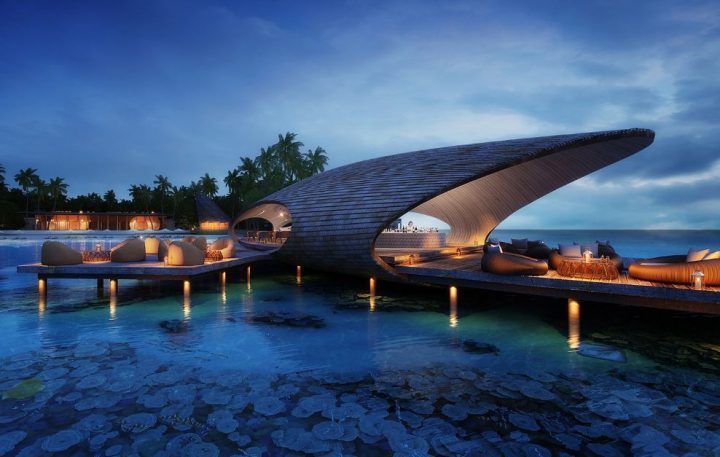 St. Regis Maldives Vommuli awarded Special Prize for Exterior at Prix Versailles 2017
The St. Regis Maldives Vommuli has won the Special Prize for Exterior Prix Versailles 2017 for Africa and West Asia.
The continental Special Prize for Exterior – Africa and West Asia in the Hotels category was presented at the grand finale of Prix Versailles held on May 12 at the UNESCO headquarters in Paris, France.
Following a wide-ranging call for submissions and a selection made by six independent panels, 18 stores, 16 shopping malls, 18 hotels and 18 restaurants around the world received the Continental Prix Versailles or special prizes.
St. Regis Maldives Vommuli Resort was named amongst 70 continental winners. Six major regions around the globe – Africa and West Asia, North America, Central America, the South and the Caribbean, Central Asia and the Northeast, South Asia and the Pacific and Europe all competed for continental titles.
Promoted by UNESCO and the International Union of Architects, the Prix Versailles has become the World Architecture Award for stores, hotels and restaurants.
"This everyday architecture can be a lever for sustainable development where ecological, social and cultural dimensions intersect," said Prix Versailles in a press statement.
The Prix Versailles is an original initiative formulated with an aim of fostering better interaction between the economy and culture. It underlines the role economic agents can play, in all sectors to enhance and improve living environments.
The St.Regis Maldives Vommuli Resort was also recently named in the Condé Nast Traveler 2017 Hot List. St Regis Vommuli is an island paradise where the ultimate luxury is time, to connect with loved ones, to relax and recharge, and to appreciate the beautiful but fragile ecology that is the Maldives.
Designed with modern, contemporary architecture and interior design, the resort creatively expresses a theme of eco-awareness with respect to tradition local culture and the values of St. Regis the brand.