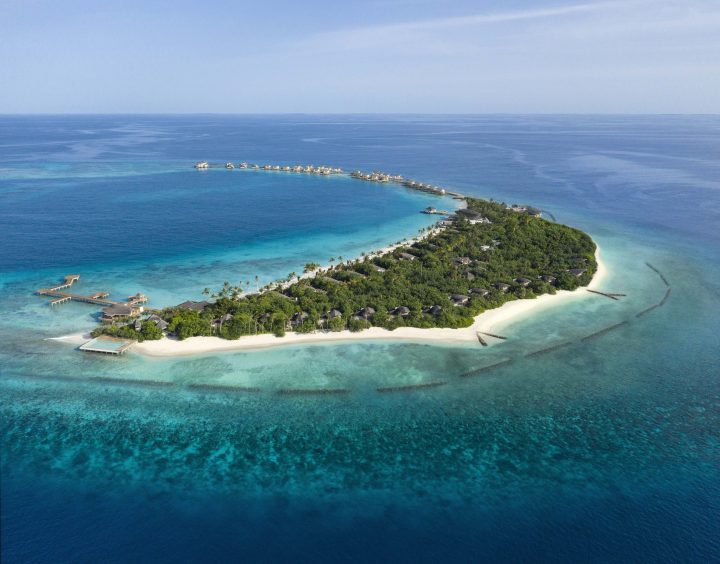 Stay in the Lap of Luxury at the JW Marriott Maldives Resort & Spa
Escape reality and luxuriate in five-star heaven within your spacious beach or overwater pool villas. The warm sun beats down on your face as you inhale the tropical air, and you surrender your senses to the enchanting backdrop of the stunning Indian Ocean – just beyond the infinity pool. Here in this land of endless horizons, the beautiful turquoise waters take on 50 shades of blue and the sunsets paint the sky in breath-taking colours that reflect like a mirror as the sun goes down. This is JW Marriott Maldives Resort & Spa.
A Remote Paradise
At the edge of the cobalt and aquamarine waters of Shaviyani Atoll lies the JW Marriott Maldives Resort & Spa – a spellbinding sanctuary of scenic luxury. This five-star luxury resort has stylish overwater pool villas, beach pool villas and the duplex pool villas that can accommodate larger families equipped with private pools and decks offering stunning views of the shimmering Indian Ocean. All the food options are covered with Japanese, Italian, Thai and global cuisine, along with treetop dining and buffet breakfasts at the resort's diverse dining destinations. Discover a wide variety of activities, including snorkelling, scuba diving, jet-skiing, Dolphin quests and sailing. At JW Marriott Maldives Resort & Spa, the 'Togetherness' pillar truly comes alive with the FAMiLY by JW™ Little Griffins Kids Club. The underwater themed club features 100 activities for kids and is equipped with a 43-foot-long pirate ship. Parents can unwind with a rejuvenating beauty, massage or wellness therapy at the overwater Spa by JW and everyone can discover the warm and inviting hospitality that awaits at the JW Marriott Maldives.
JW Marriott's Footprint in the Indian Ocean
Set on the tranquil Vagaru island spanning 1.9 kilometres of creamy white beaches fringing the lush jade centre creating a dreamy landscape against the azure lagoon. Extending over this, the overwater pool villas are perched on stilts on one side and a long sand bank blazing a trail far ahead on the other. Gaze out the window of your seaplane on the approach to the crescent moon shaped island. Since opening in 2019, the JW Marriott Maldives Resort & Spa emphasises on personalized service culture and is one of 100 JW Marriott properties in the world and the only one in the Maldives.
The Resort
Being a JW Marriott, the décor at the JW Marriott Resort & Spa is thoughtful and luxurious – you'll find muted shades and marble paired with a tropical twist in all the communal areas. During each stay at the resort, guests can enjoy the services of the Thakuru (butler) concierge team who can arrange everything from spa and wellness activities, private dining arrangements, and dolphin cruises, cocktails and extensive refined wines. Fork and Destination dining sees a tailored menu accompanied by a perfect wine pairing by the resorts sommelier and for those who prefer not to leave their room, in-villa dining butler service is also available on request.
Accommodation Options
There are 60 luxurious beach and overwater pool villas arranged on the island. Contemporary in design with spacious and airy interiors, creating the ultimate privacy and tranquillity, each villa has its own private wooden deck with pool and outdoor shower. Beach pool villas offer the ultimate in seclusion and comfort with mesmerising views of the Maldivian sunrise and sunset. Surrounded by lush tropical vegetation, each villa has its own pool and private beach access leading to the crystal waters of the blue lagoon.
The overwater pool villas offer both sunrise and sunset views that overlook the Indian Ocean and is the top drawer when it comes to accommodation at this resort. Overwater pool villas are surrounded by the extraordinary natural beauty of the Indian Ocean and welcome guests to an opulent oasis. The infinity pools melt into the ocean as you take in the view from your sunbed lounger and let your cares fade away. There are also two storey duplex villa options extending over expansive space with private pool, wooden decking and panoramic views of the ocean. They have a twin bedroom and a separate lounge area upstairs with a tub overlooking the serene sea. These pod shaped accommodations step down into the lagoon and the Indian Ocean where marine life like blacktip reef sharks, manta rays, squids and rainbow parrotfish are a sight to enjoy.
Dining Options
A typical day at JW Marriott Maldives Resort & Spa begins with a nourishing buffet breakfast at Aailaa – the resort's all day dining venue. For lunch, spice up your day with the treetop Thai restaurant Kaashi and enjoy Thai-inspired rum cocktails and a selection of 98 signature rums carefully selected from all corners of the globe at Rum Baan. Behold the tranquil view of Maldivian sunset while sipping on a cool drink or create your own cocktail at the Horizon Bar. Sample smoked cocktails at Wabi Sabi for pre-dinner drinks before indulging your palate with the finest prime cut meats and crustaceans at the resort's signature restaurant, Shio.
At Hashi, sample a selection of traditional Japanese specialties, including sake while the talented teppanyaki chefs showcase their skills while you enjoy succulent sushi with views of the Indian Ocean. Alternatively visit the resort's Wine Room for a wine-pairing dining deep in the heart of Aailaa which also offers delectable all-day dining, including an enticing à la carte menu for lunch and dinner. Indulge in Italian cuisine at Fiamma by the pool which conjures up delicious and distinctive flavours within an al fresco restaurant next to the pool. Relish popular Italian dishes, such as risotto, pasta and wood-fired pizzas, along with refreshing beverages.
Alternatively spend lazy afternoons and perfect evenings enjoying a refreshing tropical drink in the swing bar seats of Horizon gazing out over the Indian Ocean. This is the place to soak in a majestic Maldivian sunset, watch the marine life float by and enjoy live entertainment at night.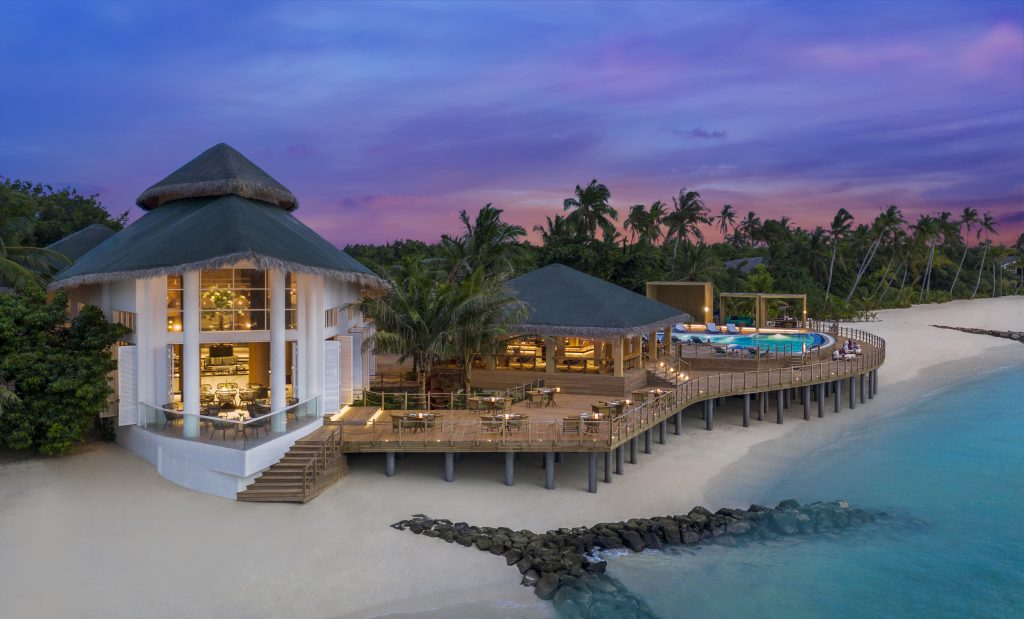 Spa by JW
Step into the resort's branded Spa by JW and revitalize your mind, body, and spirit. With six couple's overwater treatment rooms and one deluxe treatment suite, there is a wide selection of treatments including massage, body treatment, and facials. You will be able to unwind and drift away in a cloud of bliss at this sublime spa by the sea.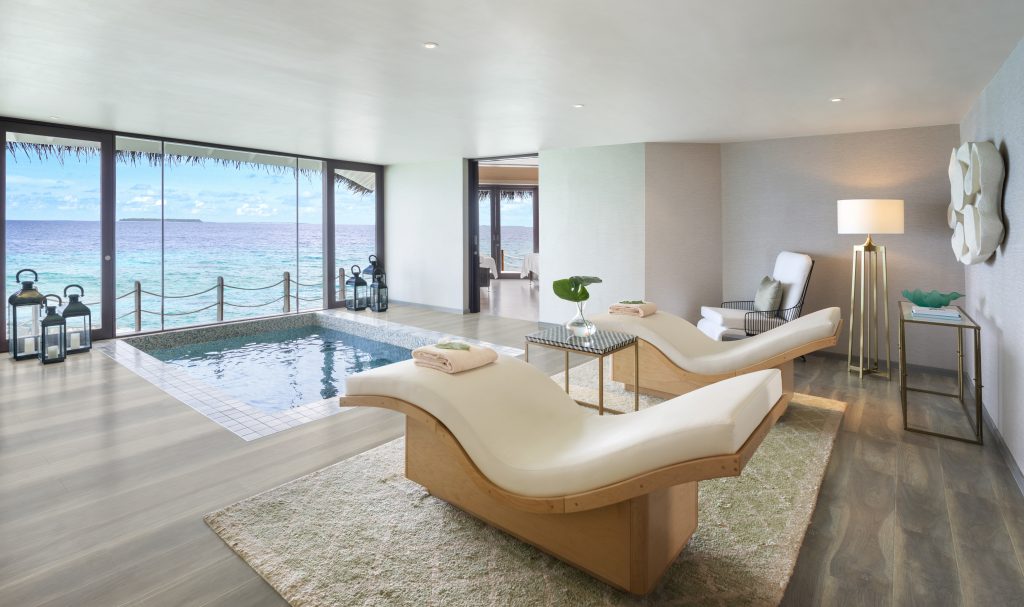 Family by JW- Little Griffins Kids Club 
Children can enjoy the FAMiLY by JW – Little Griffins Kids Club which has a 13-metre-long pirate ship and daily program of activities exploring the magic of the underwater world and life on the island. Purposefully built with young adventurers in mind the pirate ship, and its daily kids' activities will whisk them away on an adventure of a lifetime. The underwater themed club features 100 activities for children. Indeed, the architecture of the kids' club is a puzzle of beach huts and the sea is designed to meet the jungle wherein fascinating landscapes provide an element of discovery in every room. It is equipped with a 43-foot-long pirate ship, arts and crafts, reading spaces, games and educational activities to provide children of all ages, hours of unfiltered fun and entertainment. A thoughtfully planned program integrates nostalgic family activities like; family balloon twisting, treasure hunts, family cupcake decorating and pizza making. An educational flora and fauna corner and coral painting round up a host of diverse activities which guarantee that all kids do not lack engaging opportunities to enjoy and enrich themselves. And for couples wanting to have some time to themselves there are babysitting services available upon request too.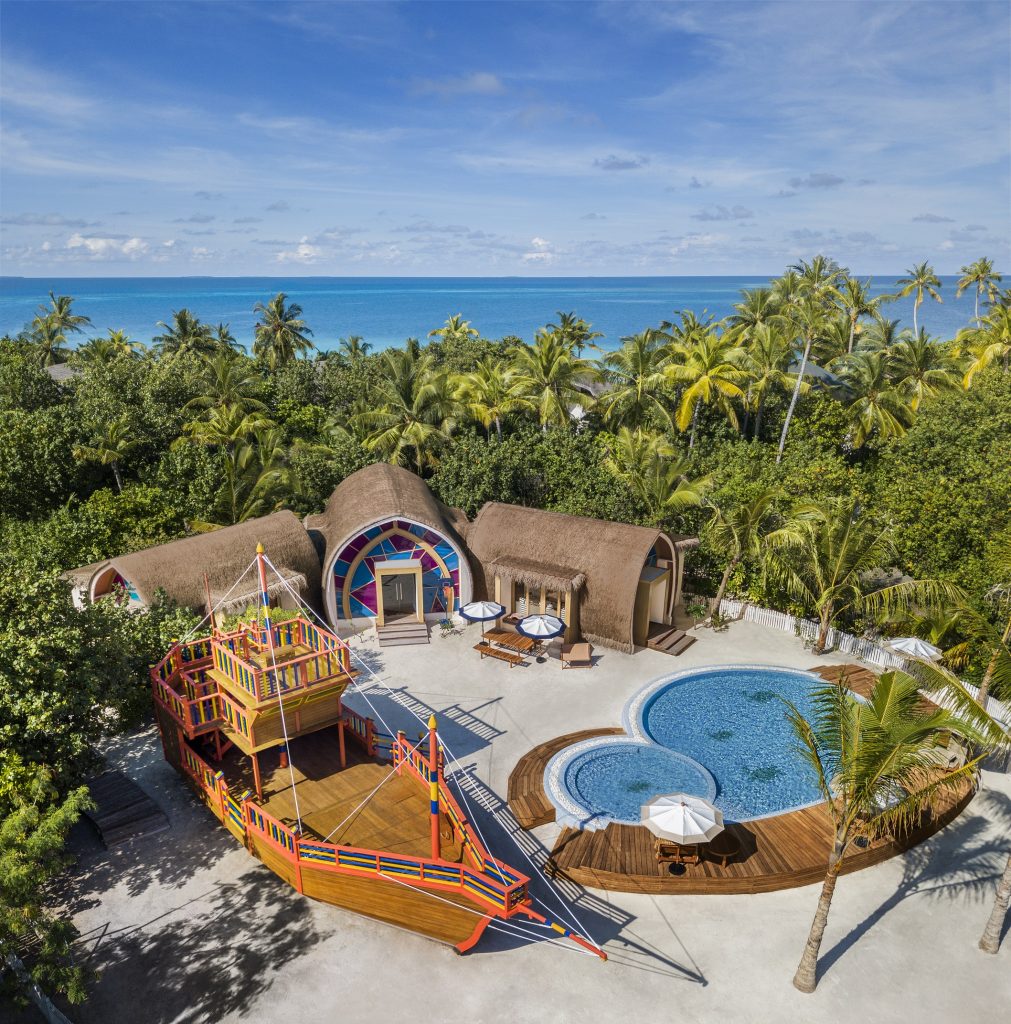 Diving
Explore the tropical marine life of the surrounding coral reef with the dive centre team who also offer snorkelling excursions. There are plenty of activities above the waves too from dolphin watching, fishing, jet skiing, kayaking, paddle-boarding, banana boat and kitesurfing. It really is a waterworld wonderland for water babies.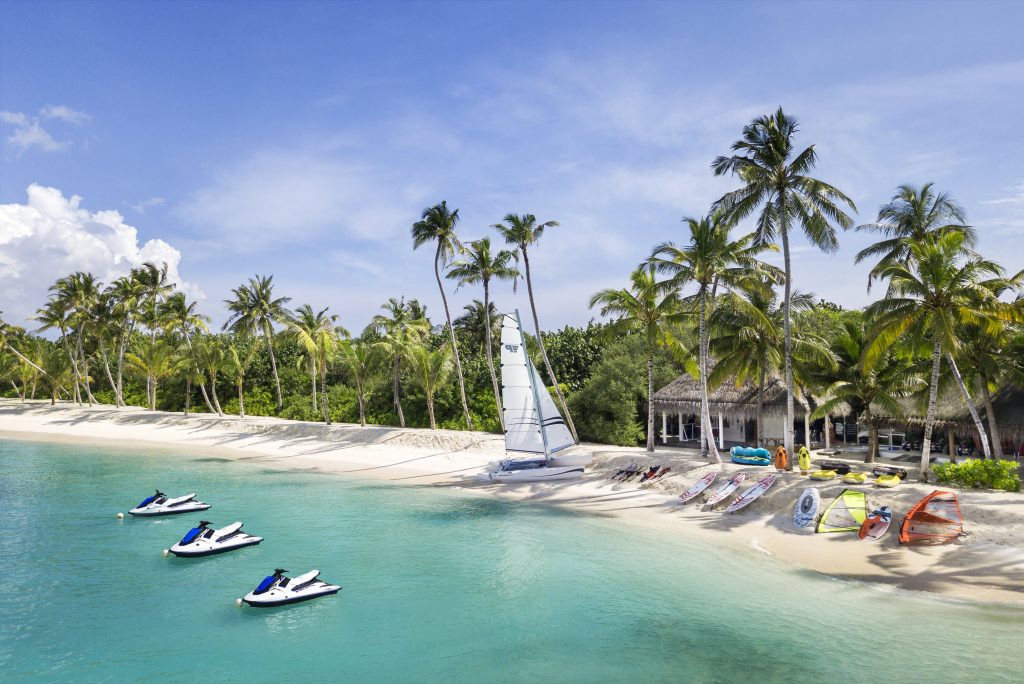 Photo Service
Professional photographers are available for hire to take amazing snaps of your holiday, while the resort also offers the chance to get married or renew vows as well as being a popular holiday destination.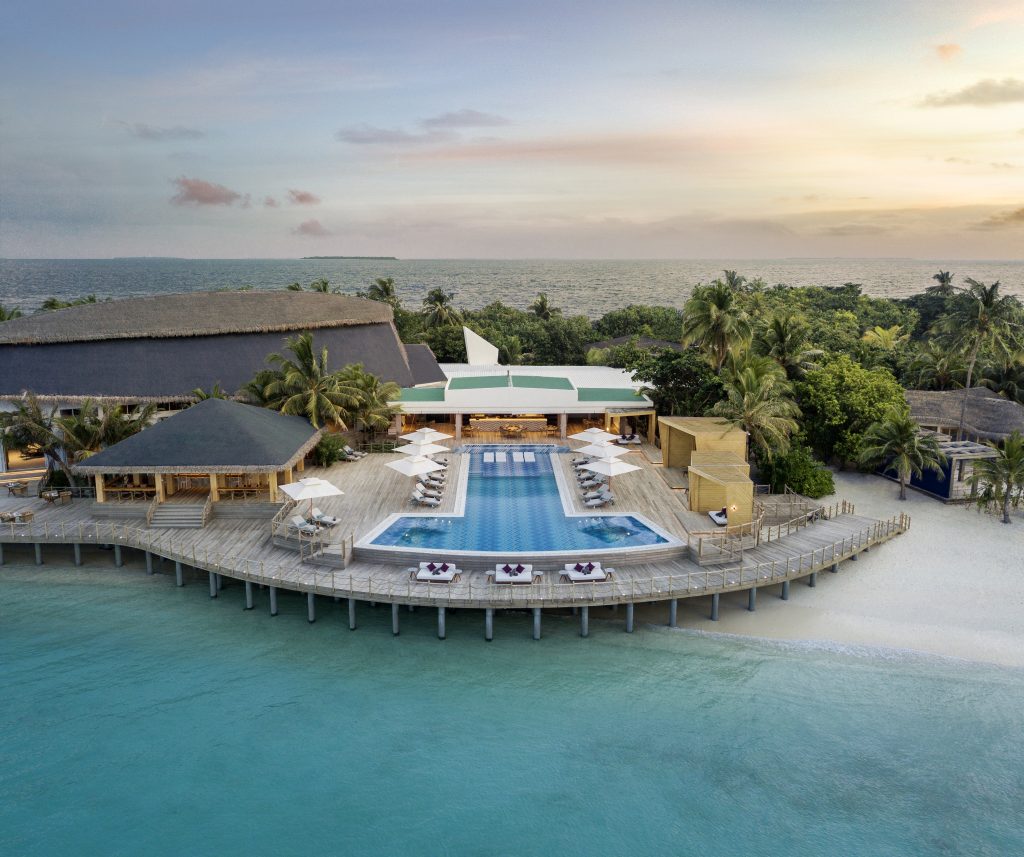 A Waking Dream
A stay at the JW Marriott Maldives Resort & Spa is like a waking dream, and paradise really does await at this five-star brand which is the chain's only resort in the Indian Ocean. From enjoying breakfast with baby reef sharks and tropical fish dancing around your feet in the turquoise blue waters to dining in the evening above the tropical foliage of the tree house, each day is different. The landscaping and architecture of the resort are unique and beautiful. Couple that with the remoteness of the atoll and it creates a wonderful stress-free environment where you can relax in peaceful surroundings.
How to Get There
Located 192km's north of Velana International Airport, JW Marriott Maldives is reachable by a scenic 55-minute seaplane journey. Alternatively, guests can transfer by a 30-minute domestic flight to the nearby Funadhoo Island Airport, followed by 15-minute speedboat cruise to the resort.