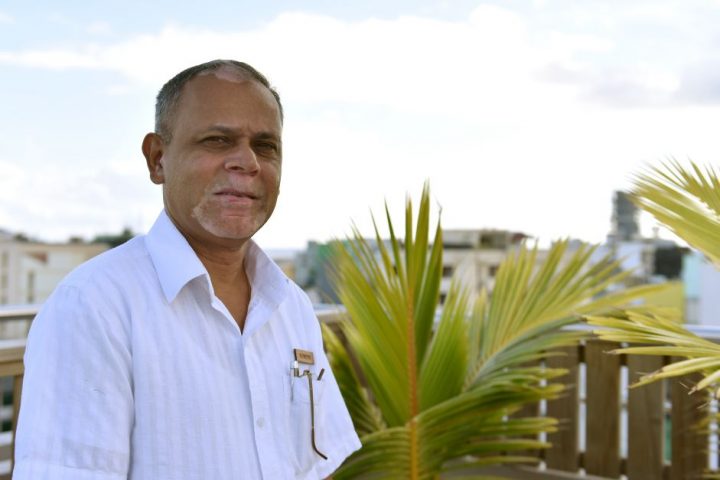 Sumith Kumarasinghe, General Manager, Champa Central Hotel
Sumith Kumarasinghe, hailing from Sri Lanka, has served the hospitality industry for over two decades. His career began at the John Keells Group which encompasses Cinnamon Hotels & Resorts where he served most of his hotel career. Today, Sumith is the General Manager of one of the top city hotels in Malé – Champa Central Hotel. He speaks with Hotelier Maldives about his career and take on hospitality in the Maldives.
Hotelier Maldives: How did you enter the hospitality industry?
Sumith Kumarasinghe: My career in the hospitality industry began way back in the 80's with the Colombo Hotel School. At the time I was completing my Bachelor of Law at the University of Nawala, but a strong interest in the hotel industry led me to co-study in the field of hospitality.
My hotel industry career began at the Bentota Beach Hotel in Sri Lanka, a five-star property operated by the John Keells Group. I joined in 1990, and soon rose up the ladder, where I later served as a Front Office Executive. Since then I've worked for a number of properties in Sri Lanka before I first came here to the Maldives in 2004.
My aim was to practice law, but I guess my passion for the hospitality industry was too overwhelming. I also have a Diploma in Rooms Division from the Emirates Hotel School, Dubai.
HM: You've served most of your career in Colombo. How does the experience compare to hotel operations in the Maldives? SK: My first hotel industry job was as a Receptionist/Telephone Operator at Bentota Beach Hotel – a 135-room five-star hotel down south from Colombo. It was one of the most iconic hotels in Sri Lanka at the time, and I served there for 12 long years.It was a very challenging time, especially with the civil war raging in the north. I remember a time when the fighting spilt over to the south and the airport was under attack. But thankfully the hotel was located in a relatively peaceful area and the hotel held on it its staff and continued to operate.
HM: Your first post in the Maldives was at Velidhu Island Resort. How did you get the opportunity?
SK: I've spent most of my career in the hospitality industry with the John Keells Group which operates Cinnamon Hotels & Resorts. At the time, John Keells operated a single resort in the Maldives – Cinnamon Hakuraa Huraa Maldives – but a number of other properties were in the making.
The opportunity was presented to me by my Director General Manager at Bentota Beach Hotel, who was overseeing operations in the Maldives. It was a very challenging time as I joined as the Front Office Manager at Velidhu Island Resort, while I also had to step in and manage the front office and reservations at the other two properties run by the Cinnamon brand at the time – Ellaidhoo and Dhonveli.I was here till 2009, also serving as the Front Office Manager at Cinnamon Island Alidhoo, after which I had the opportunity to continue further studies at the Emirates Hotel School in Dubai. Back after higher studies, I went back to Bentota Beach Hotel.In 2012 I was assigned as the Assistant Manager Operations at Cinnamon Bey Beruwala, after which I worked as the Resident Manager at Cinnamon Wild Yala, in Sri Lanka, up until the time I joined my current position with Crown & Champa Resorts (CCR).
HM: Were your expectations about the Maldives met when you arrived here for the first time?
SK: To be honest, I didn't know much about the Maldives at the time except the fact that it was a top destination for European travellers. When we first came here, the facilities were very limited as we had to ferry most of our guests by speedboat. But Maldives Air Taxi (MAT) was operational and providing seaplane transfers.
Back in Lanka, the travel agents handled everything related to the guests up until their arrival at the hotel. Here, the story was different as we had to make all necessary arrangements, including speedboat and seaplane transfers. And as standalone resorts, we had to handle every single detail of the operation including utilities, logistics and supplies.I also had to oversee the reservations teams at all the Cinnamon properties in the Maldives, it was also my job to train the staff. But everything ran smooth and easy, as we had a fantastic team. It also served as a great learning experience for me.HM: You joined CCR as the General Manager of Champa Central Hotel fairly recently. Why the change of company, and how has your time here been so far?
SK: I was looking to further my career in the industry when I was offered the chance here in the Maldives again. It is also my first General Manager posting. We reopened Champa Central in April 2016 and again it proved to be a very challenging time as we had been out of operation for a while. It was more like starting all over, but we've managed to handle it fairly well.
Champa Central has a strategic advantage over other city hotels here, and we're working hard to capitalize on those. Today, we are running a smooth operation and looking forward to furthering our business. And the team here is fantastic who made it all possible.
HM: What is your perspective on running a city hotel and managing hotel operations here in the Maldives? SK: When I compare my previous postings in Sri Lanka, I would say that I have it easy here in the Maldives. It is more relaxed as everything is easily accessible. Also with technological advancements, hotel operations have been made easier.Back in Sri Lanka, I've had to deal with angry mobs and "beach boys" – tour guides working from the beach. I've had to resolve a number of standoffs and employ my negotiation and skills I learnt in Law School to settle a number of trying issues, which otherwise would have turned disastrous. But I would say that tackling those issues were some of my best achievements in my hotel career.
Today, we're running a huge operation here at Champa Central; running 74 rooms, two rooftop restaurants and two banquet halls. Sometimes we do over 20 weddings every month, in addition to corporate functions. It is meticulous planning and our 72 staff and their hard work that makes this a reality. I am proud of the fact that our ratings on most of the travel websites are higher compared to other hotels in the city. And we're working hard to maintain that position.
HM: What are your observations on the country's tourism industry and its future?
SK: With market segments changing, I believe the Maldives needs to employ better strategies to maintain its position as a top holiday destination, especially during the offseason. There are many lessons to be learnt from how tourism grew in Thailand and Malaysia, which can be very valuable to the Maldives. The government can do more by providing further support and assistance, and strengthen its marketing and promotion game.Another thing that I notice is the shortage of local staff in technical areas. More needs to be done, both by the government and hotel management, to educate, train and groom locals to take on technical work and managerial positions.
I applaud the high priority accorded by CCR to staff development and our CRS initiatives.We need to give the staff the due credit they deserve and take note of their strengths. At the end of the day, I believe it should be the people of the country who should be benefitting from the multi-billion dollar industry.
HM: How has the Maldives treated you so far?
SK: I've had a wonderful time here in the Maldives, and I look forward to spending more time with the amazing team here. To be frank, the most honest people I've ever worked with are Maldivians and they feel like family to me. It was one of the reasons why I decided to come back. And it's a great experience to work with people from so many nationalities.