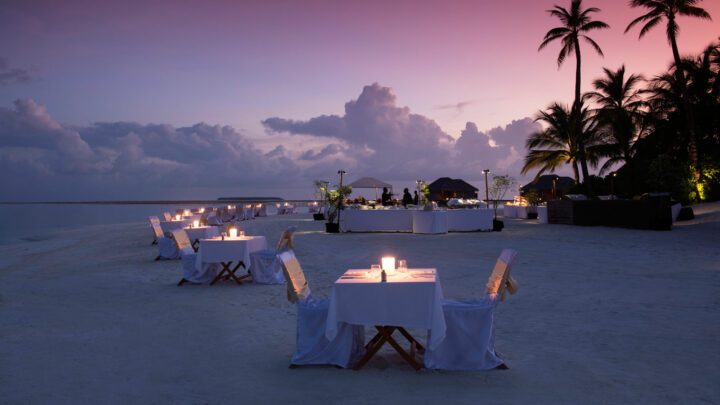 Summer of gastronomic mastery at Conrad Maldives Ranagali
Conrad Maldives Rangali Island is hosting a series of new creative activities designed to inspire and indulge foodies with savouring ideas. This summer, the resort is introducing an imaginative new cocktail menu, designed by world-renowned mixologist Grant Collins.
It is also introducing a special pop-up event at the award winning restaurant "Ufaa" by Chinese celebrity chef Jereme Leung "where foodies will be transported back in time for a journey through the flavours of Shanghai's Belle Époque era," says the resort.
According to the resort, guests staying at the resort from July 16 to 18 can experience the wonders of Shanghai through the eyes of Suzie Wong, an icon of what 1930s Shanghai and Hong Kong represented. It says that guests will be transported to the city's Golden Age with the restaurant resembling The Great Gatsby era adorned with colourful touches from Shanghai, including oriental lanterns, dramatic red lighting, and vintage Chinese advertising and parasols.
The culinary playfulness will be complemented with the hypnotic and unforgettable sounds of China's most popular entertainer of the decade Zhou Xuan. Zhou Xuan's smooth and smoky sounds will be reimagined by the resort's resident DJ and Rangali Bar's pop-jazz band that will perform a melody of Chinese and modern-day classics.
In addition, guests will also be able to enjoy the KTV room, which offers Mah-jong games and a spot of karaoke with up to 4,000 songs to choose from including English, Russian, German and Cantonese and Mandarin hits from the past and present.
This summer the resort will also feature internationally renowned mixologist Grant Collins, who has curated an eclectic selection of cocktails featured at Rangali Bar and The Quiet Zone. Originally from the UK, he has been recognised with a number of prestigious awards and accolades throughout his career, including Australian Liquor Industry's 'Bar Manager of the Year', 'Best New Bar' and 'Cocktail Bar of the Year Award'.
"Adopting the principles of molecular gastronomy, Grant Collins brings an innovative approach to Conrad Maldives by transforming ingredients such as rosemary and basil into sorbet and foams," says the resort in a statement. "Orange sherbet and berry cotton candy are too made in house creating scientific theatrical flair in both bars."
Grant Collins is also behind the menu of Rangali Bar's Tiki pop-up, taking over the bar this summer. Inspired by the art, style and culture of the Caribbean, Hawaii, and South Pacific, guests can relax poolside with an exclusive cocktail list featuring Rangali Island twists on tropical favourites such as rum runners and hurricanes, adds Conrad Maldives Rangali.