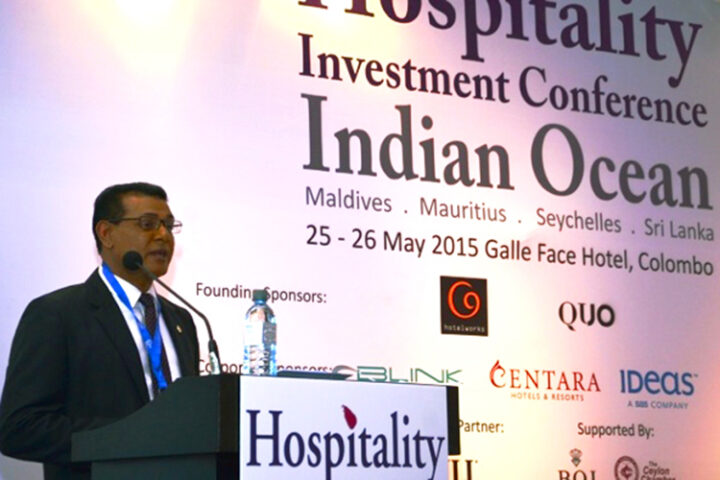 Sun Siyam Chairman predicts an exciting new era for Maldivian hospitality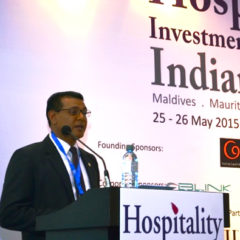 The Chairman and Managing Director of Sun Siyam, Mr Ahmed Siyam Mohamed, recently announced bold new plans to expand his luxury hospitality brand in the Maldives and beyond. In a speech at the HICIO conference in Colombo, Sri Lanka that focussed on the challenges and opportunities for developing in the Maldives and taking Maldivian brands abroad, Mr Siyam revealed a new large-scale project currently in development on the island of Dhigurah in the Maldives as well as an additional The Sun Siyam property in Sri Lanka.
Mr Siyam, who launched his first Maldivian resort in 1998, manages the The Sun Siyam and Sun Aqua brands, with three luxury properties in the Maldives and one in Sri Lanka. His newest project on Dhigurah Island is, he revealed, his most challenging and ambitious project yet. The 600-room resort with 14 different room categories, no fewer than 15 F&B outlets, family-friendly accommodations and an underwater restaurant and wine cellar is evidence that the country is on the verge of a massive repositioning. It marks the Maldives' turning point from a destination primarily for Europe's rich to one that can accommodate a wide range of visitors from markets around the globe. On completion, the resort will be the largest tourism offering in the Maldives, creating more than 2,500 jobs for the local Maldivian community.
Sun Siyam brands will also be expanding across Sri Lanka, Mr Siyam announced. In addition to the Sun Aqua Pasikudah – the first 100% Maldivian owned and operated resort on foreign soil – Sun Siyam will be developing an overwater villa resort in Kalpitiya. This project comes at the perfect time for overseas expansion of Maldivian brands, Mr Siyam said.
"We have something really special in our island nation that can enrich both guests' experiences and property investors' portfolios," he stated in his speech. "The Maldives has a form of home-grown service culture and industry know-how that is currently not being fully utilised to its full potential domestically, and certainly not on the international stage. Just like the well-known Swiss, Indian and Thai forms of hospitality, Maldivian hospitality can create desire and demand in any region."
Though constructing luxurious resorts in remote areas such as the Maldives and Sri Lanka presents many challenges, such as access and logistics, these difficulties are worthwhile to overcome. International travellers, Mr Siyam stated, are seeking authentic experiences "based on love, romance, warmth and intimacy." It is no longer necessary to recreate a Western travel experience in the Maldives; the time is now ripe for Maldivian developers to create truly Maldivian resorts both on home soil and abroad.