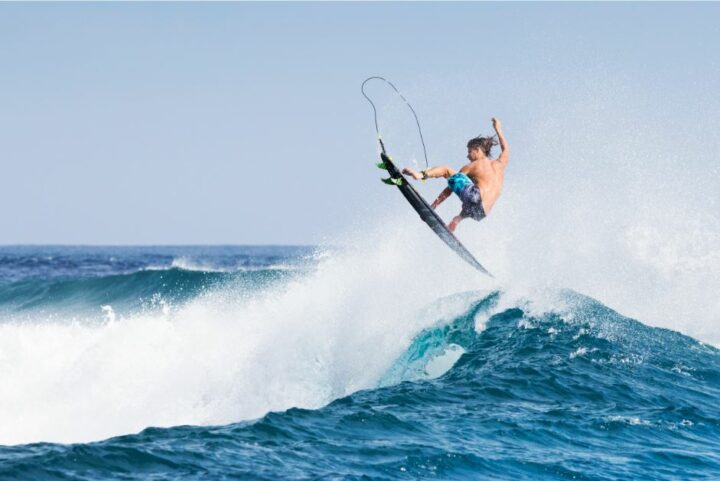 NIYAMA Private Islands Maldives brings surfing to its shores
NIYAMA Private Islands Maldives have introduced a series of surf options and tailored services that invite professional and novice surfers alike to revel in their own version of luxury by enjoying adrenaline-charged activities right on their doorstep.
At NIYAMA Private Islands, the waves are relatively mellow and playful, but challenging at times and suitable for intermediate to advanced surfers, with some spots perfect for beginner coaching, says the resort in a statement. Surfers can expect a consistent set of around five average surf-able waves rolling out every five minutes, and no crowds, it adds.
NIYAMA Private Islands – operated under the PER AQUUM brand – offers adjoining twin islands, Chill and Play.  Just off the edge of Play Island's Surf Corner is the Vodi surf point – a classic, powerful left-hand ride that breaks onto the shore. Off to the west and just five minutes away by speedboat is the Kasabu surf point at Kudahuvadhoo Corner – a superb right-hander with barrelling sections. Ten minutes east is Hocus Pocus at Maaenboodhoo Corner, another barreling right-hander.
A private seaplane is also available at surfers' disposal to discover and surf secret spots, says the resort. The seaplane allows surfers to jump in directly behind the waves anywhere on the ocean, and swim back to the plane for the scenic short journey back to the resort.
134 studios, suites, and pavilions dot both islands or extend out over the lagoon.  Right on the beach at Surf Corner, surfers can chill out in customised Surf Beach Studios, Surf Beach Studios with pools, or Surf Family Beach Suites with pools.
The studios and suites are fitted with a surfboard rack and stocked with surf amenities and necessities, including bicycles with a surfboard rack and dedicated television channels displaying up-to-the-minute surf reports and a live feed of the nearby Vodi surf point.  Each room is equipped with a king bed and Deli-In with full-size refrigerator overflowing with gourmet treats, as well as the Thakuru (butler) service.
From beginner coaching courses to various surf pass options that offer on-demand boat transfers to surf points located away from the resort, the professional Surf Dude is on hand to coax first timers or use video analysis to help intermediate surfers get to the next level, the resort adds.
In addition to the wonderful surf breaks, FLOAT – NIYAMA Private Islands' water sports operator – offers an array of tailor-made surf programmes and services developed in association with LUEX.com, one of the world's leading luxury surf tour operators, to suit every surfer.
For more information, please visit niyama.com.