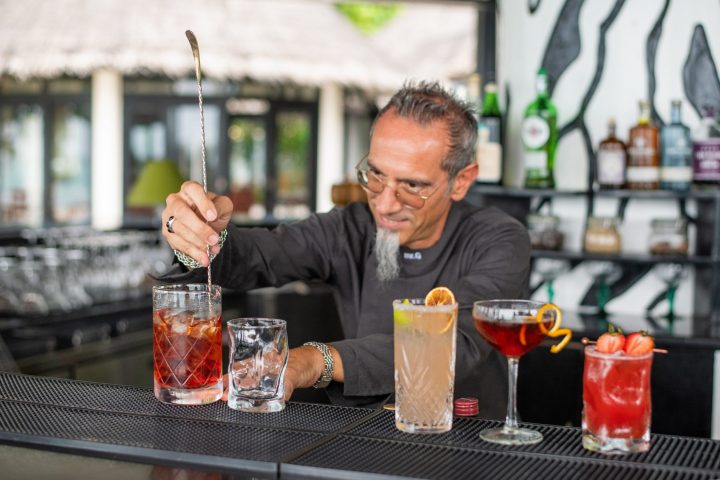 Sun Siyam Iru Fushi enhances bartending expertise with renowned mixologist Giovanni Depergola
In a remarkable stride towards redefining luxury libations, Sun Siyam Iru Fushi's bartender team embarks on an exhilarating week-long journey of intensive bartending training, from August 7th to 14th which is spearheaded by the illustrious Giovanni Depergola, the Co-Founder and Head of Education at Alembic Liquid Education System.
Renowned for its relaxing beauty and unparalleled hospitality, Sun Siyam Iru Fushi has consistently striven to provide an unforgettable experience for its guests. The forthcoming bartending training aligns seamlessly with the resort's commitment to excellence, as it seeks to further refine its beverage services. The team's immersion into this intensive program led by Giovanni Depergola underscores the resort's dedication to staying at the forefront of the industry's evolving trends and customer expectations.
Giovanni Depergola's presence as the lead mentor for this training adds an extra layer of prestige to the training. With a reputation for his expertise and innovation in the world of mixology, Depergola's guidance is expected to ignite a creative spark within the bartender team. As the Co-Founder and Head of Education at Alembic Liquid Education System founded in 2016, he brings a wealth of knowledge and experience, promising to impart not only technical skills but also a deeper understanding of the artistry behind mixology.
As the week-long training commences, the bartender team anticipates an immersive experience that will broaden their horizons and refine their craft. As the resort continues to set new standards in luxury hospitality, this training marks a significant step toward ensuring that every guest's visit is imbued with the magic of finely crafted cocktails and impeccable service.
Take advantage of the free transfer offer this August and immerse yourself in luxury, relaxation, and an unforgettable dining experience at Sun Siyam Iru Fushi, visit the resort's website https://www.sunsiyam.com/sun-siyam-iru-fushi/offers/free-transfer-offer/ or contact reservations at 00960 656 0125 | ecommerce.irufushi@sunsiyam.com.