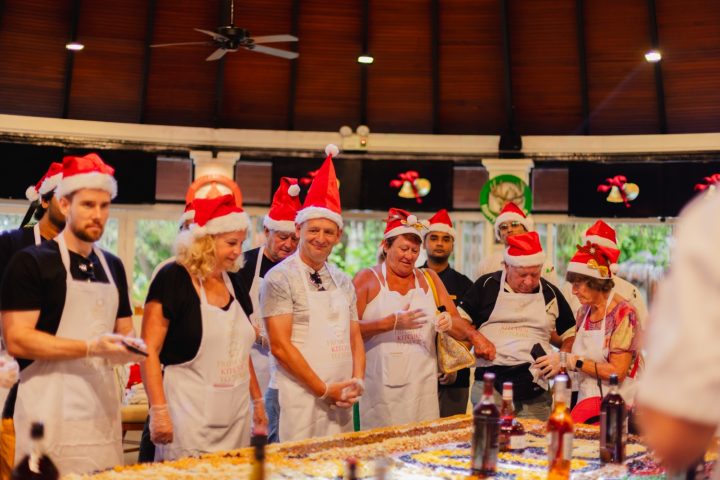 Sun Siyam Iru Fushi Maldives celebrates time-honoured tradition of 'Festive Fruit Mixing'
As the holiday season approaches, Sun Siyam Iru Fushi gathered all its guests on the 19th of September to experience the rich tradition of 'Rum Pot,' a delightful and centuries-old practice of fermenting fruits to prepare for the festive season. This unique culinary journey promises to add a dash of nostalgia and a lot of flavours to your holiday celebrations at the luxury resort.
The 'Rum Pot' tradition, originating from Germany, has been carefully preserved and celebrated at Sun Siyam Iru Fushi, a tropical paradise nestled in the Maldives. The resort's talented culinary team has combined this time-honoured method with a tropical twist, offering guests a taste of paradise with every bite.
What is 'Rum Pot'?
Rum Pot, which translates to "Rumtopf" in German, is a process of preserving various fruits by macerating them in rum and sugar, creating a deliciously boozy concoction. This delightful tradition is often passed down through generations, with each family adding different fruits throughout the year. By the time the holiday season arrives, the Rum Pot is ready to be used in festive cakes and desserts, infusing them with a unique, fruity, and spirited flavour.
At Sun Siyam Iru Fushi, this age-old practice has been combined with the resort's luxurious tropical setting, making it a delightful and memorable experience for guests from around the world.
"Our annual 'Rum Pot' preparations have become a cherished tradition at Sun Siyam Iru Fushi," said Abdulla Atham, Resort Manager at Sun Siyam Iru Fushi. "We take great pride in preserving this culinary heritage and infusing it with the flavours of the Maldives. It's not just about the delicious fruit, rum, and sugar; it's about creating cherished memories and celebrating the holiday season in a unique way."
Guests staying at Sun Siyam Iru Fushi during the festive season can savour this unique tradition in the form of mouthwatering festive cakes and desserts, expertly prepared by the resort's culinary team. The Rum Pot-infused treats will be available throughout the holiday season, ensuring a memorable and indulgent experience for all.
Join us at Sun Siyam Iru Fushi to create lasting memories, savour the coming warmth of the holiday season, and experience the festive flavour of Rum Pot. Book your stay now and embark on a festive journey like no other.
To find out more about the upcoming festive offers and activities at Sun Siyam Resorts, or to book your stay, please visit https://www.sunsiyam.com/sun-siyam-iru-fushi/offers/ or contact us at book@sunsiyam.com.