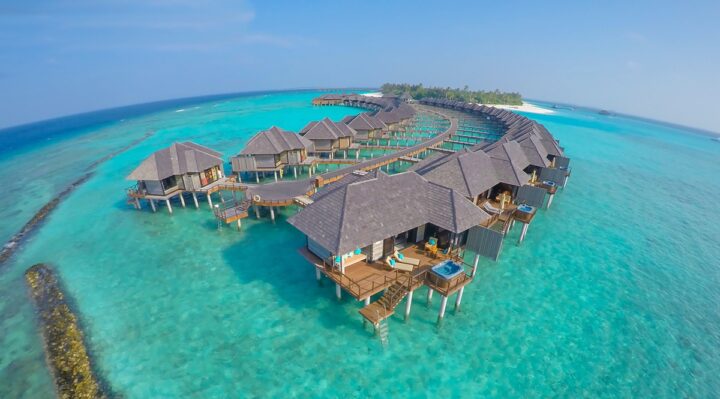 Sun Siyam Iru Fushi to be named 'Best Spa Hotel in Maldives' at Int'l. Hotel Awards 2017
The Sun Siyam Iru Fushi Maldives is set to be named the 'Best Spa Hotel in Maldives' at the International Hotel Awards 2017 and has also confirmed receipt of the International Five Star Standard. The announcement of the National and Regional winners and awarding will be held at The Marriott Marquis Queen's Park Bangkok, Thailand at a Gala Event on May 26.
The International Hotel Awards is the international 5-star standard of hotel ratings. It is the only organisation to provide 5-star accolades at an international level. The International Hotel Awards global competition determines the finest hotels and hospitality companies in the world.
The main purpose of these awards is in recognising excellence in the hotel and hospitality industry on a global scale and to promote the international standard. As such winning the much-deserved award brings forth The Sun Siyam Iru Fushi Maldives to an even higher level, it said in a statement.
With the entire island a sanctuary of natural beauty, there is no need to hide away. Instead, The Spa by Thalgo at The Sun Siyam Iru Fushi is an open immersion – in organic earth and vibrant sea – the elements from which Ayurveda draws its centuries-old healing power, it added.
"At The Spa by Thalgo France, we have perfected this ancient holistic tradition, blending its timeless wisdom with contemporary practices found both East and West. Our resident Ayurvedic Doctor guides our guests on their own personalized journeys to wellness both during their stay and beyond," said Sun Siyam Iru Fushi Maldives in a statement.
"Meanwhile, expert practitioners – in traditional massage, authentic Maldivian-inspired rituals, and world-renowned wellness practices – combine finely honed knowledge with a naturally healing touch. All this in a setting that mirrors the natural splendor of the island."
Wood, stone, water and light – all the fundamental elements of the earth – come together in perfect harmony in the design of the Spa's 20 treatment rooms. Hydrotherapy pools, steam rooms, and saunas are offered to complement your treatments. Meanwhile, dedicated relaxation areas are designed as natural sanctuaries, allowing you to take a moment before emerging renewed, it added.
The International Hotel Awards were developed to identify, highlight and reward excellence throughout the global hospitality industry throughout a wide range of areas. In addition to categories for several types of specialty hotels and categories by hotel size, there are also categories for best hotel architecture, construction, interior design, marketing, and website. They are split into regions covering Asia Pacific, Arabia & Africa, the Americas, the Caribbean, Europe, and the UK.