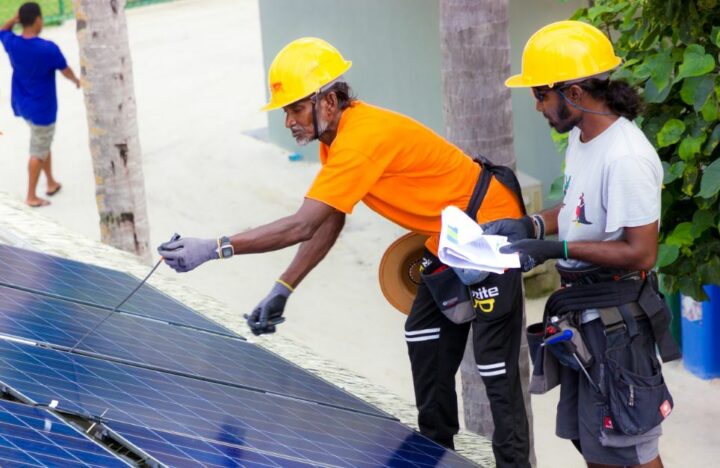 Swimsol to host workshop on Solar Energy Technologies for Chief Engineers
Swimsol, a leading provider of solar energy solutions, has announced that it is hosting a workshop on solar energy technologies targeting engineers working in the hotel industry. The workshop dubbed the "Chief Engineer Workshop: Solar Energy Technology", will be held on November 20 at The Beehive Maldives Hotel. Chief Engineers, Environmental Officers and Marine Biologists involved in the sustainability plans of local resorts will be participating in the closed event.
Swimsol, a company that provides solar energy services, is based in Vienna, Austria with its subsidiary company in Malé, Maldives. With over 22 years of experience in the European solar industry, Swimsol has implemented more than 500 solar systems and over 100 MW of installations.
After visiting the Maldives in 2009 and seeing that this country had limited space for solar panels on land, they devised and launched SolarSea, the world's first floating solar solution for the sea in the Maldives, after years of extensive research on the subject.
In response to the mounting interest in Solar Energy Technology, especially within the community of resort Chief Engineers, Swimsol organised the workshop to facilitate an interactive information session that will be hosted by Martin Putschek, the managing director of the company. With over a decade of experience in the European Solar Industry, Putschek is a venerable contributor to the field of Solar Energy.
The workshop will cover general information about solar energy and the potential for harnessing it in the Maldives, on a Q&A basis, enabling participants to delve deeper into the subject. Given that Chief Engineers are hesitant to install these systems as it requires expertise in planning and integration, the workshop will elaborate on the rooftop systems and the panels available with respect to our climate, which is both humid and corrosive, as well as the varieties of mounting systems available.
Integrating the system into the resort's grid and dimensioning of the system with existing examples of solar energy systems in the Maldives will be presented at the workshop, allowing the participants a clearer perspective into the subject of solar energy technology in the Maldives.
According to Swimsol, there is a considerable demand for harvesting solar energy at local resorts as the in-house generators perform at their maximum. Therefore, the workshop will elaborate on the technical and financial saving potential involved in the installation of solar energy systems.
The functions of SolarSea and the benefits of installing these floating solar systems will be discussed as well, according to Swimsol. To learn more about the workshop, please contact verena.wiesbauer@swimsol.com and for information on upcoming events.