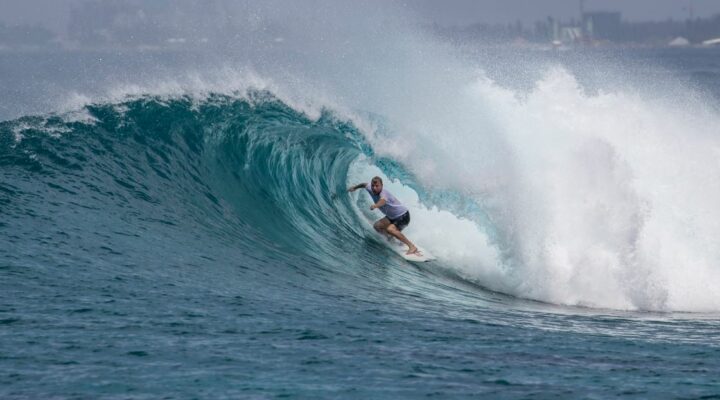 Taj Burrow crowned Four Seasons Maldives Surfing Champions Trophy for second time
Australian Taj Burrow has taken out his second consecutive Four Seasons Maldives Surfing Champions Trophy in perfect 3-to-4 foot waves at the right-hand reef of Sultans. Burrow surfed an incredible event taking out the Twin Fin and Thruster Division to make it to the Grand Final of the "world's most luxurious surfing event".
In the Grand Final, Burrow came up against an in form Rob Machado. Machado had been looking dangerous all event finishing first in the Single Fin and second on the Twin Fin. It was Burrow's fast and critical surfing however that saw him take the overall win with a heat total of 16.73 out of a possible 20, says Four Seasons Resorts Maldives.
"I'm so extremely excited, I'm just having the best time. This is such an amazing event, I would have retired earlier if I knew this is what life would be like, it's too good," says Burrow.
"I'm so stoked I got to come back here after a win last year, we get so spoiled at the Four Seasons Kuda Huraa and then to come just around the corner and have waves that are this good is such a treat, it's an incredible place. Winning again is really special to me."Burrow hasn't lost much of his competitive tenacity since retiring from the elite WSL Championship Tour (CT) a year ago. He consistently posted huge scores through all three divisions and into the grand finale. In the final of the Thruster event, he even posted the only perfect 10-point ride of the event for a super deep tube ride, according to Four Seasons Resorts Maldives.
"The waves were cooking for this whole event. The forecast wasn't looking great so to score the waves we did was sick, even getting that barreled today was a nice surprise. Everyone in this event surfs so amazingly I really had to surf out of my skin to win this thing. If I do get to come back next year I'll be over the moon. It's definitely one of the sickest events on the planet," adds Burrow.
According to Four Seasons Resorts Maldives, Machado was returning to the Four Seasons Maldives Surfing Champions Trophy for the second time. After failing to make the Grand Final in 2016, Machado returned with something to prove and it showed in his smooth yet aggressive attack. In the final, Machado posted a heat total of 14.93 and as the waves slowed he was unable to find the score he needed to take the lead."I have no complaints about finishing second. Today was actually super tight with who would make it into the Grand Final so it was cool to watch it all play out," says Machado."It was just great to come back here and have the Four Seasons Kuda Huraa experience again. The waves were so sick for the event as well but it was always going to be hard to beat Taj, the guy is just so good."Finishing runner-up in the Thruster Division against Burrow was 2001 WSL Champion C.J. Hobgood. The Floridian goofy foot was a standout all event but came up against a rampaging Burrow in the final. Hobgood was unable to get in a rhythm but was thankful to be a part of the Champions Trophy.
"I can't believe I got to have this experience it's definitely once in a lifetime. It was a shame I had such a bad heat in the final but I'm not too disappointed," says Hobgood.
"It's been great to see all of these old friends and hang out. Waking up in Kuda Huraa, a perfect island and then cruising on a boat for 2 minutes and you have waves like this, is like a dream."Brazilian big wave inspiration Maya Gabeira put on her best performance of the event during the Thruster Division. The goofy foot came just short of a semi-final berth but was over the moon to have been part of such a special event. She stated this week at the Four Seasons Maldives as a definite life highlight.
"This has been such an amazing time for us here in the Maldives. The Four Seasons Kuda Huraa experience has been like no other, just so luxurious," says Gabeira.
"I don't usually go on trips looking for fun size waves but I'm glad I came here as the waves are so fun and playful. Surfing with all of the guys was so incredible. They are such amazing surfers and my heroes so it was cool to compete against them. I've had the most amazing time at this event."
Local wildcard Ismail Miglal had his best performance in thruster division posting a heat total of 12.50. He wasn't able to overcome Hobgood in his semi-final but was stoked to have had the opportunity to surf with and against his surfing idols."This was the most amazing experience of my life. Staying in luxury and having my home breaks with no one else out was so cool," says Miglal.
"It was an honour to surf with my heroes. Watching them surf taught me a lot about my surfing and how I can improve. I loved the experience and will never forget it."The Surfing Champions Trophy was hosted on board Four Seasons Explorer – the Maldives' ultimate surf vessel. Fans had the opportunity to get up close to the action with on board VIP passes, while the 'surf tour' experience continued with shoulder-rubbing events back at Four Seasons Resort Kuda Huraa, which played host to the contest's competitors, judges and Tropicsurf partners.