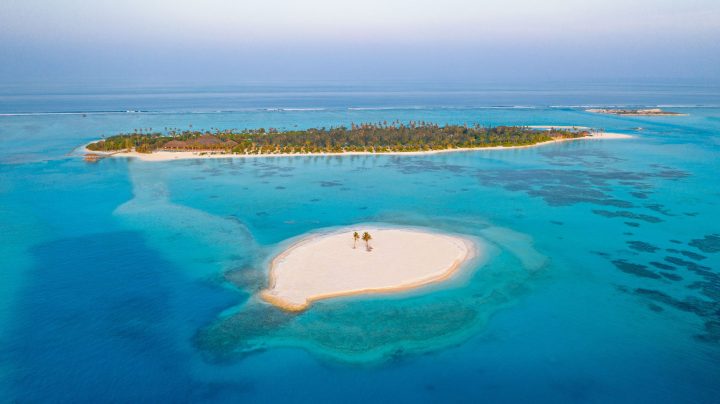 Taking it Easy in Paradise: Innahura Maldives
Affordable adventure and laid-back experiences coexist in perfect harmony within a tropical island resort surrounded by natural luxury. Described as an 'unpretentious gem' this island has an emerald centre, fringed by pure white beaches and bright aqua lagoon plus charming Maldivianstyle beach bungalows. Whether playing beach sports, gliding over the water on a tandem sea swing, diving with whale sharks and manta rays or dancing the night away to the beat of traditional Maldivian bands, many magical moments can be experienced at Innahura Maldives resort in south-east Lhaviyani atoll.
Four-star resort, Innahura offers 'affordable luxury' the chance to experience the inherent beauty of the Maldives and then bolt on extra excursions, activities, food, and beverages on a 'pay as you go' basis. Simplicity features in its all-inclusive easy packages allowing one to sample unlimited experiences on the island too.
Innahura is part of the Crown & Champa portfolio which brings 40 years-experience in the Maldives hotel industry with nine resorts. Innahura offers value as well as quality so its approach differs from its luxury sister resorts Hurawalhi- home of the world's largest underwater dining restaurant and Kudadoo Private Island with its 'anything, anytime, anywhere' concept. All three are in the Lhaviyani atoll, sharing incredible dive sites and trips are available to 'bolt on' for a special occasion. Other Crown & Champa resorts cater specifically for families and the boutique, adult only and romantic getaways.
Affordable laid-back luxury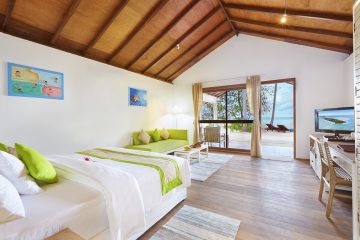 Watch the sun set and rise from the patio of one of Innahura's 78 four-star Maldivian style bungalows. The sunset properties overlook the Indian Ocean's edge, while sunrise bungalows frame a picture postcard view of palm trees and the sandy beach and lagoon just beyond. All properties have a queen size bed, modern furnishings in the sitting area and wooden or tiled floors. Decorated in fresh greens, calming aqua and warm sunny tones internally its tranquil ambiance reflects the tropical scenes outside. All rooms are air-conditioned and have an overhead fan. Guests can pour themselves a tipple from the minibar and admire stunning views from the private porch. Friendly staff ensure towels are replenished regularly and provide a nightly turndown service. Four adjacent bungalows serve larger groups and are equipped with all the mod cons needed to meet the demands of families with a small entourage. This
includes personal touches such as board games and free wi-fi.
Dining and entertainment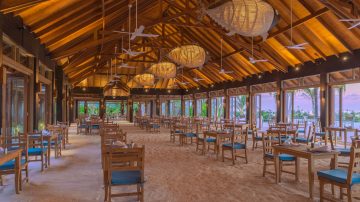 With one main restaurant and two bars one featuring a dancefloor where discos are held, entertainment is at the heart of this resort. For breakfast try tasty Maldivian 'mashuni roshi' or sample an array of international and local cuisine at Dhoni. Live cooking stations manned by flamboyant chefs provide extra flair to the central dining area. In both there is an emphasis on seafood and grills, although oven-baked pizza is also popular. Celebrate a special occasion with an intimate à la carte dinner on the beach as the sun goes down. Couples can enjoy the romantic ambiance of the moonlit beach gazing up at the inky sky filled with stars while sipping exotic cocktails. As the moon bathes the sea in light, the glory of the equatorial night sky envelops this tiny land where the sea is seemingly as expansive as the heavens above. Meanwhile, barbeques on the beach make for memorable family get togethers. At Sand Bar residents can serve themselves to a beer and play chess as they dig their heels into the beach floor. Olhu bar keeps sports fans hydrated while watching your choice of international sporting events . Decorated in a maritime style, it is a great place for recounting dive stories. This island has a lively entertainment scene from 'Bodu Beru' cultural dance shows, discos, and live bands for guests to strut their moves on the sandy dancefloor.
Family friendly sports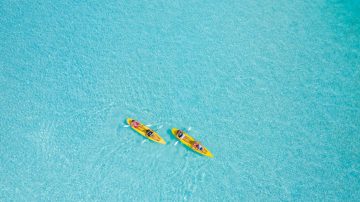 Families can engage in recreation along Innahura's 1.5km beach or splash together in the freshwater swimming pool and kids pool overlooking the beach. Children and their parents can play beach volleyball, badminton, tennis, or football. The resort also offers pétanque and other games popular with holiday makers. Meanwhile, teenagers will love the games room offering table tennis, billiards, football table and darts.
Diving and snorkelling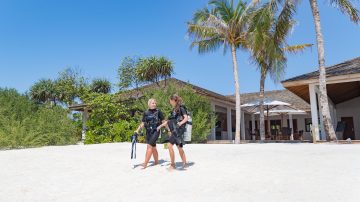 The island's scuba centre offers guided PADI diving courses and trips to Lhaviyani Atoll's top dive sites, including 'Anemone Thila', a magnificent example of the Maldives' underwater coral environment. Innahura guests can enjoy the same opportunities as guests staying in Crown and Champa's nearby luxury properties Hurawali and Kudadoo. Meanwhile, the warm waters surrounding the island are a snorkeler's paradise, with the lagoon teeming with tropical fish. On the edge of the atoll, nursing sharks and manta rays thrive, dolphins play and green turtles gracefully glide. The island's ocean water sport centre rents out catamarans and kayaks for adventures above the waves. There are also fishing trips, sunset cruises and island-hopping experiences to enjoy.
Spa time and sunsets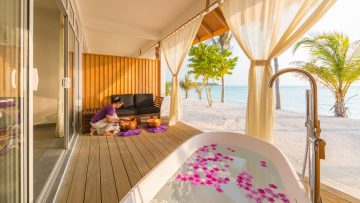 Such adventures require a balance with quiet moments. If 'me' time is what you crave then the resort's Duniye Spa helps rebalance and soothe the body and mind. Views of the beach and lagoon from the treatment rooms are relaxing enough, but spa-goers can experience 'heaven on earth', on the spa's menu. This is just one of its 'dreamtime journeys,' alternatively you can sample a Balinese massage, Himalayan salt therapy or pampering facial, all using pure organic products.
There are many opportunities to lock away fun memories made on the island. The best way to reflect at the end of an adventurous day is by watching the sunset. A magical and mesmerising sight as the sun dips below the endless horizon. Yellow and orange reflect in the aqua waters that turn lavender as the night draws in, then indigo and finally inky black, with only the twinkling stars above distinguish the sky from the horizon.
With so many affordable experiences on offer, Innahura is a place where troubles are cast into the waves just like a message in a bottle, except castaways here prefer not to be found. Once they check in, they never want to leave.