Vakkaru Maldives Celebrates 5th Anniversary
Vakkaru Maldives has celebrated a significant milestone, marking five years of operations. Opened on 17th December 2017, the island resort has provided memorable experiences for more than thirty-two thousand guests during the five years.
"Celebrating our 5th anniversary is a proud moment for all of us at Vakkaru Maldives. Over the past half-decade, the team has been striving to deliver our guests the best service and experience. I hope we have created exceptional memories for our guests and experiences that will stay with them for a lifetime. I'd also like to give my amazing team who have been a part of this wonderful journey a high five," said Iain McCormack, General Manager at Vakkaru Maldives.
Featured Image: Vakkaru Maldives Team Members
Vakkaru Maldives is owned by Egypt's El Chiaty family, and conceptualised by the chairman and CEO of Travco Group, Hamed El Chiaty and his son, Vice-Chairman of Travco Group, Karim El Chiaty. The idea was designed by Dutch firm, OT Design BV. Travco Group is one of Middle East's leading leisure groups operating in the tourism, hospitality and aviation sectors.
Located within the UNESCO Biosphere Reserve of Baa Atoll, Vakkaru Maldives is a 30-minute seaplane flight from Velana International Airport. The resort features spacious 113 overwater and beach villas and residences, six dining venues, two bars and a wine cellar. It also includes a Parrotfish Club and Coconut Club for children and teens, a tennis court, an overwater Merana Spa, and more.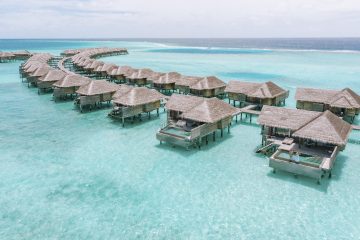 Featured Image: Overwater Villas, Vakkaru Maldives