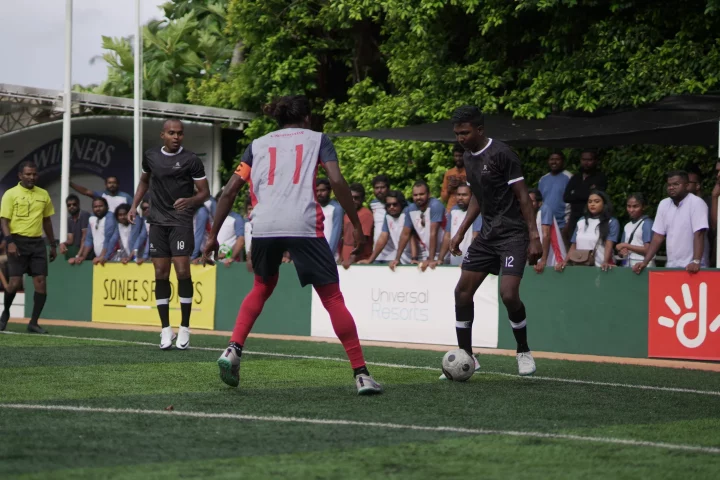 Tekkers Resort Cup: St. Regis, Velaa Private Island secure spots in grand finale
The Tekkers Grand Semi-Finals, a thrilling showdown in the Tekkers Resort Cup, concluded on August 31st at Kurumba Maldives. This momentous event featured two fierce matches that left spectators on the edge of their seats.
In the first match, the Dhaalu Atoll Champions, St. Regis, faced off against the South Kaafu Champions, Crossroads Maldives. Crossroads took an early 1-0 lead before halftime, and they extended their lead in the second half. However, St. Regis made a stunning comeback, scoring two goals in quick succession. This led to the first Grand Semi-Finals match ending in a dramatic penalty shootout. After a nail-biting contest that went down to the 7th penalty, St. Regis emerged as the victors, securing the first spot in the Grand Finale.
The following match featured Noonu Atoll Champions, Velaa Private Island Maldives, and North Kaafu Atoll Champions, Jumeirah Maldives. Velaa Private Island started the game with a strong performance, taking a 1-0 lead into halftime. In the second half, Velaa Private Island continued their dominance, scoring two more goals to make it 3-0. Although Jumeirah managed to pull one goal back, Velaa Private Island secured their victory with a fourth goal, earning their place in the Grand Finale.
The Grand Finale promises to be an electrifying contest, as St. Regis and Velaa Private Island prepare to battle it out for the coveted Tekkers Resort Cup championship title.