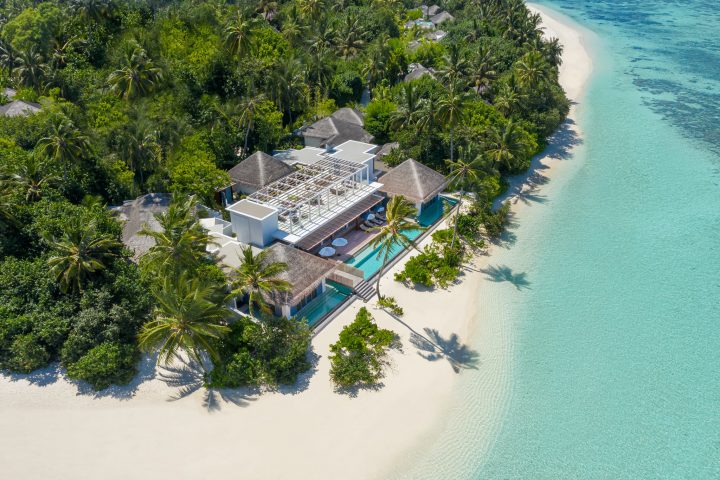 The Elegant Oasis of Raffles Maldives Meradhoo Re-opens
Nestled on two equally beautiful private islands situated at one of the world's largest and most remote natural atolls – Gaafu Alifu Atoll, Raffles Maldives Meradhoo has started welcoming guests as of 16th July 2021 continuing to offer the legendary service of Raffles.
The resort offers spacious thirty-eight beachfront and overwater villas spanning across two islands providing open and airy rooms that come at the pleasure and privilege of being the islands' sole resort, boasting seclusion unlike any other. Its rooms reflect the natural beauty of the island with soft sky blue and duck egg together with luxurious furnishing including the well-known Raffles' writer's desk. In addition, the overwater villas also include a glass panel at the terrace of villa for guests to enjoy the vibrant sea life which compliments rest of the in villa experience.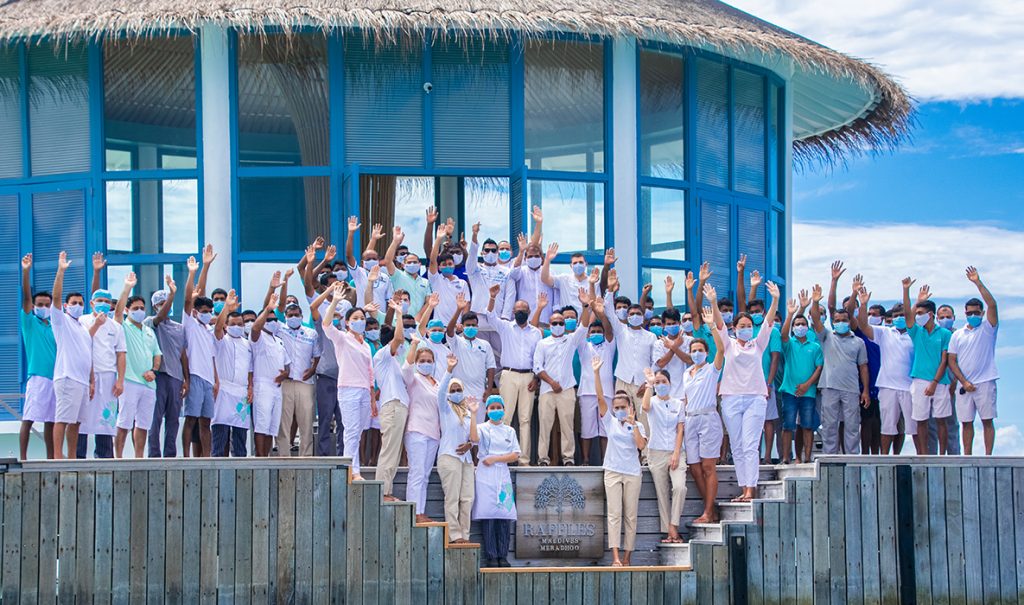 The brilliant habitats of the resort alone is to provide guests with unforgettable diving and snorkelling experiences, rife with dynamic marine life. The resort consists of two house reefs which are abundant with colourful wildlife and are well taken care of by the resident Marine Biologist, Doctor Giulia Pellizzato who also provides the opportunity for guests to learn and engage in her coral growth and seawater monitoring project. For those willing to build confidence are presented diving courses with experienced instructors and explore the vast ocean. Furthermore, providing endless activities crafted for the adventurous and curious souls, plunge into thrilling water sports or big game fishing, or take part in paradisical excursions. The resort offers Raffles Spa for the calmer dispositions looking to rejuvenate which is set over the water and open to the sky where guests could enjoy the therapeutic power of native ingredients and ancient rituals.
Raffles Maldives Meradhoo promises VIP treatment to each and every guest of theirs with Raffles butler service that is intuitive, discreet and personalised to every need. Further offering its guests with a range of culinary experience through their three restaurants providing a fine mix of international and local cuisine and two bars with world's most prestigious beverages, set in the most tranquil, elegant ambiance.
Raffle's first resort in the Maldives – Raffles Maldives Meradhoo continues to live up to its prestigious reputation. With a lavish backdrop and lush greenery, the resort ensures to enchant travellers with meaningful experiences that will linger for a lifetime.