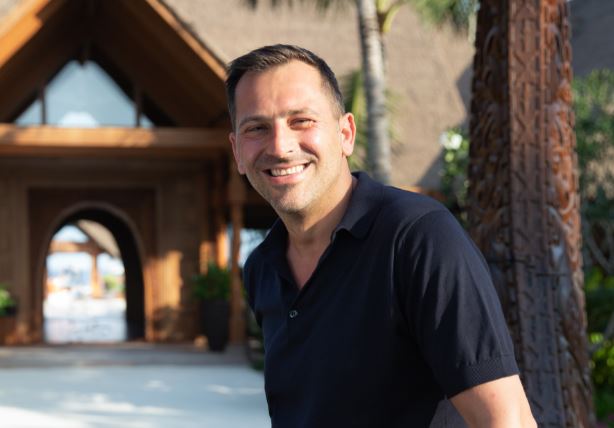 The Maldives according to Dino
A Conversation with Dino Michael, Global Head, Waldorf Astoria
Interviewed by Mohamed Mamduh, Managing Editor, Hotelier Maldives
Waldorf Astoria Maldives Ithaafushi opened in July this year and is one of the most awaited resort openings in 2019. Located only 30 minutes by luxury yacht from Velana International Airport, Hotelier Maldives was invited for an exclusive opening visit and sat down for a chat with Dino Michael, Global Head, Waldorf Astoria Hotels & Resorts.
Dino Michael was born and raised in London, where he continues to be based with his wife and three sons. Despite graduating from law school, he did not pursue a career in law, but rather chose a career path in the restaurant industry.
Hotelier Maldives (HM): You began your career working in the London restaurant scene; can you tell us a little bit about this phase?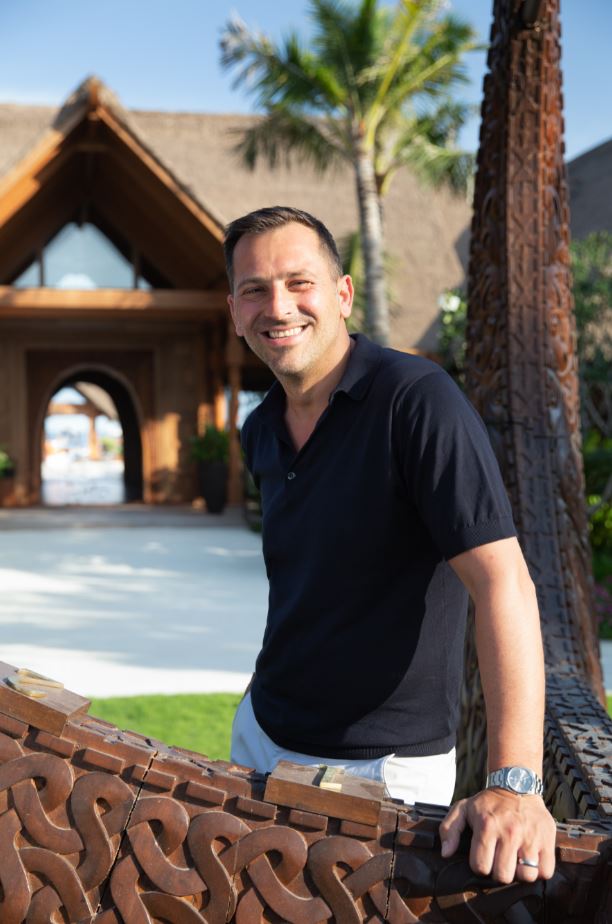 Dino Michael (DM): I worked across a range of dining venues – restaurants, bars, nightlife spots and even Michelin-starred restaurants. After establishing my career, I spent time consulting for a number of clients across the industry, which was when Hilton approached me to oversee the Food and Beverage operations. Initially, I was responsible for the UK but then moved into brand management, including business development and conceptualisation, during which I oversaw Europe, Middle East, Africa, and Asia Pacific. Following that, I built my team and moved to the US seven years ago and recently celebrated a decade with Hilton.
HM: How did you come to be in your present role?
DM: Shortly after moving to the US, I was part of the original team that developed our first lifestyle brand, Canopy by Hilton, which was an amazing experience. That led to a larger role overseeing the development of our luxury brands across the globe, and gave me an incredible opportunity to work alongside my colleagues across each region. As our luxury brands grew, the opportunity to lead one of our flagship brands, Waldorf Astoria, came along – and I was extremely proud to accept.
While Hilton is a huge enterprise with a global footprint, with Waldorf Astoria we are just above 30 properties and are able to behave and think like a boutique brand – reacting nimbly and executing ideas easily and quickly. I'm fortunate to have direct relationships with our general managers and regional leaders, which I think is the greatest appeal of the role. Also, in real-time terms, we are a young brand. Even though the name Waldorf Astoria has been around since the late 1800s, our growth beyond one hotel in New York puts us at only a decade old. I still think of Waldorf Astoria as a young luxury brand, with a great legacy and history to refer to and underpin everything we do.
HM: It's the second time Waldorf Astoria is opening in the Maldives; what was your approach to the project?
DM: From the outset of every project, we begin a three-way conversation internally, involving operations, development and brand. Together, a set of questions is asked regarding every location: do we aim to be the market leader? Is this a strategic market? The Maldives ticks all of those. Continuing, we ask, 'Do we have a partner who shares and believes in our vision?' – if you consider the quality of the development, the level of detail, the scale and scope of Waldorf Astoria Maldives Ithaafushi, the answer is a resounding yes. Thirdly, we ask if this will add value, increase our portfolio and boost brand equity – again this is a yes, as this resort is a new benchmark for us.
I think Waldorf Astoria Maldives Ithaafushi now represents a standard to aspire to, as the brand continues to move forward. The internal conversation always includes the various stakeholders, so we are all aligned, and there is belief in the product and the location.
HM: What do you think of the timing, in terms of where the Maldives hospitality industry is heading towards…in terms of the new brands that are coming in, the pipeline, the regulatory framework, and all the other related issues?
DM: The Maldives experienced a seven-percent growth in tourist numbers last year, and this is projected to reach close to one hundred percent cumulative growth in the next five to seven years. In other words, the timing is perfect for us. People are beginning to realise just how convenient travel to the Maldives is, with flights from major hubs only taking four to six hours – this includes Doha, Dubai, Singapore and Bangkok.
HM: In terms of making an impact on how the destination is perceived, how do you think Waldorf Astoria will make a contribution to this?
DM: There is an aspirational image of the Maldives that everybody has. It is on most people's bucket lists and wish lists, and most want to travel to the Maldives at some point in their lives – this is especially notable in Europe.
Waldorf Astoria Maldives Ithaafushi aims to deliver on this aspiration, with attention given to every detail. In terms of space, the sheer amount of it you get in each room is unique to the region. Every villa also comes complete with its own private pool. With food and beverage, no expense is spared on variety and excellence. We have eleven dining venues across the property; a range of dining options are available from Middle Eastern to Chinese. We have a partnership with Chef Dave Pynt (of Michelin-Starred Burnt Ends Singapore fame) who oversees The Ledge restaurant. On top of all this, the 32,000-square-metre Private Island – with a four-bedroom residence, a beach villa and an overwater villa, five swimming pools, dedicated chef, personal concierge team and so much more – is a complete experience by itself.
I think what we have at Waldorf Astoria Maldives Ithaafushi is a multilayered journey for your senses, offering guests an experience that is above and beyond – matching and exceeding that expected aspiration of the Maldives. This is all achieved through the scale, quality, level of detail and technology we have woven into every aspect of the resort.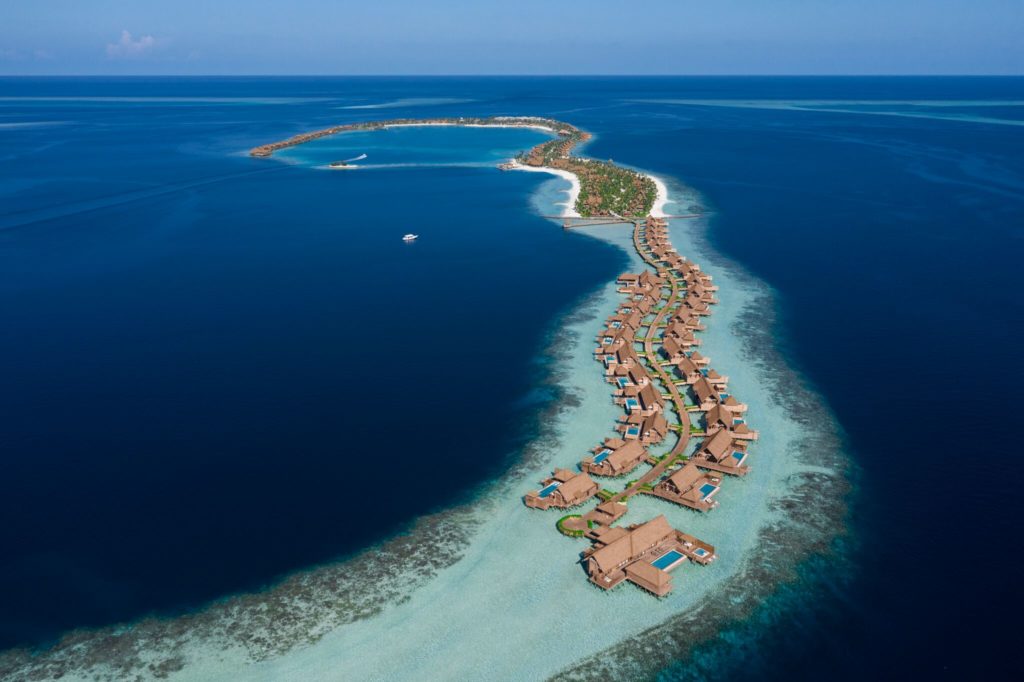 HM: How attuned will the resort be in terms of deploying digital technologies in a way that would engage emerging trends in traveller behaviour; of balancing the digital and the analogue and how this will play into the guest experience?
DM: The modern-day traveller is far more digitally-enabled than ever before. This leads to the need to hyper-personalise, and one way we do this is through our Hilton Honors mobile app.
One such tool in the app that makes the travel experience smoother is Connected Room. Logging into Netflix on the television via the remote control may take up to 15 minutes, particularly if you have a complicated password. By allowing your mobile app to accomplish the pre-login for you, the screen in the room becomes a vehicle for customisation – this includes showcasing what is in your mobile device on the screen; adjusting temperature preferences; stating pre-arrival preferences and more. For example, with the latter, guests are able to select and have a Diet Coke waiting in their room upon arrival versus having a beer there – especially useful if they do not drink alcohol.
The range of technologies we offer (including the likes of Connected Room) allows guests to fully customise the arrival, in-room and overall experience. Through these, we are able to understand the kind of things guests might like – for instance, are guests able to swim or not? In the case of the latter, we would suggest alternative activities, rather than an Instagram master class at a coral reef. This allows us to understand our guests and carefully curate their stay according to their exact preferences.
HM: You are very well positioned to get a view of the global tourism and hospitality trajectory… What would the Maldives be known for in the next 5 to 10 years?
DM: I think along with French Polynesia, the Maldives is one of two destinations that are unique in the world – there is nothing quite like these two regions, and I don't think this is ever going to go away, no matter which resorts develop in the future. The concept of an overwater villa is an icon by itself, and that aspiration will never fade. I also think the region, especially the Maldives and Sri Lanka, is renowned for its level of service and hospitality. It's in the core DNA of the region to be hospitable and welcoming, and this will sustain travel as well.
Globally, people are putting less value on material items, and want to travel, experience and see the world. Also, as the world becomes fairly advanced and economies develop, homogeneity begins to set in – and because of this, people are striving to find uniqueness. In some countries, there are the same operators and the same malls all over. However, the Maldives is untouched and unexplored to most, and that is its exact selling point. This is why I think the Maldives is likely to see continued interest from travellers well into the foreseeable future.