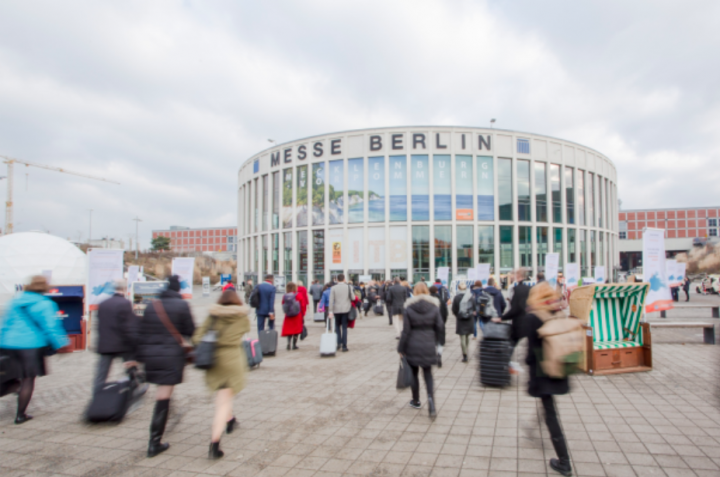 Top 5 Travel Trends at ITB Berlin 2023
The ITB Berlin 2023 Convention returned after a three-year hiatus. The three-day convention is held at Messe Berlin on March 7-9. The convention is considered the travel industry's leading think tank. Over 400 experts will share knowledge on the latest trends and challenges facing the tourism industry. This year's motto "Mastering Transformation" celebrates the rebound and transformation of the global travel industry post-COVID. Out of 20 thematic tracks, Hotelier Maldives identified five of the most recurring travel trends at ITB Berlin. Responsible tourism, eTravel, Health and Wellness Tourism, MICE and Diversity and Inclusion were all anyone could talk about at ITB Berlin this year.
Responsible Tourism 
Responsible tourism seeks to proactively minimize the adverse effects of travel. Through sustainable initiatives, responsible tourism can go a step further and use tourism revenue to transform the destination to be better than before. For it to be successful, operators, hoteliers, local government, local communities and tourists must work collaboratively. Sustainability and navigating tourism in the midst of a climate crisis were recurring themes in the responsible tourism track. Prof. Dr. Hans Joachim Schellnhuber gave a talk titled, "Tourism: Can we preserve the world while enjoying it?" providing a realistic assessment of the future of tourism amidst anthropogenic climate change and whether a new paradigm of mobility is emerging through digitalization.
Maldives Minister of Tourism, Dr. Abdulla Mausoom also contributed to the responsible tourism track, giving a speech on, "Tourism & Resilience: The dangers of global warming for all island nations due to rising sea levels." Spreading awareness of the threat of sea level rise to island nations like Maldives, survival.
eTravel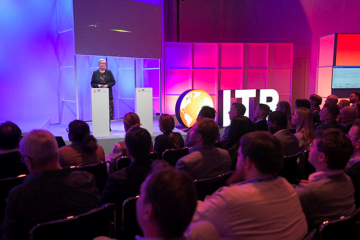 Featured Image: Speaker Caroline Bremner on Future Technologies for Travel. What's next?
This year the eTravel track is one of ITB Berlin's largest tracks, bringing together experts on data, digitalization, web3 and hospitality tech. Klaus Kohlmayr, CEO of IDeaS gave an informative talk on how hotels can monetize data to increase revenue and improve the bottom line. Hoteliers were invited to learn how to use Google Tools to maximize direct bookings in a talk by Sanjay Vakil, Group Product Manager at Google. Jan-Frederik Valentin, Managing Partner at ENNEA Venture Capital, shared insights on how we can expect and utilize Blockchain to reshape travel.
Health and Wellness Tourism 
Health and wellness tourism is broadly considered travel with the intention of enhancing one's wellbeing. Wellness is more than just the spa, it includes movement, diet, spirituality and mental health. Dr. László Puczkó, CEO of HTWWLife gave a talk, "Transformative, Regenerative and Wellness Travel: Boundaries and Opportunities," exploring the growth and saturation of the wellness travel industry. László questions if, with the proliferation of transformative wellness, we are in the era of wellness travel 2.0 and how hotels can leverage this to guests. UNWTO held a roundtable discussion exploring how to connect the growing sport tourism segment to health. Experts discussed how health infrastructure can be improved to better cater to sports tourists and professional athletes.
MICE 
MICE is an acronym standing for Meeting, Incentive Travel, Conferences and Exhibitions. It is a buzzword to include all business tourism and events. Marco Oelschlegel, Director Conventions at visitBerlin and Matthias Schultze, MD of the German Convention Bureau gave a keynote speech, "Adapt to Thrive: The Latest Trends and Branding Strategies in the MICE Market," exploring how destinations are leveraging cutting-edge trends and marketing to differentiate themselves in the MICE market. Jan Czyszke and Florian Wirthgen delivered a talk discussing how event locations must balance being a productive playground and performance hub to exceed the expectations of corporate clients.
Diversity and Inclusion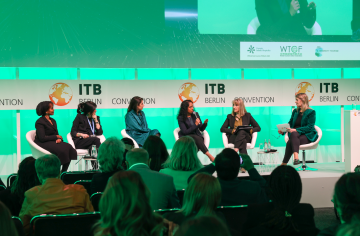 Featured Image: Panel on Gender Equality
By prioritizing diversity and inclusion, the tourism industry can become more resilient by uplifting marginalized groups and appealing to a wider market. The panel, "Diversity, Equity & Inclusion (DEI) in Tourism Marketing" highlighted that tourism marketing activities often still exclude marginalized groups including women, people of color and people with health conditions. Inclusive marketing activities are not a charitable act but are a savvy financial decision to increase revenues from marginalized markets who will be more likely to buy a product when they see themselves authentically represented. The panel, "Gender Equality: Tourism as a door opener for female empowerment," discussed whether tourism can be used as a tool to support, educate and empower women to fight discrimination.
Come and have a chat with Hotelier Maldives Editor at the Maldives Stand!
Featured Image: ITB Berlin