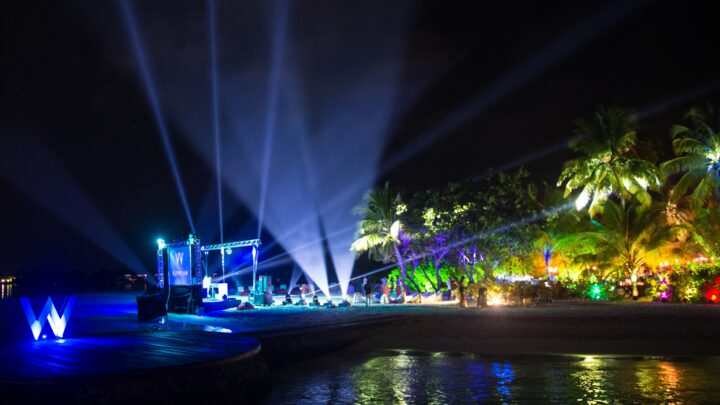 New Year, No Rules at W Maldives
To celebrate the festive season, W Maldives has planned exciting events from 11 December to 1 January 2017. Highlights include breakfasts with international DJs, pool and desert island parties, sunset sessions and cruises, cocktail parties and a gala dinner.
"W Maldives will upend tradition and rewrite the rules of the holidays with a street art–style take on the season," the resort said in a press statement.
"In the spirit of the graffiti artists who inspired us, W Maldives will push the boundaries and colour outside the lines in 2017."
According to the resort, W Hotels have partnered with graffiti legend John "Crash" Matos to create a custom Christmas tree and celebrate the New Year with bold messages in bright colours.
Raised in the Bronx, Crash first honed his craft tagging subway cars. These days he can be found collaborating with luxury brands including Ferrari, Tumi and Fender. Like W, Crash also has deep roots in the music world, with close connections to Grandmaster Flash, Swizz Beatz and Alicia Keys as well as a partnership with MTV.
On December 11, 18 and 24, W Maldives will hold Christmas Tree Lighting Ceremony hosted by its Resident DJ Ivan Zubo from Slovakia. Complimentary snacks and a glass of Champagne will be available upon arrival.
On Christmas Eve, guests can join the Dreamscape Sunset Cruise with Champagne, canapés and festive mixes by DJ Kane Ian from Singapore on the two-mast yacht 'Escape'.
In the evening, an Extraordinary Gala Dinner Under the Stars will be served with a large selection of live cooking BBQ stations featuring supreme meat and local 'catch of the day'. From 7.30 to 11pm, the island's interactive chefs will be carving, stirring and whipping up whatever guests are craving.
After dinner, guests can make their way to the scenic WET deck to celebrate Christmas with W Maldives' Resident DJ Ivan, who will keep his guests entertained with his 'Chillout Beats by the Pool' party.
On Christmas Day, breakfast will be served at KITCHEN to celebrate Christmas in a tropical style, complemented by vibrant mixes from DJ Justin Paul, W's celebrity guest DJ from LA.
From 1pm to 4pm, DJ Kane will host Fuel at the Pool party on the WET pool deck with endless BBQ and dessert options.
From 6pm to 7:30 pm, an Overwater Sunset Session at SIP bar, DJ Ivan will entertain guests while the resort's talented mixologist serves mouthwatering cocktails.
From 8:30 pm to midnight, a Chillout After Dinner Party will be held with DJ Justin, where guests will sip creative cocktails, mix and mingle.
On Christmas Eve and Christmas Day, Parasailing and Jet Ski with Santa will also be offered by DOWN UNDER & WAVE (watersports and diving) team.
W Maldives will launch 31 December in style and with a party of a lifetime 'Stranded on a Desert Island', during which guests will be escorted to the Gaathafushi private island located just minutes away from the resort. The resort's culinary team will set up a special BBQ on the beach, and DJ Justin will entertain everybody with his LA inspired mixes.
New Year's Eve will start with a Glamorous Cocktail Party at LIVING ROOM, where Champagne and canapés will be served to DJ Ivan's festive tunes.
From 9 to 11 pm, a White Sensation Gala Dinner will take place on the FIRE beach. Guests will savour fresh bites like oysters, canapés, prime meat cuts and locally sourced seafood.
At 11pm, Let the Countdown Begin party will start, with spectacular midnight fireworks and an impressive line-up of international DJs and performers, including DJ Ivan Zubo, DJ Justin Paul, DJ Kane Ian and Céline Roscheck, a violinist from Vienna.
After the party on the beach, guests will be able to enjoy After Midnight Munchies at 15BELOW underground club. These will include glow-in-the-dark cocktails and snacks complemented by more festive beats from DJ Justin.
On New Year's Day, from 9 am to noon, a late Hangover Breakfast will be served at KITCHEN restaurant.
In the evening at FISH specialty overwater restaurant, Director if Cuisine Ilias Kafalis will treat guests with his famous four-course dinner Lobster Fiesta featuring the freshest Maldivian lobsters.
Alternatively, guests will be able to enjoy the Sunset Session at SIP overwater bar while listening to the chill out beats by DJ Ivan.
AWAY Spa will offer a Detox. Retox. Repeat Journey that will include an aroma infused steam followed by the 80-minute AWAY massage and Detox Body Wrap to get back your own self.
Contact W Maldives for rates and bookings.