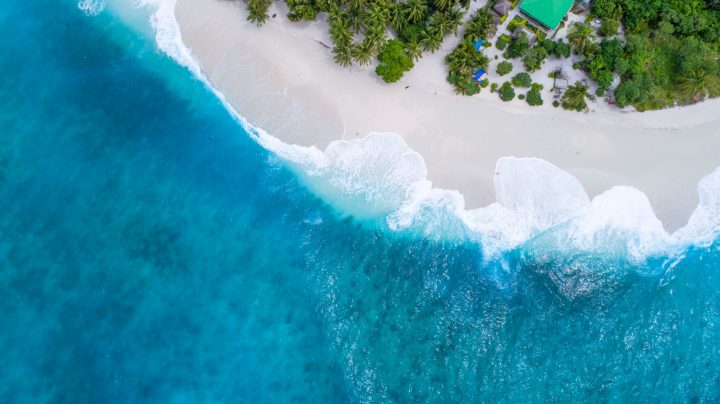 Tourism Yearbook 2021 Released
The Ministry of Tourism Maldives has published the Tourism Yearbook 2021, which presents the overall performance of the tourism industry in 2020.
Tourist Accommodation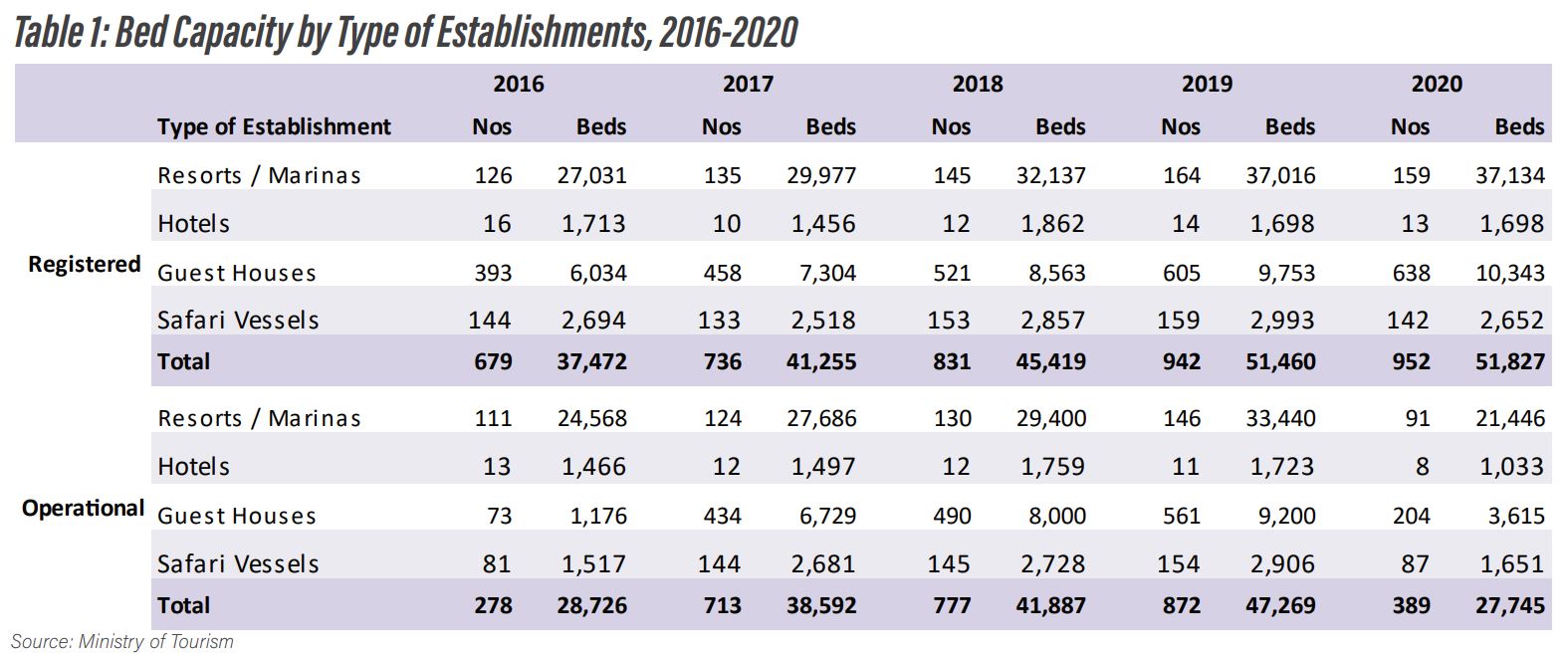 The tourism industry of the Maldives started with just 280 beds in 1972 and by 2020, the aggregate had reached over 51,500 beds. Mainly four types of accommodation are permitted under the Tourism Act Law No. 2/99 for tourist consumption – resorts, guesthouses, hotels and safari vessels. A major portion of bed capacity is held by resorts, which is 71 per cent.
During the period 2016-2020, accommodation facilities have increased significantly at an annual rate of 9.2 per cent. However, the pandemic has slowed down new openings significantly. Figures show that operational bed capacity was 55 per cent lower compared to pre-covid levels.
After the borders reopened on 15th July 2020, tourist establishments were required to obtain reopening approval from the government. By seeking this approval, at the end of December 2020, an average of 389 facilities operated with a bed capacity of 27,714. This included 91 resorts (21,446 beds), 204 guesthouses (3,615 beds), 87 safaris (1,651 beds) and eight hotels (1,033 beds).
Tourist Arrival Trends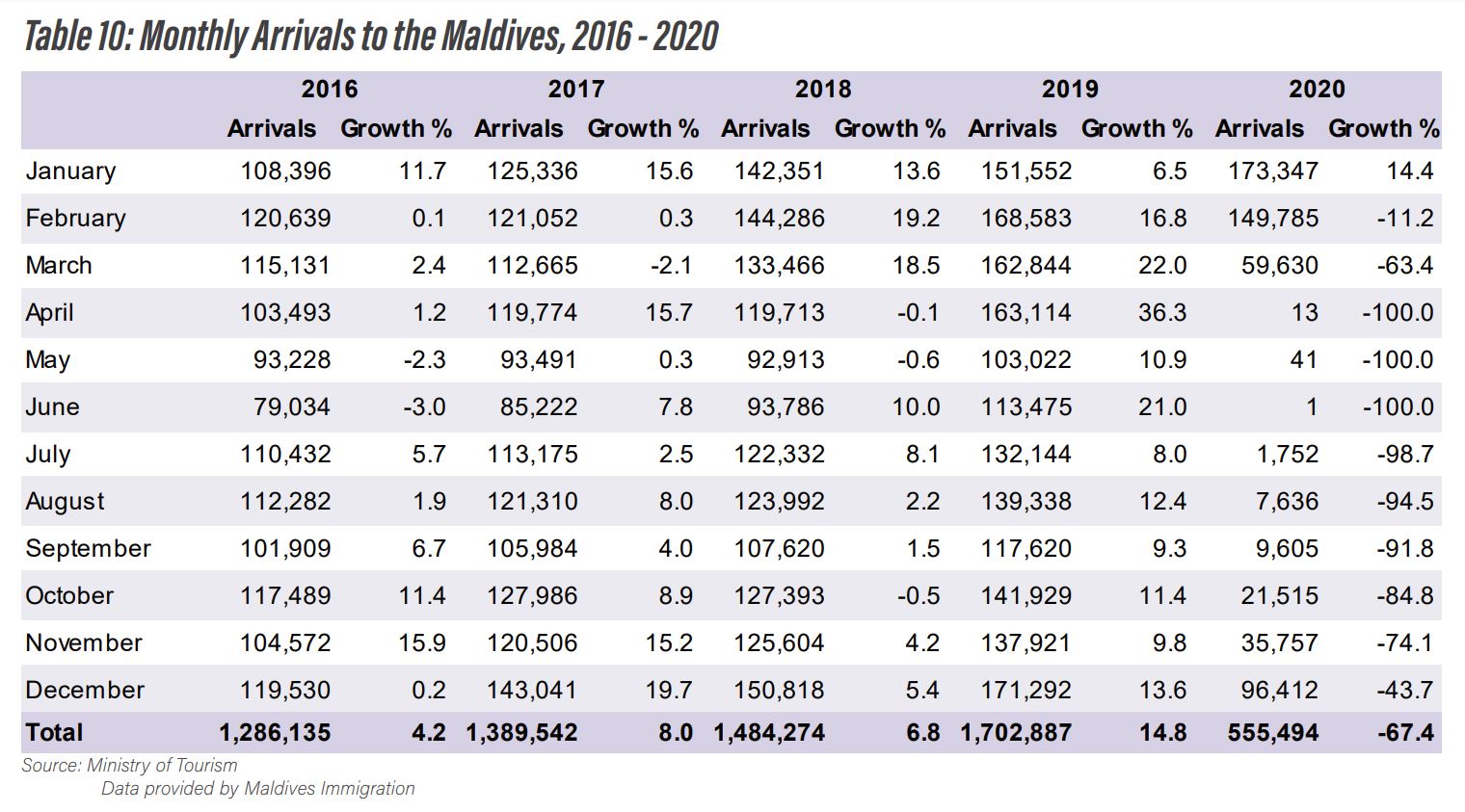 The country's arrival trend saw a steady increase between 2016 and 2019. There were 1,702,878 arrivals in 2019, a 14.8 per cent increase compared to 2018. The year 2020 started with the positive trend with January seeing a 14 per cent increase compared to the same period of 2019. However, the year ended up plummeting to the lowest level in fifteen years, with a year on year loss of -1,147,393 tourists.
Arrivals started dropping from the month of February with a 11.2 per cent decrease. During March, there was a drop of 63.4 per cent and the borders closed down on 27th until 14th July 2020. On 15th July 2020, Maldives was one of the first countries in Asia to reopen. July welcomed 1,752 tourists. The year ended with 555,494 arrivals, a 67 per cent decrease compared to 2019. India was the leading source market, followed by Russia and United Kingdom.
Economic Indicators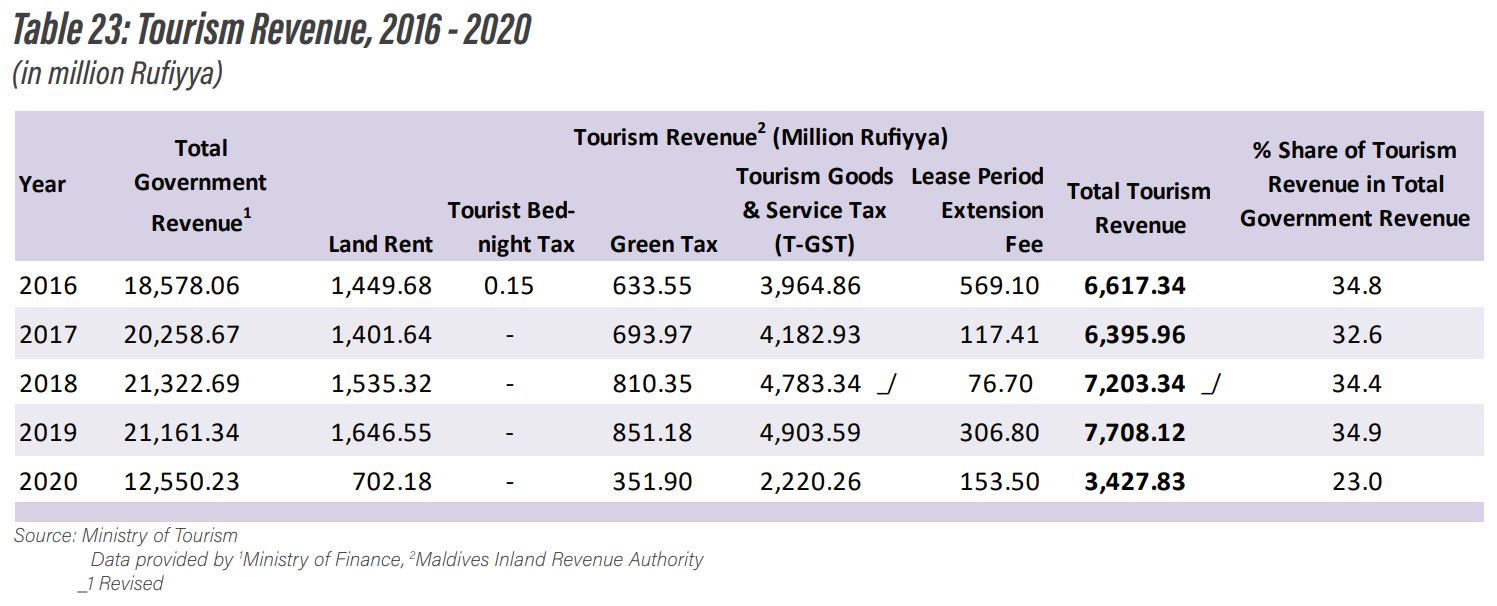 Maldivian economy being highly reliant on the tourism industry was hit hard by the pandemic. Tourism accounts for 26.3 per cent of the country's GDP and is the main source of foreign currency inflow. In 2020, tourism revenue sharply dropped to MVR 3,427 million from MVR 7,708 million in 2019. Government revenue dropped to MVR 12,550 million in 2020 from MVR 21,161 million in 2019.
The government took several direct policy measures to mitigate the negative effect. In May 2020, the president announced deferment of all resort lease payments for six months to be paid within a year, starting from June 2021 in quarterly or monthly installments.
Airline Statistics

Looking at domestic transportation, airplanes are operated by Island Aviation Services, Fly Me while seaplanes are operated by Trans Maldivian Airways, Island Aviation and Manta Air. Total movements saw a severe decline from 154,330 in 2019 to 63,829 in 2020.
With charter movements stopped since 2019, total movement by international scheduled carriers in 2020 were 9,774 with 639,403 passengers. The most number of passengers were carried by Emirates (137,610), followed by Qatar Airways (76,514) and Sri Lankan Airways (58,025).