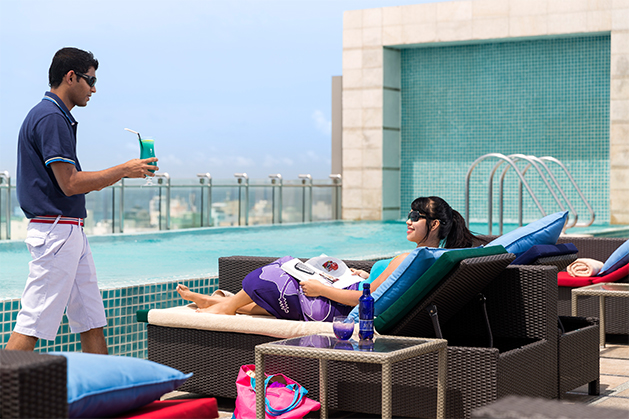 Traders Hotel rebranded and reopened as the Hotel Jen Malé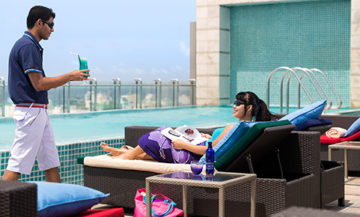 Minister of Economic Development Mohamed Saeed officially unveiled the new brand at a ceremony outside the hotel premises on Wednesday afternoon. The ceremony was also attended by a number of senior government officials, and diplomats and featured traditional boduberu music and dance items.
In her remarks at the launching ceremony, General Manager Vathsala Subramaniam observed that the main difference of the rebranded hotel would be a relaxed, youth-oriented service style.
In contrast to the business-like and official atmosphere of Traders Hotel, Subramaniam stressed that guests would find the Hotel Jen more welcoming, friendly and casual, suggesting that the experience would be akin to "visiting a friend's home".
While the rebranding did not involve significant renovation, Subramanian noted that the staff's uniform has been changed to a less formal outfit of jeans and shirts as part of the shift to a more leisurely hospitality concept designed to appeal to younger guests.
Speaking to the press after the ceremony, Economic Development Minister Mohamed Saeed said the presence of world-renowned brands in the Maldives symbolized progress for the tourism sector.
Saeed added that he hoped "new lifestyle brands" would be encouraged by Shangri-La's success to set up in the Maldives.
The Hong Kong-based Shangri-La Group announced plans to rebrand its Traders Hotels properties as Hotel Jen in late 2014.
The company expects 10 Hotel Jen properties in the Asia-Pacific region by March 2015.
Other existing Traders Hotels to be rebranded include hotels in Hong Kong, Brisbane, Penang, Johor Bahru, Manila, Beijing, Shenyan, and Singapore.
"The Traders brand has ha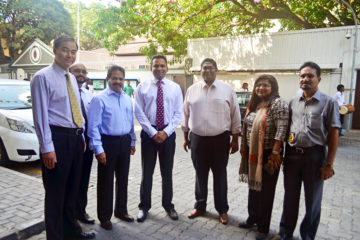 d a 25-year history of success in generating solid business, carving out a niche amidst a highly competitive industry and building a loyal base of customers," President and CEO of Shangri-La Hotels and Resorts Greg Dogan said of the rebranding decision in September 2014.
"However, we are looking to the future and — based on extensive consumer research and insight into the way our target market lives and travels, including talking and listening to our customers — we are recognizing and responding to the global travel trends and particular needs of this new generation traveller.
"This will keep us relevant and competitive for the next 20 years to come."
The Hotel Jen Malé is a 7-minute speedboat ride from the Ibrahim Nasir International Airport and a 1-minute walk from the arrival jetty. The hotel is located in a bustling central district of the capital Malé amidst government and corporate offices.
The hotel features a rooftop infinity pool, a spa, and a 24-hour fitness center.
The landmark hotel was first opened in September 2009 as the Holiday Inn.
However, the InterContinental Hotel Group sold the mid-scale property to Shangri-La in November 2010 for a reported sum of US$42 million.