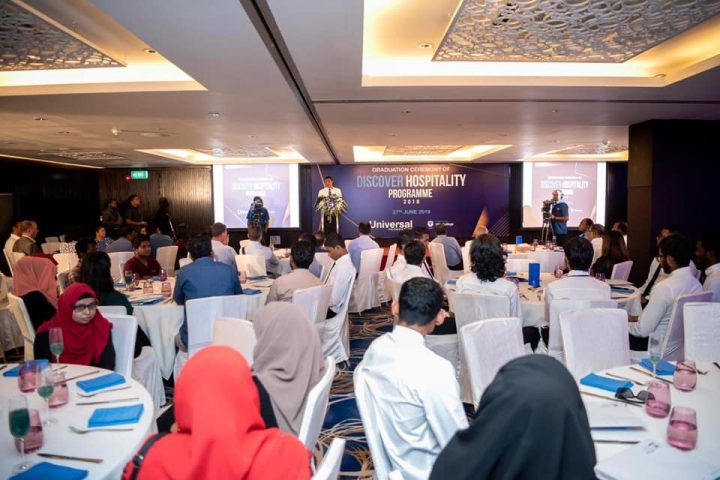 Universal Foundation launches fifth batch of Discover Hospitality programme
Universal Foundation and Villa College have marked a significant milestone with the successful conclusion of the fourth batch of the Discover Hospitality programme, followed by the commencement of the fifth batch. This collaborative effort is aimed at providing comprehensive training for Maldivians seeking opportunities in the tourism industry.
During a ceremony held at the Manhattan Business Hotel on Tuesday, the Minister of Tourism, Abdulla Mausoom, took centre stage to honour the graduates of the Discover Hospitality programme. He presented certificates to the accomplished participants of the programme while also distributing sponsorship letters to the new entrants.
Initiated in 2017 under the stewardship of Universal Foundation, the Discover Hospitality programme is dedicated to equipping Maldivians with the essential skills and experience required to excel in the dynamic tourism sector. Through this initiative, participants undergo comprehensive training and gain valuable practical exposure, nurturing a competent workforce for the nation's vital industry.
The programme has successfully trained 102 participants to date, with 37 individuals proudly graduating from the fourth batch during Tuesday's event.
Addressing the audience, Universal Foundation's President, Iyaz Waheed, lauded the partnership with Villa College, which has spanned six years. Waheed highlighted Villa College's reputation as the foremost private college in the Maldives, underscoring its pivotal role in facilitating quality education and training.
Waheed emphasised Universal's unwavering commitment to nurturing local talent. Through the Discover Hospitality programme, students are presented with a unique opportunity to receive training within Universal's esteemed resorts. This hands-on experience is supplemented by certified trainers in every department of the resorts, ensuring that participants receive the best industry training available.
The programme structure entails theoretical instruction conducted at Villa College, complemented by practical experience undertaken at Universal-owned resorts. As participants embark on this enriching journey, they are also provided a stipend of MVR 3,000 per month.