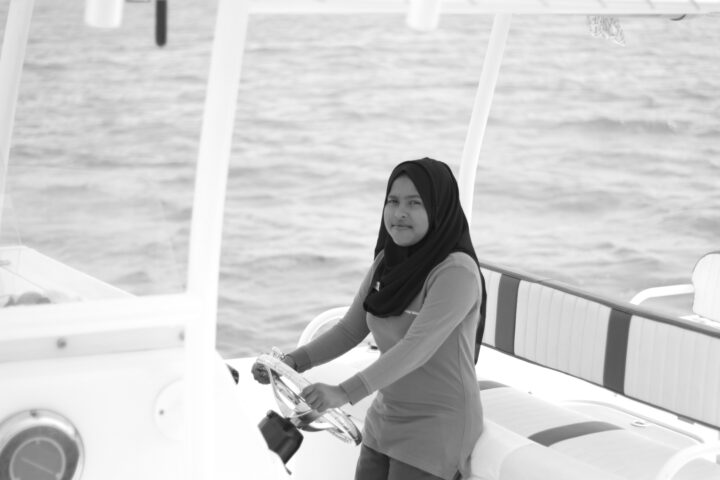 Women in Hospitality: Vasma Ahmed, the inspirational Speedboat Captain from Holiday Island Resort & Spa
It has always captured my interest to read about women who are brave. Women who fulfil their dreams despite various hurdles faced in this challenging world. It is not every day we meet such incredibly courageous women. But, when we meet; we owe it to acknowledge their endurance and determination. Their calibre is astonishing. The spotlight of this feature is Vasma Ahmed. A young lady who inspired me by her unique interest, which brought a twist in her career once and for all.
Vasma began her journey in the tourism industry just recently. This young lady from Nilandhoo Island of Faafu Atoll started her first job in the field as an administrative officer at the transportation department of Holiday Island Resort & Spa. When she convinced her parents, packed her bags and arrived at Holiday Island; she herself had no clue that this step would lead to an immense evolution.
Handling the daily transportation schedules, routine reporting and other miscellaneous administrative duties, Vasma was the only female staff in her team. Working with 40 other male staff, Vasma developed an interest in exploring the vessels at sea. Before she realised, she had learnt how to handle the speedboats and drive them. With assistance from her colleagues, she had learnt to drive speedboats comparable to her male colleagues.The management at Holiday Island Resort commends her audacity. She is encouraged to follow her dream and continue her service in this new endeavour, resulting in the completion of theory and practical examination of maritime license programme. The 21-year-old Vasma has now obtained her speedboat license. She has the record of the youngest female speedboat Captain in the Maldives. Rough seas and tough weathers do not scare this brave girl to continue her duties.
Inspired by Vasma's determination, a second female staff has now joined the transportation crew at Holiday Island Resort. A hostess at Housekeeping joined the team to serve as a boat crew, strengthening the girl power at the transport department. The management at Holiday Island Resort is proud to empower these dashing young women. They take the honour and pride of Vasma's initiation in this field.
Vasma believes that girls have a future in the field as boat Captains. She firmly believes that "when the going gets tough, the tough get going" and this motto has made her strong as a captain through rough seas.
It is amusing to learn about inspiring women. The women who pursue their dreams. The women who make things work out, in spite of obstacles. The women who do not look back to achieve their aspiration. Words could not express how Vasma has inspired me, her youth, the challenge she took and the success she's made of it.