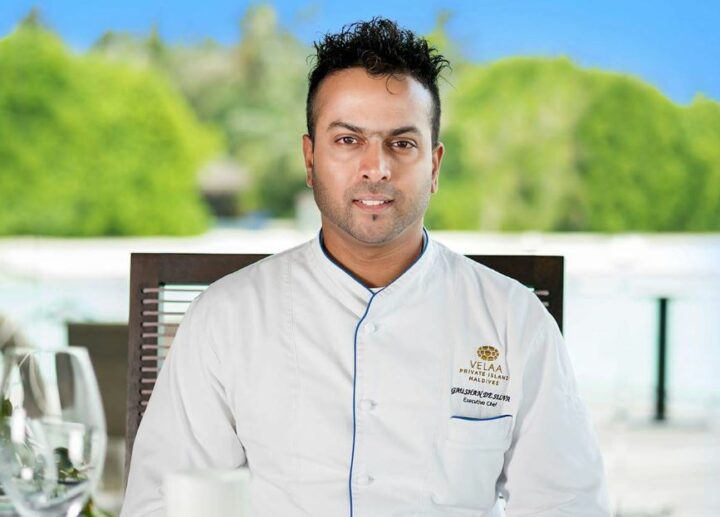 Gaushan De Silva: A nomadic Chef experimenting and reinventing cuisines
The Executive Chef at the lauded Velaa Private Island and a native to Sri Lanka – Gaushan De Silva is steadily rising to the top of the culinary world with his innovative and flavoursome creations. Chef Gaushan has been nothing short of inspiring to the Maldivian hotel industry – his first stint as the head chef at Huvafen Fushi in 2010, was when the resort won 'Best Culinary Establishment'.
He then went on to working at One&Only Reethi Rah as a food consultant for three months. After working alongside Michelin starred Chef Adeline Grattard, Gaushan has taken over the reins of the culinary establishment at the luxurious Velaa Private Island.Like an artisan, he crafts his masterpiece nimbly adding the final plating details to his dish–his father was an artist which explains his instinctive artistic approach. For Gaushan, an idea to create a dish can come from a spontaneous thought which he quickly jots down or cooks immediately (when possible).And it was not long before he put his creative spin to a classic cuisine of the Maldives—the mas'huni—a traditional tuna salad which he recreated using classic French techniques with Maldivian flavours, spicing it up with his own twist. The reinvented 'mas'huni' is one of Gaushan's signature dishes.
"The culinary art is a highly appreciated and well-respected profession in my home country," says Gaushan. After finishing his diploma in Professional Cookery with industrial training at the Colombo International Hotel School he started working at the prestigious Hotel Suisse in Kandy as a trainee cook at the tender age of sixteen. But it was the countless, immeasurable experiences he had working beside world-renowned chefs and restaurants around the world that gave him the discipline and flare to create artisanal dishes."I have been in Copenhagen at the Noma; the restaurant is known for its reinvention and interpretation of the Nordic Cuisine and is one of the best restaurants in the world for three years. I attended some training at Édouard Loubet's Michelin two-star restaurant Le Domaine De Capelongue – Maisons Edouard Loubet," says Gaushan."I also visited and stayed for a month at Monsieur Lalleman Robert's Michelin-starred Auberge De Noves in France," he continues."I went back to Prague for a month and attended some training at an Italian restaurant at La Finestra in Cucina and the entire month of September 2012 was spent with Chef Adeline Grattard at the Yam'Tcha, a Michelin-starred restaurant in Paris." His nomadic experiences in different kitchens, travelling and eating – absorbing each culture taught him to respect each and every flavour.
"In 2015, I have attended as a Stagier at the Michelin two-starred Restaurant Massimo Camia Restaurant in Italy. And last June, I attended as a Stagier at the Michelin three-starred restaurant Alain Ducasse au Plaza Athénée in Paris. And I also attended as a Stagier at the restaurant All'Oro (Michelin two-starred) in Rome," he adds.With 23 years in the industry, Gaushan describes his journey as, "very challenging. But it motivates and drives me to reach my goal and I never give up". His accolades include receiving the gold medal at the 'Live Cooking Competition' at the Hotel Asia 2002 and being awarded the 'Hilton Hero' by Hilton the same year."In 2007, I was invited to the Taxi Restaurant in Melbourne Australia, as a Guest Chef."And in 2009 I was given the opportunity to enhance my skills and attended the Food and Wine Master Class in Australia," he adds.
Gaushan's dedication to his craft is impressive, to say the least. He has been making multiple trips to market Velaa Private Island's culinary offerings – which includes presenting Maldivian cuisines jazzed-up with his own style – to prominent personalities around the globe; sometimes catering to hundred guests with just one chef to assist him. "I would say it's very exhausting, but the journey is rewarding," he says.Gaushan credits his steady and successful rise to the top of his field to some pivotal factors: "I think God gave me much luck, and He certainly has been in my life, by guiding me to 'the right place at the right time'. Learning how to make the most of those times have played a key role. Seize the day and seize the moments. Every moment and every connection you make is an opportunity – and sometimes a once in a lifetime opportunity."He further adds: "Secondly, the people who worked with me, I've always been meeting people and seeking wisdom – always learned from the experience from those who I recruited."I've had great people who helped me along the way. Nothing of value is done without the help of others. And, if your goal is to be a leader – there is no leadership without people."
Gaushan's fervent approach to his craft is inspiring to any young South Asian Chef out there. "I hope to be the number one chef in the near future or possibly be able to open my own specialised fine-dining restaurant – which I hope would be listed in the fifty best restaurants in the world."