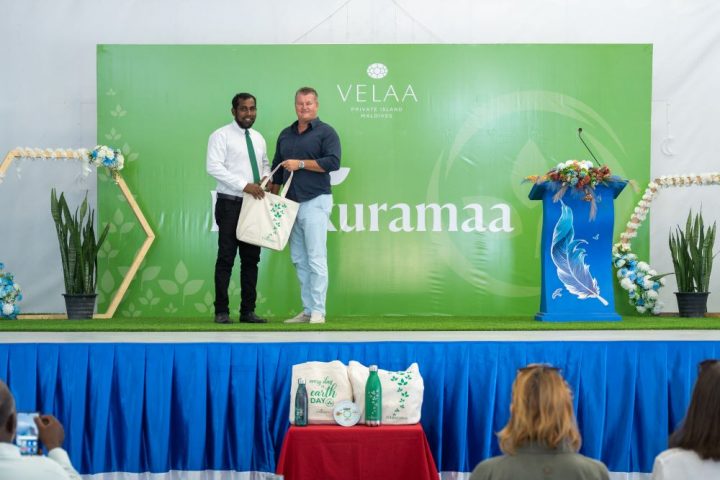 Velaa Private Island celebrates three years of "Fehikuramaa" programme
Nestled within the azure blues of the Maldives, Velaa Private Island continues the sustainability initiatives, marking the third anniversary of its CSR initiative, Fehikuramaa. Far beyond the exclusivity of its luxurious offerings, Velaa Private Island has committed itself to fostering a conscientious approach to living within the Noonu Atoll.
Initiated in 2021 to address the pressing waste management challenges in the Maldives, Fehikuramaa has evolved into a comprehensive programme. From tackling ocean pollution to introducing home composting to combat food waste, the initiative reflects a holistic commitment to sustainable development and a pristine environment.
In extending its reach to neighboring local island communities, Velaa Private Island seeks to fortify their resilience against the escalating solid waste crisis. Fehikuramaa aspires to cultivate a sustainable waste management culture by fostering an environmentally friendly mindset through awareness, training, and steadfast support.
As the home compost and gardening programme of 2023 was just initiated at Kendhikolhudhoo school this week, Wayne Milgate, General Manager of Velaa Private Island, emphasises the initiative's essence, stating, "Fehikuramaa translates broadly to 'Let's make the environment greener' in Dhivehi, encapsulating our core mission. The journey thus far has witnessed extraordinary support from local communities and the younger generation, underscoring a collective commitment to a sustainable future."
More than an initiative, Fehikuramaa signifies a commitment to reshaping waste disposal and management practices across the Maldivian islands. It is a testament to the belief that collective participation is crucial in preserving the pristine beauty of this remarkable part of the world.
In the upcoming phases, the CSR initiative will continue to conduct intensive awareness, waste management, and sustainability guidance sessions across all 13 inhabited islands of the Noonu atoll. Subject matter experts will lead these sessions, adhering to established guidelines and the regulatory framework of the Maldives.
Tangible actions has over the years complemented these awareness efforts, with Velaa Private Island distributing reusable water bottles and tote bags to entire communities. Additionally, water dispensers have been installed in schools, waste segregation bins donated to all the islands in the atoll and the school sessions covering topics such as recycling, reducing single-use items, waste separation, composting, littering, and environmentalism.
Velaa Private Island's narrative is one of sustainability seamlessly interwoven with the idyllic setting of the Maldives. Fehikuramaa is not just an initiative; it's a ripple of change spreading across the atolls, inviting communities to join hands in preserving the delicate balance of this unique ecosystem.