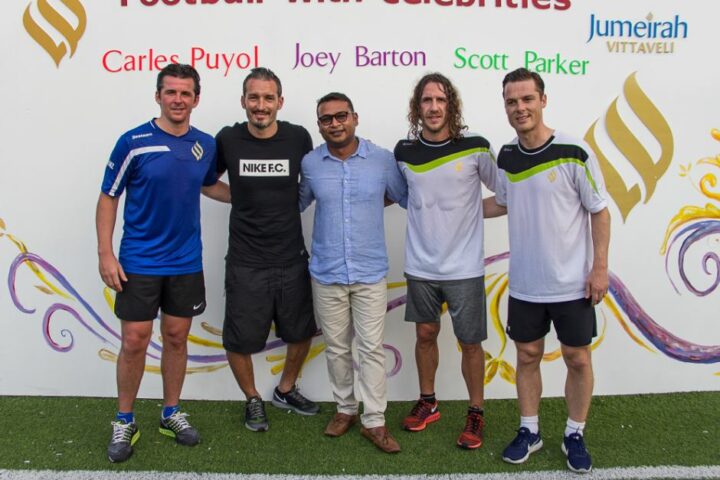 Puyol and an all-star team takes over the BOLI Stadium at Jumeirah Vittaveli
Carles Puyol, the legendary long-time captain of football giant Barcelona, joins four other legends for an all-star friendly football game in Jumeirah Vittaveli. Puyol, who was part of the Spanish national squad that won the UEFA Euro 2008 and the 2010 World Cup, was joined in by Scott Parker and Joey Barton on the field, while Gianluca Zambrotta joined the game on the sideline.
Puyol is regarded as one of the best defenders of his generation and has captained the Barcelona team for a memorable 10 years. Parker is a former English professional football player who was signed by Chelsea, Newcastle United, Tottenham Hotspurs and Fulham amongst others. His career spanned 20 years and he played 119 league matches for Fulham in both the Premier League and the Championship.
Barton is an English footballer who plays as a midfielder. He has made 240 appearances in the Premier League, including 130 for Manchester City. Zambrotta is an Italian former professional footballer, who played as a full-back for such notable clubs as Milan, Juventus, and Barcelona. He played at three FIFA World Cups, three UEFA European Championships, and was a key member of the starting line-up of the Italian squad that won the 2006 World Cup.
The game was featured on Jumeirah Vittaveli's own BOLI Stadium, where guests were invited to join the match and take advantage of the chance to test their skills against some of the best in the sport. According to Jumeirah Vittaveli, Puyol and Parker played in one team, while Barton and one of Parker's sons played in the other, flanked by Vittaveli colleagues and guests.
"It's been a great pleasure to participate in the friendly football match with the colleagues at Jumeirah Vittaveli! I love football and it's wonderful to see how passionate everyone here is about my favourite sport!" comments Puyol, who spent some quality time at the Royal Residence–the lavish 3,500 square meters private beachfront retreat that opened in March 2017.
"To be able to play with such a diverse team, with its members from so many different nationalities, and all that on a tiny island in the Maldives is truly exceptional. The goalkeeper in my team was especially outstanding and I hope I'll get to have him on my team again when I come back! But it's not just the players, everyone on the resort is so warm and welcoming. We are staying at the Royal Residence and I don't think I could ask for a more luxurious or comfortable holiday."
Scott Parker was so kind to bring memorabilia from his former club, the Tottenham Hotspurs – he brought two of the jerseys he himself used to wear when playing for the club, in addition to two sets of football boots.
"This vacation was my first chance to be with my family and travel since I retired last year and I can't think of a perfect place to have come to than Jumeirah Vittaveli," says Parker, after handing over the club souvenirs to the colleagues of Jumeirah Vittaveli.
"My kids love football and to be able to travel to a country where everyone has such a love for the game is amazing. Being able to play football with my sons and have an amazing time on this vacation made it just so special!"
Jumeirah Vittaveli offers fun-filled family holidays as well as a host of land- and water-based activities, including a PADI Dive base, water sports centre, four restaurants and two bars. The resort was recently named the overall World's Best Luxury Hotel at the 2017 World Luxury Hotel Awards. To learn more about the resort, please visit jumeirah.com/en/hotels-resorts/maldives/jumeirah-vittaveli.