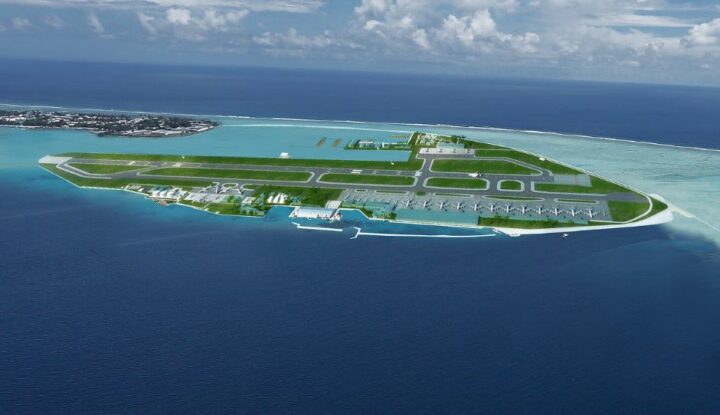 Velana International: Towards a world-class airport
The development of Velana International Airport (VIA) by Maldives Airports Company Limited (MACL) might just be the most ambitious and most expensive project undertaken hitherto in the Maldives. The international airport built on the separate island, Hulhulé, just a 5-minute ride by mechanized vessels from the Capital Malé, has served as the gateway to the Maldives since its inception. With the rapid influx of tourists, the airport experienced a double-digit growth in terms of traffic movement.
VIA has a unique combination of land and water aerodrome, serving the largest seaplane base in the world. Developments of the airport took place at various stages before, but not at the scale it is currently being pursued. And it was always understood that a major expansion of the airport was long overdue. The bold decision to transform VIA to a world-class airport was inaugurated on April 4, 2016, by President Abdullah Yameen Abdul Gayoom.
Speaking to Hotelier Maldives, Adil Moosa, managing director of MACL says: "the total investment to develop VIA since 2013 is valued at US$1 billion.""We have just settled a US$240 million dispute with Indian conglomerate, GMR, over the cancellation of a contract awarded to run the airport in 2010 and then at the same time launched this mega-project," says Adil, who was the head of finance before taking over the current post as the MD.In 2005, when the first master plan for airport development was launched, with an estimated cost of US$350 million, many high-level officials shrugged off the idea, deeming it too expensive.
"Obviously it takes a lot of courage and I give credit to the President for his vision and for taking such a bold decision for the future development of the country," adds Adil, hailing the landmark project.
The VIA development project includes:
Land reclamation
A new Code-4F runway, measuring 3400m x 60m
Expansion of both international and domestic facilities for aircraft and parking
A new passenger terminal targeted to serve 7.5 million passengers annually
Passenger boarding gates or contact gates for the first time
State-of-the-art baggage handling systems
Expanded duty-free shops
Food and beverage outlets
Additional fuel storage, 3 times the current capacity
A new cargo terminal with a total area of 18,000 square meters with capacity to handle more than 120,000 tons of air-cargo annually
New navigation equipment, airfield and aerodrome lighting
Expansion of power generation by 15 Megawatts
The first part of the project, reclamation of approximately 88 hectares of land required for the new runway, the passenger terminal and seaplane terminal, has been completed. According to Adil, the project is now in full swing. And the runway and the international apron will be completed and ready for the inaugural flight by the last quarter of 2018.
"It is not just a new runway or apron or a larger passenger terminal that we are going to build," said Adil, describing the scale of development."It will be a complete transformation from the current moribund operation to a world-class airport with all the facilities and services required to cater to travellers, ranging from those who travel in economy class to those who seek more exclusive or high-end services."
New Code-4F runway and apron
VIA's single runway and limited parking space had been a challenge with increasing traffic. Without any parallel taxiways or rapid exits, departing and arriving aircraft are to taxi and backtrack on the runway; wide-body aircraft would require at least 5 minutes to clear the runway after landing; and a departing aircraft would require about 10 minutes for taxi, line-up and take-off.  Due to limited parking space, most of the times departing aircraft are towed on the runway for start-up, delaying the next arrival or departure by at least 15 minutes.
Over the past decade, the number of aircraft using the runway had increased by 45% from 21,549 in 2007 to 47,770 in 2016. Especially during the peak season–from November to March– when the influx of tourists is recorded at their highest, the delays incurred by airlines are extensive.
But when the new runway is complete and the existing runway is transformed into a parallel taxiway, all this will change.
"The new runway is designed to serve aeroplanes ranging from commuters to the largest passenger aircraft in the market such as A380-800 or B777-200LT with maximum payload and range," says Adil. "The runway capacity will increase from current 12 aircraft to 36 aircraft per hour and the average runway occupancy time is expected to be not more than 48 seconds by each aircraft."With the new design, aircraft will no longer be required to taxi and backtrack on the runway while getting ready for departure or after landing; rather it can vacate the runway quickly at the nearest connector taxiway or enter the runway only at the last minute before rolling to take-off.The international apron will have parking space to accommodate 11 Code E/F aircraft or 19 Code C aircraft. The domestic apron will have the capacity to park at least 9 Code C aircraft.  A new apron to be built on the eastern side will allow parking space for additional 3 Code E/F aircraft or at least 8 Code C aircraft.
The new runway will have a precision approach, CAT 1 Instrument Landing System (ILS) for aircraft landing from either direction; and as a backup, will have approach procedures based on Global Navigation Satellite Systems (GNSS).
New passenger terminal
The new international passenger terminal will open with a gross floor area of 78,000 sqm and six passenger boarding gates and contact stands for wide-body aircraft. And it will be expanded to 96,525 sqm and contact gates will be increased to nine.This will be major expansion compared to the existing terminal with a floor area of 25,485 sq. m and no contact gates.
"The current facility was designed to serve 1 million passengers while the new facility will have the capacity to serve 7.3 million," says Adil, explaining the project with a forecast for 2035. "The new international passenger terminal is designed to offer IATA Level B service and will have the capacity for 14 international air traffic movements and 1800 passengers per hour."
According to Adil, unlike the current international terminal with limited space and many constraints for passenger movement, the new terminal will have more service counters, space for lounge, dining and duty-free.
Seaplane terminal
Currently, there are two independent seaplane operators, Trans Maldivian Airways (TMA) and Island Aviation Services (IAS), operating separate terminal facilities located on the east side. These facilities will be either dismantled or relocated in time for the new runway operation, and a common new seaplane terminal and floating dock facility with the capacity to park 63 Code B aircraft (such as Twin Otter— currently in operation) will be built in place.The new seaplane terminal will be a concrete structure with masonry walls and glass curtain walls comprising of four floors with approximately 7,000 sq. m per floor for a total of approximately 28,000 sq. m.The building will consist of facilities and services for all passengers; dedicated VIP Lounge for high-level officials and CIP Lounges for business-class travellers; restroom for flight crew and operational staff and office space. "The new seaplane terminal will be the centre of day to day operation to transfer tourists to and from resorts by seaplanes," says Adil
There will be three designated water runways for efficient seaplane operation. The seaplane area will be further expanded—by shifting the Hulhumalé Causeway adjacent to the house reef of the island— to allow more room for manoeuvre and to avoid flying over Hulhumalé.
A project to expand trade and tourism
Statistics show that 34 international airlines from 39 destinations in Europe, Middle East, China, Far East and South Asia, are now flying directly to Velana International Airport. An average of 384 flight movements take place every day, with the highest recorded for a given day at 567.VIA is the primary entry and exit point in the Maldives for tourists, other travellers and air cargo. It is also the hub that connects the Maldives with the outside world.
More than 60 percent of tourists are transferred from VIA to resorts either by seaplane or wheel-based domestic carriers. In 2016, there were 88,612 seaplane movements and 26,296 domestic flights recorded at VIA. These numbers will continue to grow, as tourism expands far and wide across the country. Air transport has become the preferred method for transferring tourists as it is both efficient and convenient to carry tourists by air to resorts located in distant atolls.
With the existing 12 domestic airports and more being built each year— and the increase of seaplane landing sites, there is greater emphasis and need to develop VIA.  And this mega project will be a giant leap towards the development of Maldives.
Existing airports and airport development projects: