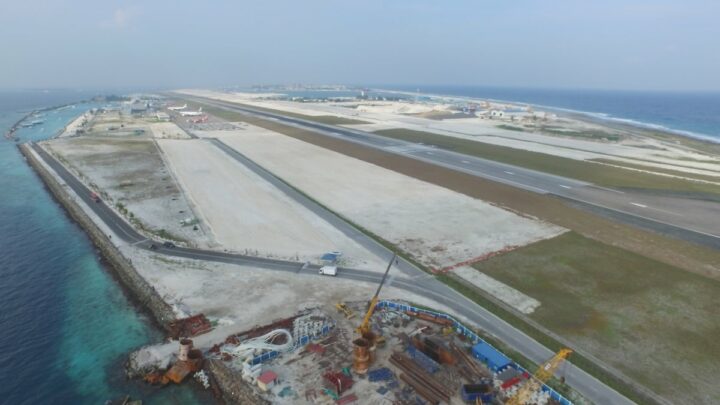 BUCG working to ensure operational safety standards are met on VIA project
Velana International Airport's (VIA) taxiways have been given site clearance and ground improvement checks to ensure project safety and quality construction activities. As of now, site clearance and ground improvement of Taxiway B (TWY b), Taxiway Terminal One (TWY T1) and Taxiway Terminal Two (TWY T2) have been completed. Site clearance of Taxiway E (TWY E) and Taxiway F (TWY F) have also been completed.
Beijing Urban Construction Group (BUCG) said in a statement that five procedures undertaken by the group have led to airport safety being under control. There have been no safety accidents or incidents, up to date. The five procedures include Construction Activities Defining, Construction Activities, Construction Log, Demobilisation and Summary for Record.
Construction activities defining included daily pre-construction meetings with contractors and analysis of safety hazards by the duty manager. Demobilisation included demobilisation of manpower, vehicles and equipment by the superintendent. Overall, the five procedures will improve Velana International Airport's safety measures – as complex construction activities often affect an airport's operational safety.
Construction activities, with a floor area of 680,000 square meters, while the airport is operational, began on December 21, 2017. Construction activities at the airport include six connecting taxiways, new Runway and existing Runway, seven connecting taxiways between existing Runway and new West Apron, and the new West Apron for expansion and upgrading of VIA project.
BUCG states that distinguishing features of construction activities while the airport is operational as construction area being compliant with ICAO requirement and high safety requirements to ensure smooth airport operations. Less working hours due to airport operator requirements and complicated underground utilities along the existing runway and connecting taxiway are also required.
BUCG is an international construction group involved in General Contracting, Real Estate Development and Design and Consultancy Business. BUCG is recognised both nationally and internationally alongside the Top 225 International Contractors, China Top 500 Enterprises, China Most Influential Enterprise and China National Outstanding Construction Enterprise. BUCG currently own a total asset of RMB63 billion and an annual turnover of 65 billion Yuan, employing 26,500 staff.