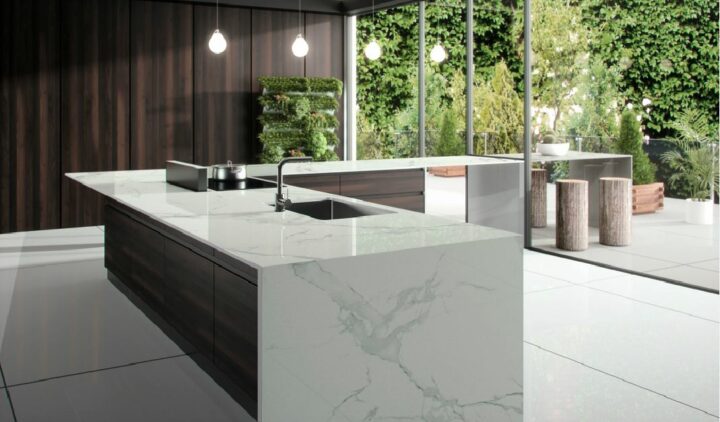 DEKTON surfaces by Cosentino; the ultimate kitchen worktop solution
DEKTON is an ultra-compact surface that consists of a sophisticated blend of the raw materials used to produce the very latest in glass and porcelain as well as the highest quality quartz work surfaces. DEKTON products are highly resistant to UV light and will not fade or degrade over time and are the most scratch resistant surface on the market.
DEKTON is a long-term product for those looking to turn their kitchen into a unique space. It allows greater potential for installation in one piece with no cuts, no joints and no limits. It has the appeal of a completely uniform surface, which fits seamlessly into very different design styles.
Being completely stain proof, DEKTON is more resistant to abrasion than granite, making it the ideal surface for commercial applications and high traffic areas with a guarantee that DEKTON finish lasts for life without the need to re-surface or re-finish and with lasting colour. In the development of DEKTON, they first sinterize the raw materials using basic components to oversee the whole process and the characteristics of the particle's used in the manufacturing process.
The process used up to 16 different decorative techniques which allow three-dimensional design models and an endless array of aesthetic possibilities. Other properties that make DEKTON ideal for kitchen worktops are; resistance to fire and heat, freezing and thawing, and is fireproof and has zero water absorption. In addition to the kitchen, DEKTON worktops are also used as outdoor kitchen coverings and as bathroom worktops.
DEKTON surfaces are marketed and distributed in the Maldives by Evo Home—dedicated to providing high-quality, creative interior solutions to meet the needs in interior planning and designing. As the exclusive distributor of Germany's top brands such as Nolte Kitchens, Express Kitchens and Csshmal, Evo Home aims to offer clients with the best quality of furniture technology in the Maldives. Its programme systems take into considerable accounts, space utilisation, functionality and aesthetics to fit individual requirements of each home.
Evo Home offers the right design solutions for every room, the complete solution with products that meet every need. To find out more about DEKTON surfaces, please visit evo.mv/brands/dekton.