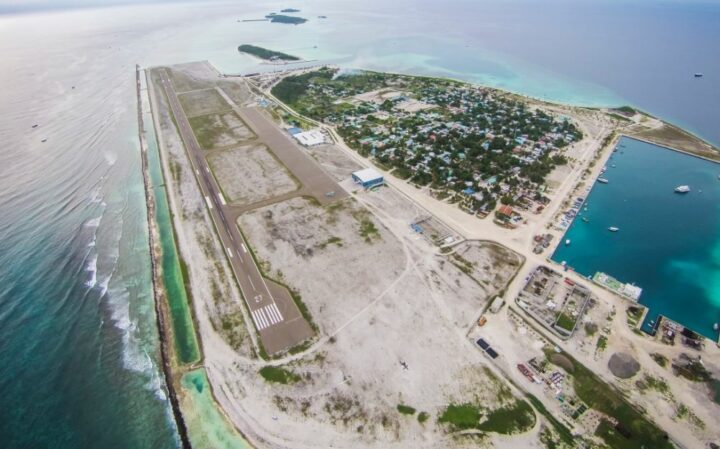 Villa Airport Maamigili: An ever-expanding story
Just six years into operation, Villa Airport Maamigili (VAM) is preparing to unveil a new 14,478 square feet terminal building during the first quarter of 2018. The current terminal building—5,242 square feet in size—was built in November 2011 with basic facilities.
"The current airport terminal is small. In order to alleviate any inconveniences passengers may face, the airport practices a lean approach to passenger movement," says Abdulla Nashid, managing director of FlyMe, the airline which is operated by Villa Shipping & Trading Company.
"A new terminal, along with a spacious and modern lounge is expected to resolve the issue and further enhance passengers' experience." The new terminal is designed for efficiency and greater comfort with a fully-equipped lounge area of 3,644 sq. ft and will feature improved services.The airport, which commenced operations in 2011, is a landmark project in aviation, and the first such initiative by a private party in the Maldives and linked Malé City and South Ari Atoll. The Villa Group—under holding company Villa Shipping & Trading—bankrolled over US$100 million for land reclamation required to build the 1800 metre runway and support facilities on the island of Maamigili.It opened with many facilities including ample parking space for private jets, safety and security facilities, a modern ATC tower and advanced equipment. Since then, the western waterfront of the airport was developed with seating facilities and jetties for safe and easy transfer of passengers. The airport, along with the inauguration of Villa Air, which operates FlyMe, linked Velana International Airport (VIA) with South Ari Atoll, shortening the three-hour journey by speedboat to 20-minutes by flight.
Since the opening of VAM, six more domestic airports have emerged in the islands offering better business opportunity to investors to develop resorts in far-away islands which would have been otherwise left uninhabited. Small and medium scale entrepreneurs developed guest houses in the island resulting in improving the livelihood of those living in the islands.
"For the first time in history – an entrepreneur from the private sector took an interest to build an airport in a remote island. If we look at the airport project alone, I don't believe its financially attractive due to the very low rate of return on investment. Villa leased the lagoon and reclaimed the lagoon and continues to pay rent extremely brave, courageous and visionary decision. It marked the emergence of new airports in the islands by private sector which has helped the expansion of the tourism industry to further atolls," he said.Some 109,000 passengers travelled through Villa Airport Maamigili during the first operational year and the number increased to 177,000 in the year 2016. Presently, FlyMe operates scheduled flights between Maamigili and Velana International Airport using some of the biggest domestic aircrafts operated within the Maldives, ATR72 and ATR42 aircraft.Flyme also operates regular flights between Dharavandhoo in Baa Atoll and Velana International Airport.
By the time Villa Airport Maamigili celebrated its 6th anniversary in 2017, it had 136 direct employees and around 33 employees who work with Aviation Security Command. Apart from the benefits of direct employment, the neighbouring island has greatly benefitted following the opening of the airport in several other ways.
"The airport brought a tremendous change in the culture of the local community. Before the airport became operational, the youth of the island had very little work and therefore were less driven to achieve. Villa Airport Maamigili and Villa Air paved way for island youth to participate actively in the management and operation, got the opportunity to train in the field, increased their awareness to become professionals in their respective interest areas," Nashid said.
Mr. Nashid says the barriers and obstacles – especially with an operation based on a remote island –meant careful planning and hiring the right talent.
"Aviation is a highly regulated industry which meant that almost all our employees need to be trained and certified. We hired expatriates, to work for us and train our firefighters. Also, as the island location is remote, services such as fast internet connectivity are a challenge. We work closely with our service providers and get a lot of support from them in these areas as well."Further, a huge scope for traders and hoteliers opened up for the region. The opening of an airport in the Alif Dhaalu atoll meant ease of travel – educational, medical and other purposes for the region. The higher volume of passengers enabled by land-based airline operators enabled relatively cheaper transport.Also, the expansion of operations into night enabled passengers from more international carriers arriving at Villa International Airport to take immediate transfer to Alif Dhaalu Atoll.
"For tourists travelling to resorts and guest houses, the cost component for transfer are the air transfer segment and the speedboat transfer to and from the airport or guest house island. The same applies to local travellers. Higher volume and lower unit cost of operation for bigger wheel based aircraft enables lower prices for both these segment of travellers. Seaplanes are conventionally known to be expensive, due to its smaller size, and it is hard for locals to get a seat," Nashid adds.The location of Villa Airport Maamigili is strategic. It is about 110 km's from Velana International Airport and within close range of several major resorts such as Sun Island Resort and Holiday Island Resort operated by Villa Group. Other resorts in the area include Centara Grand Island Resort & Spa, Conrad Maldives Rangali Island, Constance Moofushi Resort, Lux Maldives, Vakarufalhi Island Resort and Vilamendhoo Island Resort.The new terminal at Villa Maamigili Airport is yet another addition to a series of infrastructure developments by Villa Group and their plans to ease air travel and enhance tourism in the Maldives.