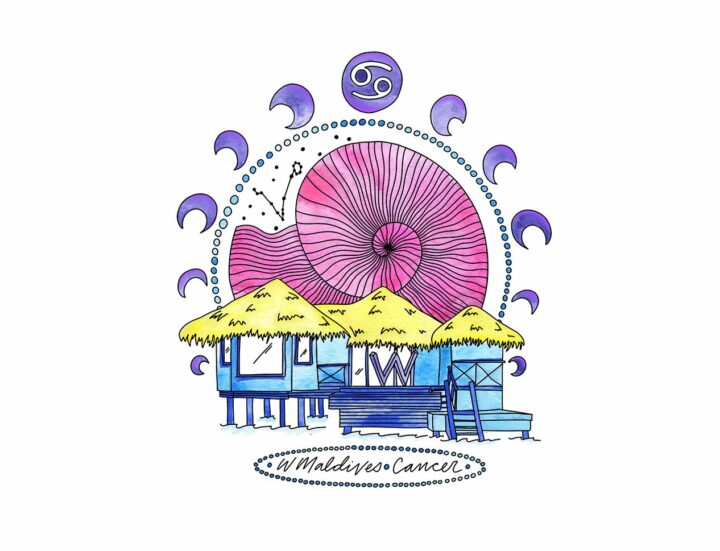 Astrology meets "edible art" by Janice Wong at W Maldives
W Maldives has launched Astro events themed around the astrological sign Cancer. The events are curated by astrology and culinary experts. "We've got you covered on your next vacation with W Hotels throughout Asia that are the perfect match to your astrological sign," says W Maldives in a statement.
All Cancers (June 21-July 22) that need privacy like no other sign and seek secluded spots, can nestle into their own private escape at W Maldives, with nothing but the ocean breeze to interrupt their tranquillity.
To celebrate the arrival of the zodiac's first water sign, W Maldives is creating a series of Astro events around the Cancer sign in cooperation with Singaporean award-winning Pastry Chef, Janice Wong. She was voted Asia's Best Pastry Chef for 2013 and 2014 at the prestigious San Pellegrino Asia Top 50, as well as Pastry Chef of the Year in 2011, 2013 and 2015 by World Gourmet Summit.
Playing with a multitude of colours, textures and flavours, guests can join her in the world of interactive and 'edible art' inspired by the Cancer sign on June 21 during a five-course dinner inspired by the natural elements of water and air.
Speaking ahead of the Cancer Astro events, General Manager, Anuj Sharma said: "We are honoured to welcome a renowned pastry chef of such calibre as Janice Wong to W Maldives and look forward to thrilling our guests with his culinary sensations as we continue with our series of visiting international chefs."
Secluded, yet welcoming, W Maldives features 77 over water and beach escapes all with private pools, decks and stunning ocean views. The brand's iconic WET® Deck and the AWAY® Spa are on the spotlight, along with one of the best reefs in the Maldives for snorkelling and diving.
Six dining avenues and bar feature cuisines from the East and the West, while the destination calls for the must do: private dining under the stars. For more information, visit www.marriott.com/hotels/travel/mlewh-w-maldives.