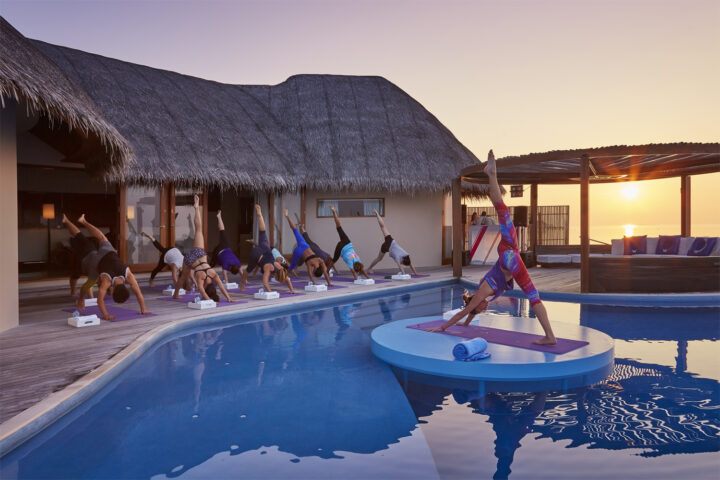 W Maldives presents FIT with Tara Stiles
W Hotels Worldwide is bringing back its fitness programme to the Maldives. Created in partnership with the renowned yoga instructor, 'FIT with Tara Stiles' takes a non-traditional approach to working out while on the road.
"The W guest has a true 'work hard, play hard' mentality and wants to look fabulous yet have fun while getting fit. FIT with Tara Stiles is an energetic program designed to celebrate the body and provide 24/7 access to an interactive workout that can easily be incorporated into the busiest of jet-setting lifestyles," W Maldives said in a press statement.
The fitness programme offers an exclusive series of intimate FIT workout sessions with Tara Stiles available at glamorous locations at W Retreat & Spa Maldives, as well as a collection of in-room workout videos and tip cards.
"FIT, the W brand's global gym concept, has a modern and dynamic approach to fitness. Vibrant wall murals celebrate male and female forms against a unique backdrop inspired by the destination, while pulsating tunes designed to get guests in the workout mood are available via the W Hotels App."
"Tapped to create the exclusive in-room workouts for the FIT program, Tara Stiles – founder and owner of Strala Yoga, the high-energy movement system that ignites freedom – locked herself in the suites of several W Hotels and imagined the needs of the W traveler. Her non-purist take on yoga offers a refreshing alternative to tradition and offers a modern spin on the beloved practice. The result is four exclusive workouts that will be printed on in-room tip cards and available via video in every W room and suite around the world."
"It was the best kind of challenge, getting myself into the fitness mindset of the W guest. By identifying their needs and wants in a workout, I was able to create four unusual, fun, glamorous workouts that can be done whenever, wherever anywhere in the world," said Stiles.
For those guests who want a more luxurious and physically extensive experience, from June 14 to 16, Stiles will host exclusive complimentary yoga sessions at Retreat's beach,  AWAY Spa and Extreme WOW Ocean Haven suite.
W Maldives also offers a desert island yoga experience at Gaathafushi, followed by a glamorous champagne breakfast at the beach.
Tara Stiles is the founder and owner of Strala, the movement system that ignites freedom. Strala's flagship studio is located in SOHO, NYC, with several partner studios opening globally this year.
Stiles is the designer and face of Reebok's first yoga lifestyle range and bring the Strala program to Reebok Instructors globally. She has a custom labeled "Tara Stiles" street wear collection with Wool and the Gang and is the author of two top selling books: Slim Calm Sexy Yoga and Yoga Cures (which has been translated and published in 5 languages) and she has created several DVD series collaborations with Jane Fonda, Deepak Chopra, Tia Mowry, Brooklyn Decker and ELLE Magazine. Stiles supports the Alliance For A Healthier Generation, Bill Clinton's initiative to combat childhood obesity, bringing Strala classes to 20,000+ participating schools.
Click here for more information.