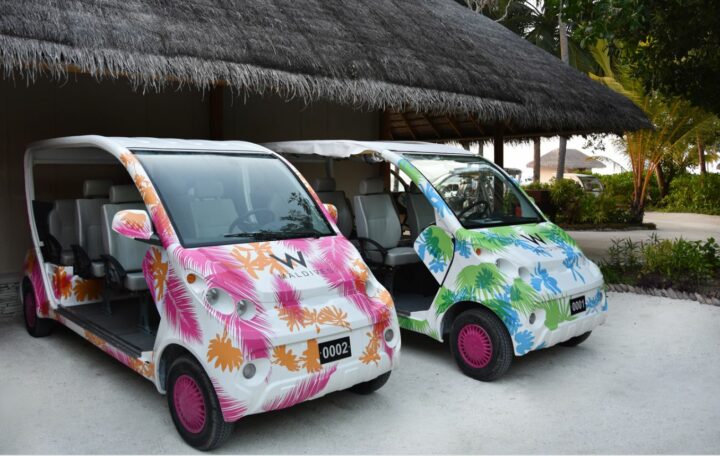 W Maldives welcomes Przemek Sobocki's artistry
Tokyo-based illustrator and designer Przemek Sobocki brings W Hotels' passion for design to life at W Maldives. The artist has created custom designs for the resort's new luxury golf cars, key rings, luggage stickers and tags.
Though Przemek's background is in Interior and Fashion Design, he divides his time between Tokyo and London, where beside editorials, his work also covers collaborations, packaging, murals, space, display design and short animated movies. Przemek's award-winning client list includes Louis Vuitton, Shiseido, Guerlain, Bally, Farfetch, Alain Mikli Japon as well as publications such as Numero Tokyo, Vogue Japan, Madame Figaro Japon, Elle Japan, Harper`s Bazaar (Japan, Korea, Taiwan), A Magazine Curated by …, to name a few.
The artist received three DSA Japan Space Design Awards in 2015 and 2017 for his projects for Alain Mikli Japon and Vermeerist Beams. In 2005 he won the renowned V&A Illustration Award for Best Editorial. In addition to his work, Przemek is also a Lecturer of Design Basics and Drawing at VANTAN Design Institute in Tokyo. Through his vibrant illustrations, Przemek depicts cinematographic worlds that are tinged with a dash of mystery and occasional humour.
"During my artistic residency at W Maldives in September 2017, I tried to catch the uniqueness of the Fesdu island. The inspiration came from the natural environment as well as from the intimate atmosphere of this W Hotel, which is called a 'W Escape' for a particular reason!" says Przemek, admiring the beauty of the resort.
"I have always been attracted to the contrast of the light and shadows, and here I found stunning patterns of the shadows being cast by the rich flora of the island. After selecting eight different species of the indigenous plants, I mixed their leaf shapes with the W vibe and its bold colours. In total eleven colour combinations were created for all eleven buggies at the resort. The key rings, luggage stickers and tags were also inspired by the colourful fauna of the island, crystal clear water, beautiful beaches, tranquillity, twinkling stars and, of course, the hospitality of the W team."
W Maldives is a 5-star resort of 77 luxurious villas located just a 25-minute seaplane ride away from Velana International Airport. The resort features 6 gourmet restaurants, lounge bars and its well-known over-water AWAY Spa. For more details, please visit their website www.wmaldives.com