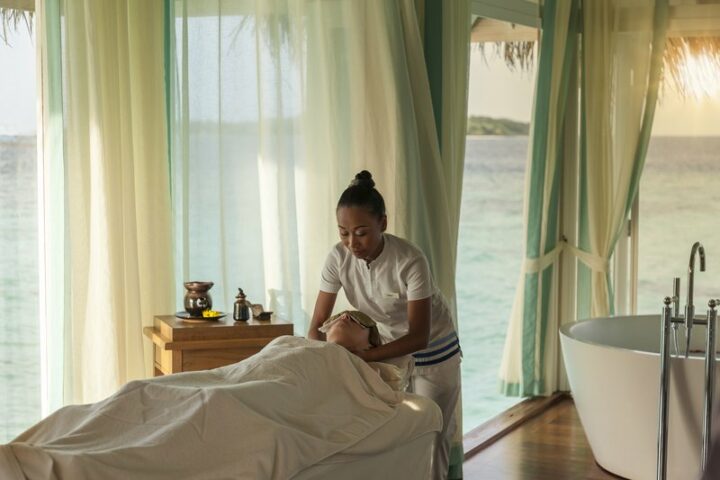 Embark on your Wellness journey at Anantara Kihavah
Wellness is an active process of making choices towards a healthier existence. It is the constant, conscious pursuit of living life to its fullest potential. At Anantara, wellness is rooted within an ancient Indian system of holistic medicine known as Ayurveda.
Ayurveda has been practised in India for over 5,000 years and is built upon the principle that the mind and body comprise five elements: fire, water, ether, air and earth. Each individual is noted to have a different constitution of these elements that determines their mind-body type (dosha) – Vata, Pitta, Kapha, or a combination of these.
At Anantara, your wellness journey begins with a consultation, where the resident Ayurveda Lifestyle Coach will assess your dosha and recommend a suitable programme to help you attain good health and reach your wellness goals. There are three main recommendations for the wellness programmes.
First is the Rejuvenate & Revitalise programme, which is all about addressing the damaging effects of modern life. The accumulation of toxins and free radicals along with unhealthy lifestyle habits and prolonged stress can result in fatigue and signs of ageing. The programme is designed to help rejuvenate the body, strengthen the immune system and restore a naturally vibrant glow to the skin.
Second is the De-Stress programme and it is specifically targeted towards reversing the negative effect that the body suffers when exposed to excess stress. The programme will take you on a journey to improve the healthy functions of your digestive, metabolic, cardiovascular, musculoskeletal, nervous, and reproductive and immune systems. By releasing deep-held tension your mental and emotional state will be left with space and clarity for a fresh perspective on life.
Finally, the Weight Loss & Detoxifying programme deals with the most fundamentals roots of our existence, the air we breathe, the water we drink and the food we eat. Often these elements are filled with toxins that can overload the liver and immune system, adversely affecting and our hormones and creating functional disorders, illness and allergies. A sedentary lifestyle, unhealthy diet and lack of motivation set us on a pathway to gaining weight. Get back on track to natural good health to help detoxify yourself from the inside out with this programme.
Each programme comes with daily group yoga (morning & sunset) sessions, daily breathing and meditation sessions, daily treatments, access to herbal steam and healthy meals and refreshments. Guests can choose to take part in any programme and embark on either a 3-day, 5-day or a 7-day retreat of wellness.
The demands of modern, busy life often tend to drain our energy and rob us of the vital 'spark' that we need to truly enjoy life. The holistic practices of Ayurveda encourage physical and mental harmony with nature, to help restore a state of inner peace. It is important to take a timeout in order to relax and harmonise all aspects of our being to face life with the zest it demands.
Anantara Kihavah Villas is just 35-minutes by seaplane from Velana International Airport. Following the scenic flight, guests arrive at a picture-perfect setting surrounded by the jewel-coloured waters and uninhabited islands of the majestic Indian Ocean.