Wellness Trends
The "art of doing nothing" has long been a favourite description of the typical Maldivian experience for visitors. The expression has even more meaning when combined with the deep relaxation that a spa treatment can bring to the mind, body and soul of the weary visitor, seeking rejuvenation in the Maldives' warm sun and pristine waters.
Resorts began to develop their spas over twenty years ago in the Maldives, and today they all offer wellness and massage treatments to meet the needs of the guests in this competitive growth area. During the early years, an international mix of treatments was popular including Swedish, Thai and Ayurvedic therapies. Nowadays, whilst these classics are still to be found on the spa menus, we have started to see a progression towards more indigenous experiences.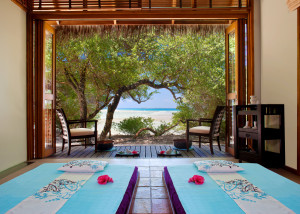 As the wellness sector matures in the country, we are seeing spa treatments increasingly using locally grown and locally produced ingredients. This helps to add to the customer experience that is unique to the Maldives, with some spas now using locally produced coconut oils, often scented with delicate jasmine flowers. Locally grown fruits such as papaya and coconut can also be used for skin treatments, and it is encouraging to see the resorts reaching out to suppliers to meet this need for sustainable ingredients.
Let the healing powers of the Maldives embrace you
Kurumba's Veli Spa is now taking things to the next level, with the recent introduction of a range of wellness treatments based on traditional Maldivian medicine ('Dhivehi beys'). This is all thanks to Spa Manager Aishath "Xubba" Zulfishan, a locally born female pioneer in the industry, who has studied and worked extensively in the wellness sector both in the Maldives and overseas. Xubba spent several months working closely with a traditional healer (or hakeem), learning about local herbs and roots and how they are added to oils and poultices to promote healing.
The introduction of elements of 'Dhivehi beys' into spa treatments is undoubtedly innovative. Xubba describes the concepts with a personal pride borne out of genuine passion for her Maldivian heritage, coupled with the desire to provide the very best wellness experience for her guests: "We have a rich and traditional culture that has passed down through generations as Dhivehi beys, and it's important that we preserve these traditions for future generations. We launched our new menu in September 2013, and we're the first in the country to be offering traditional Maldivian medicinal treatments." Maldivian women have a long history of using oils and perfumes for beauty and health treatments, and Xubba explained how traditional treatments are also used to provide relief for common discomforts such as back pain, joint pain and migraine headaches. It's interesting to witness Xubba's energy and professionalism being applied to traditional methods, to add value and meaning for the spa visitor embarking on their wellness journey. The traditional techniques have been reinvented for a modern setting, with locally produced coconut oil treatments completing the natural evolution of a uniquely Maldivian experience.
Before I left Kurumba, there was time to cool down at the Beach Bar and sample the resort's delicious coconut ice-cream signature dish. Here, Xubba revealed another interesting trend she had experienced over the years, "a marked rise in male guests attending the spa". The male spa goer, who might once have reluctantly accompanied his wife as part of a couple's package (whilst secretly preferring to be snorkelling on the reef), has started to seek out health treatments for himself. Xubba put this down to "an increased awareness in healthy lifestyles, keeping fit and looking good," which she says has expanded during the past decade.
Awaken Body And Soul
The same trend is also being seen by Renate Hermes, Group Spa Director of Duniye Spas, who told me that male visitors now account for 40% of spa clientele, as people generally have become more knowledgeable and well travelled. Renate, who I caught up with at Meeru Island Resort, is enthusiastic and knowledgeable about the wellbeing sector. She has worked in the Maldives for ten years and is currently overseeing the nine Duniye Spas in the country plus two further wellness centres in the Seychelles. "Guests are more aware of the importance of taking time out for themselves, to deal with life's pressures." She continued, "But it takes a longer time for people to realise this is not just desirable but an essential part of taking care of your own health – we are deserving of leisure time to grow our personal self-awareness, happiness and joy."
Renate explained that Duniye Spas have a holistic approach to health and wellbeing, with complementary activities such as yoga and meditation. More people are realizing the spa experience is part of a wider lifestyle choice which helps guests become re-connected with themselves at both a physical and emotional level. And so in recent years, visitors to the spa are looking for more than just a one hour massage, and seek longer and more personal awakenings to enhance their lives. This requires the energy and caring touch of a skilled therapist to develop trust which is essential for the release of blockages or stuck energies.
Lifestyle packages are increasingly popular, offering several days of sunrise yoga and meditation to teach a path to holistic well-being, wellness and spirituality within the pristine surroundings that only the Maldives can offer. This is taught alongside healthy nutrition and beach fitness programmes designed to continue long after the vacation has ended. Many centres now sell their own range of oils and relaxation music that enable guests to "envelop the whole experience" and extend the sounds and aromas of the spa into their own homes. This connection to guests is further maintained at Duniye by emailing newsletters and sharing tips and experiences on social media.
And what about future trends? Renate sees "the spa experience as an opportunity to kindle the desire for holistic well-being and joyful living; to shift to a joyful, healthy lifestyle instead of a "quick fix" lifestyle", with alternative healing modalities such as the Japanese Reiki or Crystal healing becoming more popular and form an integrated part of the spa services. In general there will be a shift in the acceptance of non-invasive, alternative and energy healing modalities in anti-aging, treating of certain skin conditions, pain management and all over an appreciation of a preventive holistic wellness approach.
Mindset – Nutrition – Movement – Recovery
Agata Zwierzycka, Spa & Fitness Director at Sheraton Full Moon Resort, also confirmed the trend towards complete lifestyle choices, and the desire of the guests to take something home from the experience. "Our Shine branded Spa here at Full Moon was the world's first for Sheraton", she explained. "Situated on its very own island, not only do guests have a unique experience that lingers long after they have left, but we also share some of our spa secrets to help recreate treatments within the home".
This is one of only a few resorts in the country that can boast a separate island for its spa, a feature trend that serves to highlight just how unique the Maldives has become as a holiday destination. The walk to Shine Spa is something special, as you leave the main resort island and cross a short boardwalk that spans a turquoise stretch of crystal clear lagoon. A few short steps lead up to the reception area, where an impressive infinity pool looks out over the ocean. There is an unmistakable feeling of tranquillity and seclusion on the island, which includes six treatment pavilions, hydrotherapy pools and steam rooms. Sheraton is only a ten minute speedboat transfer from Malé, but as my therapist, Phunna, massaged away the tensions in my shoulders to the sights and sounds of the surrounding waves, it felt like a world away from the bustle of the city capital.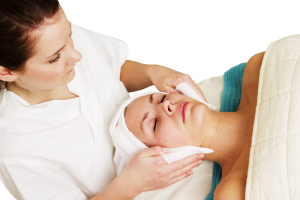 Agata is passionate about her work, and talked with infectious enthusiasm as we continued our tour to the island gym. "Inspiring others to follow a healthy and active lifestyle is one of the best parts of my work," she explained. "At Sheraton, we use the same two brands of fitness equipment in our gyms worldwide. This familiarity makes our guests feel comfortable, and means they can continue with their training programmes without any introduction."
Agata continued with an explanation of their holistic programme to staying healthy. "Preparation develops the correct mind-set to achieve your goals; good nutrition is essential to fuel exercise, followed by rest and massage for quick recovery." It was interesting to see how this programme brings together several disciplines that are often considered separately but are essential for wellbeing. Following gym exercises with physical recovery and spiritual wellness at the spa is a common approach, but by also promoting nutritional eating as part of the whole programme, Sheraton is actively encouraging its guests to make healthy lifestyle choices.