Wellness Wisdom: Seema Rana, Wellness Mentor
Seema Rana is the Wellness Mentor at InterContinental Maldives Maamunagau Resort. For nine years, she has worked in the hospitality industry, providing wellness services, including yoga, meditation guidance, crystal healing and singing bowl therapy, among others. Hotelier Maldives sat down with Seema to discuss her career, relationship to wellness and wellness opportunities in the Maldives.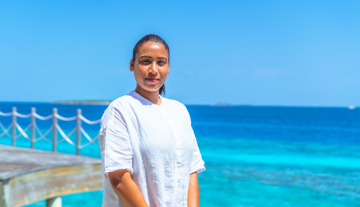 Featured Image: Seema Rana
HM: Can you tell us a little bit about yourself and your career?
SR: My name is Seema. I was born and raised in India. I am the Wellness Mentor at InterContinental Maldives Maamunagau Resort, offering yoga, meditation and breathing practices, but I am also helping guests through a physical and emotional cleansing process. I can help to unravel emotional suppression and doubt with psycho healing practices.
I am a Hatha and Ashtanga Yoga registered instructor (RYT) with the Yoga Alliance. I also hold a master's degree in Yoga and Human Excellence, which lead me into the depth of yoga philosophy and practical fundamentals, abnormal psychology and human management. Apart from yogic science, I am always keen to learn different healing methods, so I became a certified Pranic healer and singing bowl therapist.
I have worked in the wellness and hospitality industry for nine years in the field of yoga, healing and various other yogic practices such as Kriya, meditation and breathing patterns. Over the years, I got to work for Ananda in the Himalayas and Atmantan Wellness Resort. I was able to explore different guided meditation techniques and healing practices like yoga Nidra, Antarmouna, Ajapa Japa meditation, cyclic meditation, crystal healing, singing bowl meditation and others.
HM: What does wellness mean to you?
SR: For me, wellness is where there is no "illness." Physically, mentally, emotionally, socially, and spiritually. In other words, everything is "well" with awareness. That is what wellness means to me.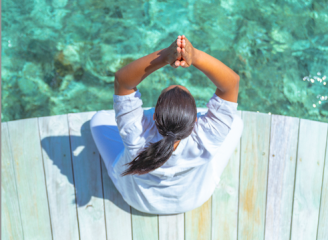 Featured Image: Seema Rana
HM: How do you practice wellness?
SR: I see practicing wellness as a holistic approach, so I need to practice wellness physically, mentally, emotionally, socially and spiritually.
Physically: I do a weekly cleaning practice. For example, "Jal Neti" and "Vaman" with alternative yoga poses.
Mentally: Breathing! I practice different breathing techniques and meditation every day.
Emotionally: I believe the foundation for emotional wellness is gratitude and forgiveness. I actively practice this every day. Getting up in the morning, focusing on the positive and also before I go to bed at night.
Socially: I try to surround myself with good people. I gather energy from being available for my friends, try to support them but also to be approachable for others. I think this is a big part of teaching yoga and meditation–to feel the clients you are practicing with and receive their emotion.
Spiritually: I try to be a good spirit. I stay on the optimistic side and show respect to the beings around me. I engage in chanting practices as well, which helps me to connect to the divine energy in the universe.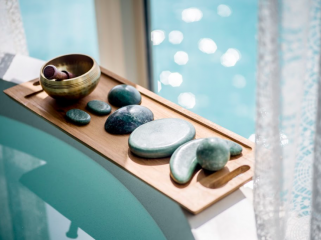 Featured Image: AVI Spa at InterContinental Maldives Maamunagau Resort
HM: How has the public's perception of wellness changed over the years?
SR: Technology has changed so much. Our society changed and we depend on "machines" and remove ourselves more and more from direct connections to the people that surround us. This encourages mental conflicts, physical depletion, emotional challenges, social irresponsibility and spiritual deprivation.
The perception of wellness has changed in a way that people seek relief and guidance from wellness practices to re-connect, feel themselves and be grounded. It's not about treating yourself to a spa treatment here and there, but to follow the pursuit of wellness as a lifestyle, to shift focus to the things that matter and that are real.
HM: What are the wellness trends in Maldives?
SR: I think the wellness trends in the Maldives become more and more holistic and rooted in nature. Sustainable, natural wellness practices are more and more common, using eco-friendly products and, where possible, locally sourced. There is a lot happening around mental and emotional healing and cleaning with yoga and meditation practices, crystal healing and traditional Chinese medicine. It is great that here at InterContinental Maldives; we have many visiting practitioners coming, who always add something to our offerings. It enables us to enhance our treatments and practices all the time.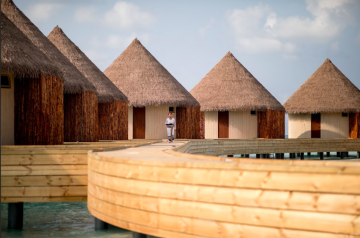 Featured Image: AVI Spa at InterContinental Maldives Maamunagau Resort
HM: What is the wellness approach of InterContintinental Maldives Maamunagau Resort and AVI Spa?
SR: We offer quite a number of authentic and holistic healing practices, like yoga, mindful meditation, and also crystal healing and traditional Chinese medicine. These are mostly governed by our visiting practitioners.
AVI Spa offers a range of treatments that revolve around holistic wellbeing but also more classic evergreens like anti-aging, lifting, relaxing and deep tissue massages. We use jade crystals for many treatments. We also use organic products such as Eminence and Kerstin Florian.
HM: What opportunities are there for young people looking to become a wellness practitioner in Maldives?
SR: There are so many opportunities. I would say every wellness master will find their place in the Maldives. Of course, it helps if they are practicing along the current trends such as emotional release consultation, crystal healing, mindful meditation for mental conflict, but also traditional yoga for physical health. There are also opportunities for Naturopathy Doctors and Therapists who can offer customized diet and alternative therapy like acupuncture, moxibustion and teaching lifestyle management.
Someone who is good in their field with a holistic approach can really add an edge to a spa programme. They will have no challenges to find a place to practice in the Maldives.