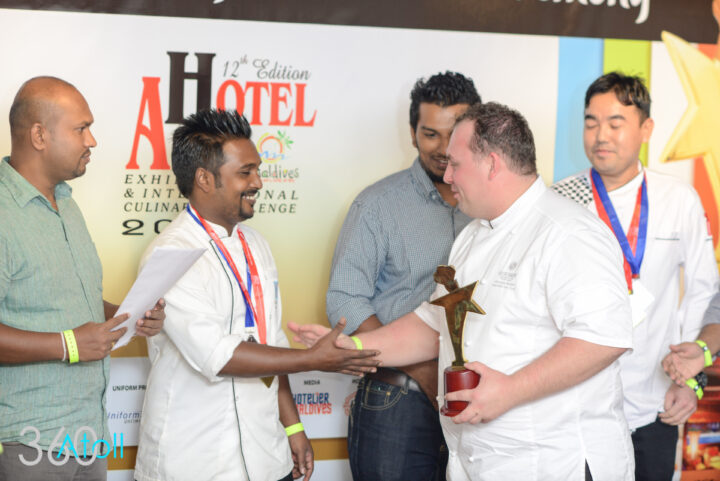 Winners of the Hotel Asia International Culinary Challenge announced
The winners of the Hotel Asia International Culinary Challenge 2016 were announced last Wednesday at an awards ceremony held at the Hulhule' Island Hotel.
The Maldives' biggest culinary competition took place from from 4 to 7 September with more than 300 chefs from over 40 hotels and resorts competing for the coveted trophies in 20 categories.
Christoph Pentzlin from Hideaway Beach & Spa Maldives resort took home the trophy for Most Outstanding Chef, earning the chance to compete at the culinary competition at HOFEX 2017, Hong Kong in May. A complimentary 3-day stay in Singapore will also be provided courtesy of the competition's sponsors.
Indra kumar Limbu from Hulhule Island Hotel was awarded Outstanding Pastry Chef.
Per AQUUM Huvafen Fushi scooped up the most sought after Best Culinary Establishment award – 'Alan Palmer Challenge Trophy'. Hulhule Island Hotel and Baros Maldives won second and third place respectively.
Ahmed Fatheen, Senior Sous Chef at Bandos Island Resort, was named Top Maldivian Chef for the second consecutive year.
Fatheen's winning Maldivian dish was a ravioli made with tuna, moringa leaves and beans.
"I've always wanted to compete and in an international culinary competition, and by winning this, I get a chance to compete at the HOFEX competition. So I'm very happy about that", he said
Fatheen, who has been working in the industry for 12 years, spent two weeks preparing for the competition.
"I would like to thank the management of Bandos, especially our Resort Manager, Ismail Rasheed, who came here every day and made sure that everything was in order and helped in so many ways."
He received a complimentary stay in Malaysia and the chance to compete in the HOFEX 2017 culinary competition.
The Hotel Asia International Culinary Challenge is divided into 20 categories including Dress the Cake, Novelty Cake, Honeymoon Cake, Desserts, Bread & Pastry Display, Fruit & Vegetable Carving, Cold Pasta Salad, Creative Asian Dish, Maldivian Dish, Young Chef, Iced Mocktail and a Team Challenge.
Hot cooking categories are divided into 6 classes; Fish fillet, Seafood, Lamb, Beef, Poultry, and hot Pasta Appetizer.
Competitors also showed off their skills in two new categories this year: The Perfect Steak & Omelet, and a Tea Challenge.
Sponsored by Singapore's luxury tea brand, TWG Tea, participants in the Tea Challenge are required to prepare a tea-infused mocktail and two types of dessert suitable for high tea.
Competitors were given a selection of TWG's flavoured tea and 15 minutes to prepare the mocktail.
Points were awarded based on creativity, presentation, method of preparation and taste.
"Since it's a tea challenge, the taste of tea is very important, the way you prepare and present it is also very important. It's not just the taste of the mocktail but we consider many factors," said Rith Aum-Stievenard, Judge, co-founder and COO of TWG Tea, the sponsor of the Tea Challenge.
Pham Thi Hong Lai from Holiday Inn Resort Kandooma Maldives won the Tea Challenge. Lai was rewarded with complimentary air tickets, accommodation and 3-day training at the TWG Tea Institute in Singapore.
Dinesh Kumar (Holiday Inn Resort Kandooma Maldives) and G. Iyyappasamy (Cheval Blanc Randheli) came in second and third place respectively.
Ronnel Go from Holiday Inn Resort Kandooma Maldives won the top prize for the Perfect Steak & Omelet category.
Min Bahadur Parajuli and Laiju Paul, also from Holiday Inn Kandooma, won Silver and Bronze in the same challenge.
To prepare the Perfect Steak and Omelet, participants are given 20 minutes to present a perfectly cooked steak, served with a sauce, and a perfectly-shaped cheese omelet.
"The new steak and omelet category is a fun thing. It's short but it tests your basic skills; technique, temperature control and timing. And you will be rewarded for them," Palmer said.
This year's winner of the Team Challenge was Kurumba Maldives (Kartick Palahisamy and Nanda Kumar Dharuman), with Meeru Island and Hideaway Beach Resort & Spa winning second and third place respectively.
The culinary challenge was judged by a panel of 18 international judges.
Sponsored by long-standing partner Bestbuy Maldives Pvt Ltd (BBM), and the competition's category sponsors, winners received kitchen equipment, electronics, airline tickets and cash prizes.
The category sponsors of the International Culinary Challenge are Astra, Motha, IREKS, EMERALD Seafood, The MIDFIELD Group, COSMOPOLITAN, Wrist Resort Supply, Copacol, Colavita, VISMARK, Unilever Food Solutions, GOOD FOOD EXPORTS, RAVIFRUIT and TWG Tea.
Dubbed the 'competition of culinary excellence', the Hotel Asia International Culinary Challenge is the most prestigious culinary competition in the Maldives.
List of Winners
Iced Mocktail
Gold – Ali Hamdhaan – Conrad Maldives Rangali Island
Silver – Wadduwage Pradeep Kumara – Robinson Club Maldives
Bronze – Badheeu Hassan – Conrad Maldives Rangali Island
Maldivian Dish
Gold – Ahmed Fatheen – Bandos Island Resort & Spa
Silver – Aminath Rana Hussain Shihan – Kurumba Maldives
Bronze – Ismail Naseer – Hulhule Island Hotel
Tea Challenge
Gold – Pham Thi Hong Lai – Holiday Inn Resort Kandooma Maldives
Silver – G. Dinesh Kumar – Holiday Inn Resort Kandooma Maldives
Bronze – G. Iyyappasamy – Cheval Blanc Randheli
Dress the Cake
Gold – Indra kumar Limbu – Hulhule Island Hotel
Silver – Olupathage Dilanka Prasad Silva – Baros Maldives
Bronze – Ahmed Shifau – Anantara Resorts & Spa, Maldives
Honeymoon Cake
Gold – Olupathage Dilanka Prasad Silva – Baros Maldives
Silver – Indra kumar Limbu – Hulhule Island Hotel
Bronze – Ahmed Fatheen – Bandos Island Resort & Spa
Novelty Cake
Gold – Indra kumar Limbu – Hulhule Island Hotel
Silver – Ten Sai Cheong – Four Seasons Maldives
Bronze – Sisira Kumar – Hulhule Island Hotel
Hot Cooking – Beef
Gold – Christoph Pentzlin – Hideaway Beach Resort & Spa
Silver – Truong Vinh Co – Holiday Inn Resort Kandooma Maldives
Bronze – Pitam Bahadur Gurung – Per AQUUM Huvafen Fushi
Hot Cooking – Seafood
Gold – Kartick Palanisamy – Kurumba Maldives
Silver – Harshal Kumar – Amilla Fushi
Bronze – B.V. Dulaj Krishantha – Jumeirah Vittaveli Maldives
Hot Cooking – Lamb
Gold – Nanda Kumar Dharuman  – Kurumba Maldives
Silver – Christoph Pentzlin – Hideaway Beach Resort & Spa
Bronze – Pitam Bahadur Gurung – Per AQUUM Huvafen Fushi
Hot Cooking – Poultry
Gold – R.G. Kannan – Taj Exotica Resort & Spa, Maldives
Silver – Christoph Pentzlin – Hideaway Beach Resort & Spa
Bronze – Ibrahim Athif – Baros Maldives
Hot Cooking – Fish Fillet
Gold – Dedi Haryanto – Per AQUUM Huvafen Fushi
Silver – Pitam Bahadur Gurung – Per AQUUM Huvafen Fushi
Bronze – Ibrahim Athif – Baros Maldives
Dessert
Gold – Rungsimet Para – Holiday Inn Resort Kandooma Maldives
Silver – Ismail Abdulla – Per AQUUM Huvafen Fushi
Bronze – Liviana – Jumeirah Dhevanafushi Maldives
Bread & Pastry display
Gold – Sameera Sampat Batugoda – Fihalhohi Island Resort
Silver – Sisira Kumar – Hulhule Island Hotel
Bronze – W.P. Perera – Baros Maldives
Fruit & Vegetable Carving
Gold – E.G. Lasantha Kumara – Meeru Island Resort
Silver – Vidana Arachchige Nirosh – Thulhagiri Island Resort
Bronze – Thongpikun Nontanok – Dusit Thani Maldives
Creative Asian Dish
Gold – Truong Vinh Co – Holiday Inn Resort Kandooma Maldives
Silver – Udhayakumara Dhanapal – Summer Island Maldives
Bronze – Debojyothi Mondel – Amilla Fushi
Hot Pasta Appetizer
Gold – Ibrahim Athif – Baros Maldives
Silver – Ronnel Go – Holiday Inn Resort Kandooma Maldives
Bronze – Kartick Palanisamy – Kurumba Maldives
Cold Pasta Salad
Gold – Benny Chakkan – Gili Lankanfushi
Silver – Nuwan Lakmal Wijesinghe – Atmosphere Kanifushi Maldives
Bronze – A. Ishara Sandaruwan Perera – Jumeirah Vittaveli Maldives