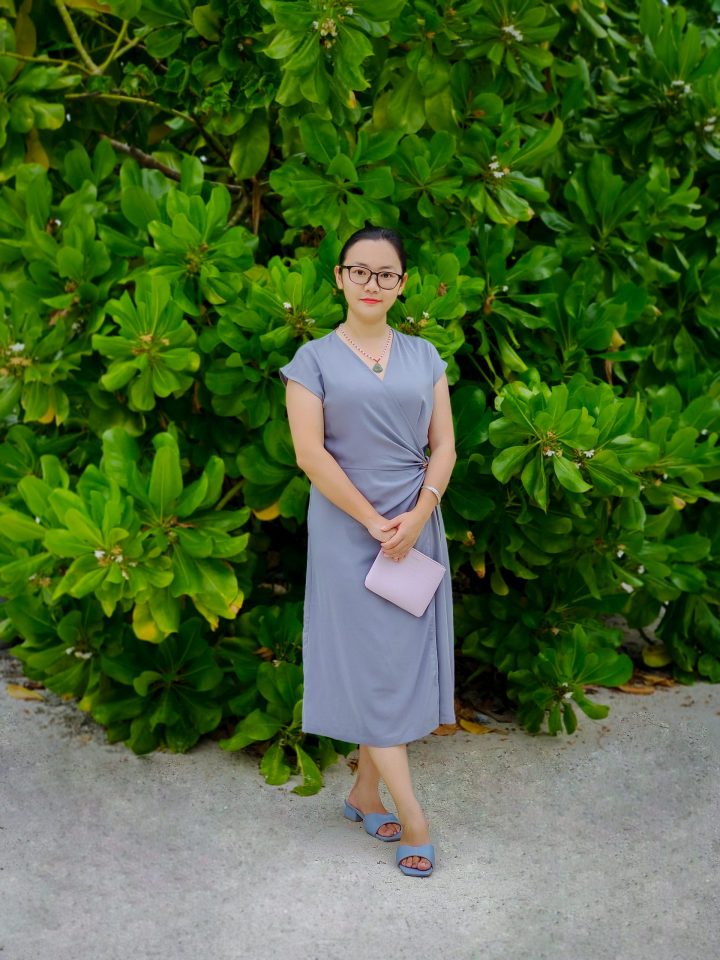 Women in Hospitality: Stellan Huang, Sales Executive, THE OZEN COLLECTION
Stellan Huang is the sales executive at THE OZEN COLLECTION, who was recently promoted from her position as sales coordinator. Initially working as a teacher in China, Stellan discovered her dream career in the hospitality industry after arriving to the Maldives and has worked with several luxury properties in the destination. Now, she plays a key role in the amazing sales and marketing team at OZEN LIFE MAADHOO and OZEN RESERVE BOLIFUSHI.
In this exclusive interview, Hotelier Maldives speaks to Stellan about her work in the Maldives and her experience as a woman in hospitality.
Hotelier Maldives: Give me a brief introduction of yourself.
Stellan Huang: I am a young and passionate person with a positive "Can Do" attitude, broad skills, and experience. I adept at handling multiple tasks daily competently and at working well under pressure. My key strength is communication, to build strong relationships with people to deliver the best results. Working in Maldives more than seven years, and I love this country deeply. In my free time, I enjoy reading and learning different languages and journaling what I see and feel about this paradise.
HM: Tell me about your current role at THE OZEN COLLECTION. What are your main responsibilities?
SH: As a sales executive at THE OZEN COLLECTION, and also the only one salesperson currently based in OZEN LIFE MAADHOO to represent the whole of Sales team, I need to build and maintain the good connection between THE OZEN COLLECTION S&M team and the resort; collaborate with the DOS and ADOS in creating pricing specials to encourage new client growth, like making incentive plans, vouchers, etc. efficiently and accurately prepared proposals, agreements, operator contracts, and sales reports; support with sales team, revenue management, reservations and operations to optimize occupancy and maximize ADR in accordance with forecasted goals; coordinated and responded to all requests from the agents, for all leads and inquiries made to the properties via phone, email, and WhatsApp.
And I am responsible for communicating with all departments to ensure all the Media and FAM visits have wonderful experience, preparing the itinerary, lead the orientation for all the VIPs, hosting cocktails / meals with them. Maintaining a healthy relationship and promoted the facilities of the resort through a proactive approach.
HM: You were recently promoted from sales coordinator. Tell us about this.
SH: First, I really would like to thank my lovely team and all the leaders for offering me the great opportunity. They are the ones who raised me up and guided me to be a better self in this career. From a sales assistant in the leading operator of lifestyle boutiques in high-end resorts to a fresh new front office staff in the 5-star luxury resorts, then to a newbie in sales & marketing department for an uber-luxe brand – THE OZEN COLLECTION, and then got promoted to the senior level – it was really a great journey for me to experience all, to push myself to be stronger and braver to take the challenges from zero to a professional. It also offered me the chance to see the beauty of hospitality, to dig out the charming part of the new and vibrant area. I am so lucky that I was finally able to clear the mind and find out the wonderful career which my heart desires. This is the realm where I would love to devote my life to pursue. Since I could feel that sales impact my personality and makes me incredibly optimistic, energetic, and outgoing, regardless of the situation I'm in. There's no doubt my years in sales have allowed me to beef up my personality and outlook on life, which in turn enables me to simply get more out of life. I just love it!
HM: What drew you into the Maldives and hospitality industry?
SH: I would say from beginning it's the beauty of the nature that attracted me from China to come to the Maldives, while I was so lucky to stay here for years to experience working at different places from Anantara Kihavah, Amilla Fushi, Finolhu, Jumeirah Vittaveli, then to OZEN RESERVE BOLIFUSHI and OZEN LIFE MAADHOO, step by step I was influenced and touched by the culture of the hotel industry, and finally figured out the best career I have ever dreamed of. As I mentioned above, here I found out my love for the hospitality industry' kingdom.
My major in university was Languages and Literature, seven years ago I was a teacher in China before I came to Maldives. With a huge curiosity to see a real turquoise blue ocean – one of my dreams, as well as eagerly seeking more inspiration for writing and my life, I reached this incredible destination, the paradise. I never thought I could work here for such a long time and step by step could build a wonderful career which I was dreaming of, though the original plan to explore in Maldives was only a gap year for me, after which the plan was to go back to China to continue my teaching or to be a government official as my family wished to.
HM: Tell us about the brand and what it's like working with Atmosphere Hotels & Resorts.
SH: THE OZEN COLLECTION creates timeless sanctuaries that exude tranquillity and inspiration. An abundance of sophisticated experiences seamlessly blended with a grand sense of space and design, tailored wellness journeys and an enriching culture set apart the brand's two resorts in the Maldives. OZEN LIFE MAADHOO, the first resort under this brand, opened in July 2016. THE OZEN COLLECTION's success story continues in the Maldives with the addition of OZEN RESERVE BOLIFUSHI, launched in December 2020.
Like our young and successful Indian Ocean hospitality group – Atmosphere Hotels & Resorts, it is dynamic and fast-growing, which inspires me a lot to grow and develop myself from every side. I am confident and do believe I could do better and better. Sales is a job where there are no limits to the success one can achieve, so I would like to Dream big and Dream it Possible.
HM: What do you love most about the two resorts under THE OZEN COLLECTION?
SH: There are lots of things to share as I really enjoy every moment in both resorts, for the work as well as the life. Mostly, I have a wonderful and strong S&M team. Seamless teamwork and very supportive. I could say that they make me feel this is my second home.  And I do love the food and sea view in staff island. Happy Working, Happy Life.
HM: Are there many opportunities for women at the resorts/ the brand?
SH: Yes. Definitely!
We could proud to say our brand are eagerly to offer the opportunities for females and we do have many excellent female colleagues in the team. You must know the general managers of both resorts all are females! Ms. Luisa Lalli for OZEN RESERVE BOLIFUSHI and Ms. Henar Gil for OZEN LIFE MAADHOO. They are conducting amazing leadership for both properties. And around from our sales and marketing team, we have Ms. Sarah Walker-Kerr (vice president – communications) from UK, Ms. Nasha Nasheed (assistant marketing & communications manager) from Maldives, , Ms. Seema Misra (manager content development) and Ms. Richa Bajaj (sales executive – India) from India,  Ms. Olga Jacobs (assistant director of sales) and Ms. Katerina Kuznetsova (regional director of sales) from Russia, Ms. Rainbow Huang (assistant director of sales – Greater China) and Ms. Cecilia Chen (regional director of sales – AISA) from China, Ms. Irene Santiago (regional director of sales – Europe & UK) and Ms. Silvia Collepardi (vice president – COLOURS OF OBLU | by Atmosphere) from Europe. And our vice president of sales and marketing, Ms. Simmi Pai, extremely an outstanding lady!
HM: As a woman in hospitality, have you faced many problems in your career? Do you think this is now changing and the industry is more welcoming for women?
SH: As a woman in hospitality, I feel female role sometimes actually have more advantages than male colleagues, since we could be more thoughtful, caring, and delicate, which is so important for the customers' service. I do think the hospitality industry is more welcoming for women from what I had observed around my working environment, it is quite healthy and positive.
HM: Do you have any females you look up to or take as inspiration?
SH: Definitely yes, I am lucky to working with a group of wonderful ladies. They give me a huge inspiration, for work as well for life! No matter which department they are working for, no matter which age are they in, I could say they all are great women! Everyone is working so hard, so diligent, so caring, so kind, you always can see the lovely smile from their face, can hear the polite greetings, can feel their determined faith to live better for their family and for themselves.
There are two ladies specially I set as my idol – Ms. Simmi Pai – the vice president of sales & marketing for THE OZEN COLLECTION, and Ms. Henar Gil – the general manager of OZEN LIFE MAADHOO. Both are so professional, experienced, deeply cultivated in the hospitality industry for many years. As a leader, they are motivated, creative, observant, quick-witted, resourceful, considerate. I am so delighted to working with them closely and to find the way to encourage myself to do better. There are much to learn from these two great ladies.
HM: What's your advice to women aspiring to join the industry?
SH: Dream Big. Dream it Possible. Never be afraid to take the challenges. Follow the heart and be patient, believe that you can do it better.